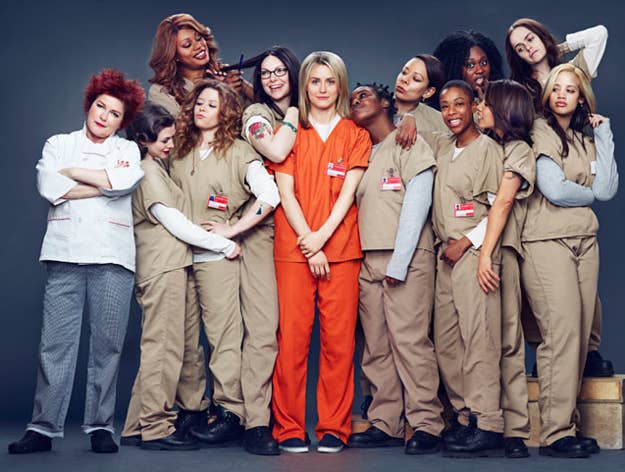 After its petition was not approved by the Academy of Television Arts & Sciences, Orange Is the New Black will be considered a drama at the 2015 Emmys, a rep for the show confirmed to BuzzFeed News. The Television Academy changed its rules for the Emmys last month, including the fact that series whose episodes are 30 minutes or less will be defined as comedies and those with episodes of more than 30 minutes will be considered dramas. Orange's episodes are an hour long, placing it in the drama categories.
Producers were welcome to petition a new nine-member academy panel to consider their series in an alternative category with a two-thirds vote required for approval. Orange's petition to be considered in the comedy categories was rejected, Netflix was informed on Friday, as first reported by Variety.
"Orange Is the New Black is a truly pioneering series and an iconoclast which has always defied genre or easy categorization. While we're disappointed in the committee's decision, we believe that Orange represents the best of television in either category," Ted Sarandos, Netflix chief content officer, said in a statement obtained by BuzzFeed News.
At the 2014 Emmys, Netflix submitted Orange, which is set in a women's prison in upstate New York, in the comedy categories. It earned nominations for Outstanding Comedy Series; Kate Mulgrew in Outstanding Supporting Actress in a Comedy Series; Natasha Lyonne, Laverne Cox, and Uzo Aduba in Outstanding Guest Actress in a Comedy Series (Aduba took home the award); and Taylor Schilling in Outstanding Lead Actress in a Comedy Series, among others.
The Academy had no comment when reached by BuzzFeed News. Last week, the panel voted in favor of considering The CW's Jane the Virgin, Fox's Glee, and Showtime's Shameless as comedies, despite their hour-long episodes.