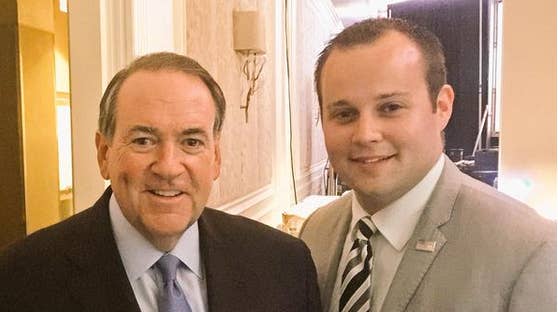 Despite the allegations of sex abuse that have emerged against Josh Duggar, former Arkansas Republican governor and GOP presidential candidate Mike Huckabee, for whom the Duggars have long campaigned, is still supporting the reality star. "Josh's actions when he was an underage teen are as he described them himself, 'inexcusable,' but that doesn't mean 'unforgivable.'" Huckabee wrote in a statement posted to his Facebook page on Friday.
Huckabee posed for a picture with Duggar, who's now 27, on May 16.
Though Huckabee is publicly still supporting Duggar, Huckabee's communications director tweeted and deleted this message last week:
On May 21, In Touch published a police report in which Josh Duggar admitted to inappropriately touching some of his sisters while they slept in different instances between 2002 and 2003. According to the report, Josh fondled the breasts and vaginal areas of the young women. The instances were not reported to the authorities until 2006.
Hours after the report began circulating, Duggar resigned as executive director of the Family Research Council Action, a nonprofit organization that lobbies for regulations against same-sex marriage and abortion. Duggar also posted a note on his Facebook page, stating that "twelve years ago, as a young teenager, [he] acted inexcusably for which [he is] extremely sorry and deeply regret." He also said in the statement that his "parents arranged for [him] and those affected by [his] actions to receive counseling."
Duggar has become known over the last decade as the eldest child of Jim Bob and Michelle Duggar, stars of the successful TLC show 19 Kids and Counting. TLC had no comment when reached by BuzzFeed News. But the family as a whole, and Josh individually, have campaigned hard for many GOP hopefuls over the years and particularly during the last presidential election. In 2012, the family recorded a video message supporting Pennsylvania senator and GOP presidential candidate Rick Santorum. Santorum's camp did not immediately respond to BuzzFeed News' request for comment as to whether he would campaign with the Duggars again.
Before the allegations came out, Duggar posted a photo with Wisconsin Republican Governor Scott Walker. Walker's camp did not immediately respond to BuzzFeed News' request for comment as to whether he would appear with the Duggars again.