Lori Petty Will Have A Major Arc On "OITNB" Season 3
It looks like Lolly may be heading to Litchfield!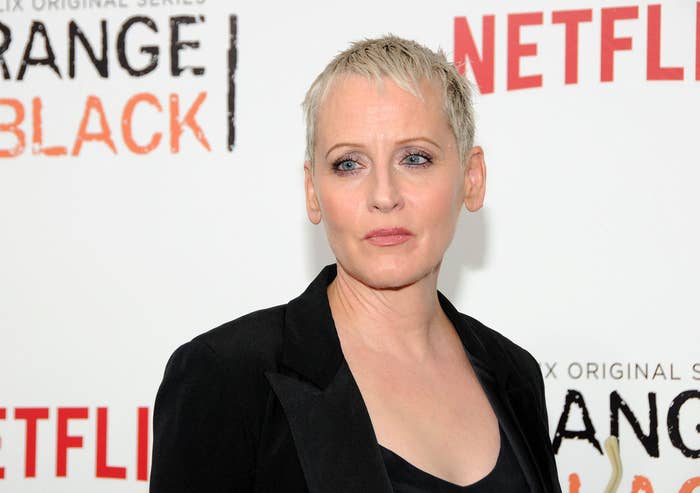 Lori Petty will be getting a lot more screen time on Orange Is the New Black Season 3. BuzzFeed News has confirmed reports that Petty will return to the show, presumably reprising her role as Lolly, the inmate Piper (Taylor Schilling) was seated next to on a flight in the OITNB Season 2 premiere. The actor will have a major arc in the upcoming season of the Netflix hit, according to her rep.
At the recent New York City launch party for the new book Pen and Ink, based on the popular Tumblr, Petty talked about her own tattoos and mentioned that she'd been up since 4 a.m. filming OITNB. The actor, who joked that she was causing chaos at Litchfield, said she'd have to be up at the same time the next morning to continue shooting.
Petty's rep could not provide further details about her involvement in Season 3, like which or how many episodes she will be in, but it's highly plausible the actor will be seen late in the season, since OITNB star Laverne Cox told E! News during the show's Oct. 6 episode that they were currently shooting Episode 10.
There's still a lot for fans to learn about Lolly, who was also being transported to a Chicago penitentiary with Piper in her single Season 2 episode. She offered to share the vaseline she hid in her ear with Piper, listened to her breakdown over believing she had killed Tiffany "Pennsatucky" Doggett (Taryn Manning), let Piper fall asleep on her shoulder, and fed her an apple when she couldn't pick up her food with her handcuffs. Viewers didn't learn much about Lolly's backstory, nor did we find out why she was behind bars, other than what she did "wasn't good." But hopefully, we'll find out more in Season 3.