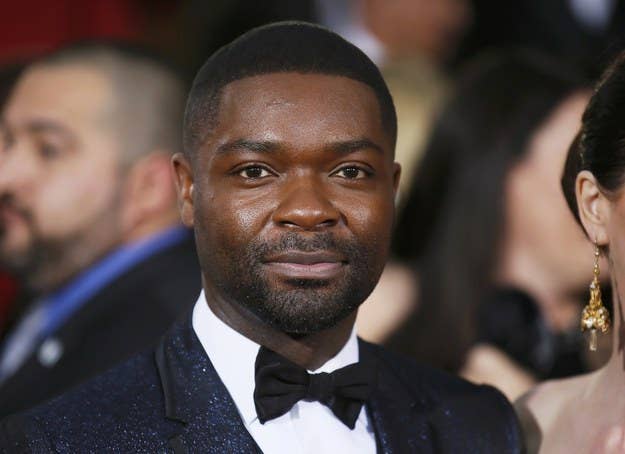 When the Academy Awards were announced in January, the biggest snub-related uproar centered on Selma, director Ava DuVernay's film about Dr. Martin Luther King Jr. (played by David Oyelowo) and the 1965 voting rights marches in Alabama, from Selma to Montgomery.
In the weeks since the Oscar nominations, Oyelowo has addressed the fact that the Academy didn't acknowledge him or DuVernay with a nomination, either putting a positive spin on it by discussing Selma's Best Picture nomination and another for "Glory" in the Best Original Song category, or by admitting he is "bothered" by it, largely because he wanted Dr. King to "be celebrated." But during a panel discussion with The Hollywood Reporter's Scott Feinberg on Sunday at the 2015 Santa Barbara International Film Festival, Oyelowo said the snub actually speaks to a larger issue in Hollywood, specifically with the Academy voters.
"Historically — this is truly my feeling; I felt this before the situation we're talking about and I feel it now — generally speaking, we, as black people, have been celebrated more for when we are subservient, when we are not being leaders or kings or being in the center of our own narrative driving it forward," the actor said. Oyelowo went on to point out to the audience that Denzel Washington didn't win an Oscar for playing Malcolm X, and though many would have thought Sidney Poitier won an Academy Award for his performance in In the Heat of the Night, he didn't even earn a nomination. Instead, he was honored by the Academy for his portrayal of a handyman in Lilies of the Field.
"This bears out what I'm saying, which is that we've just got to come to the point whereby there isn't a self-fulfilling prophecy — a notion of who black people are — that feeds into what we are celebrated as, not just in the Academy, just in life generally," Oyelowo said. "We have been slaves, we have been domestic servants, we have been criminals, we have been all of those things. But we've been leaders, we've been kings, we've been those who changed the world."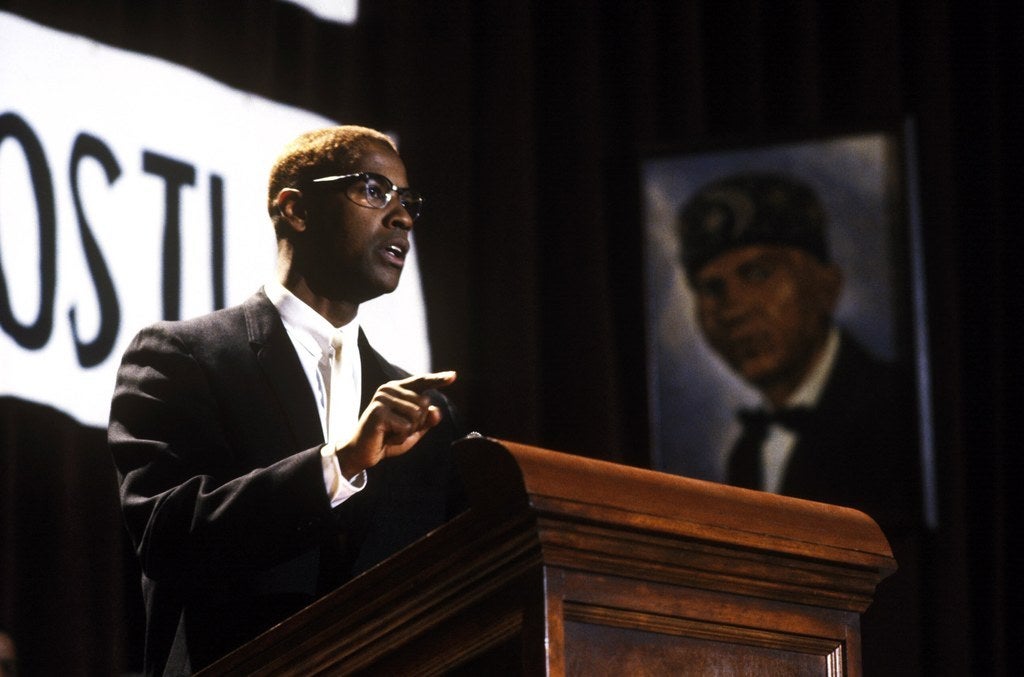 After applause from the audience died down, Oyelowo continued: "People have often said to me, 'Why has it taken so long?' I mean, [King] was assassinated almost 50 years ago — there has been no film where Dr. King has been the center of his own narrative up until now. That's because, up until 12 Years a Slave and The Butler, that did so well, both critically and at the box office, films like this were told through the eyes of white protagonists because there is a fear of white guilt. So you have a very nice white person who holds black people's hands through their own narrative ... We don't want to see that pain again, so you don't even go into what that pain was in an authentic way. Both of those things are patronizing to the audience. You can't have people curating culture in this way when we need to see these things in order to move forward from them."
Originally, Selma was going to be one of those stories Oyelowo was referring to, telling what should have been a black story through a white savior of sorts. In the hands of screenwriter Paul Webb, the movie centered on President Lyndon B. Johnson (Tom Wilkinson), who was pressured into pushing the Voting Rights Act of 1965 in the wake of the protests. But once DuVernay became involved with Selma, she changed that. "I wasn't interested in telling the story of a white savior," the director told BuzzFeed News' Kelley Carter in December. "This story is not about Johnson. This story is about the people of Selma who rose up and who fought."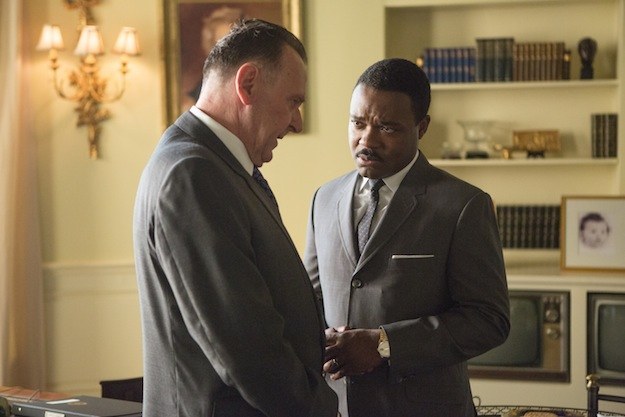 Oyelowo has cited DuVernay as being instrumental in making Selma happen, but, at the Santa Barbara Film Fest panel, he also said that without 12 Years a Slave and The Butler — two 2013 movies that did see black people being degraded and mistreated, to say the least, by white people — which made nearly $200 million, Selma might not have ever made it to theaters. "Paramount said to us, 'Well, that means that Selma will probably make around $98 million, so let's make it!" Oyelowo noted. "That's just the truth of the matter, is that up until now it's been so hard to get these films made, but now they're doing well internationally and critically and otherwise."
Last week, Oyelowo also spoke out about racism in Hollywood when 12 Years A Slave star Benedict Cumberbatch referred to black actors as "colored" during an interview about the lack of diversity in the entertainment industry in the U.K. The actor received a tremendous amount of backlash for using the historically offensive term, but Oyelowo came to his defense. "I just think it is the age we are in. People are more interested in a soundbite than substance," Oyelowo told The Big Issue about the incident. "He was talking about the underrepresentation of people within the U.K. film industry and the fact that actors like me are getting better opportunities in the U.S. than in the U.K. He has no dog in that fight. He is one of the premier white actors, not just in the U.K., but in the world. And he has done something truly beautiful in saying this situation isn't right."
An earlier version of this post incorrectly stated that Denzel Washington wasn't nominated for an Academy Award for "Malcolm X." It's been corrected to clarify that he was nominated, but didn't win.