In a way, Theresa Klose is looking forward to dying. But it's not because she doesn't enjoy life.
Doctors have told the 66-year-old — who has kidney failure, a medication-induced liver disease, and only one functioning lung — that she has "up to two years" to live. At first, she said she procrastinated on putting together her will and other final arrangements. But when one of her sons sent her a video created by a UK-based company called Aura Flights, which promises to "send your loved one on a personal flight into the inky blackness of space and scatter their ashes above the breathtaking vista of planet Earth," she knew that was what she wanted.
"I'm really excited to go," she said. "Best thing I ever found out."
Klose, who lives in Cambridgeshire, England, has always had her eyes to the stars. As a child, she would lie in her backyard and trace out constellations with her finger. When her kids were growing up, she took them to the Cambridge Observatory every week. But she's no wealthy billionaire or eccentric astronomer. She's a member of a growing group of people who are choosing to send their ashes or the ashes of loved ones, including pets, into space.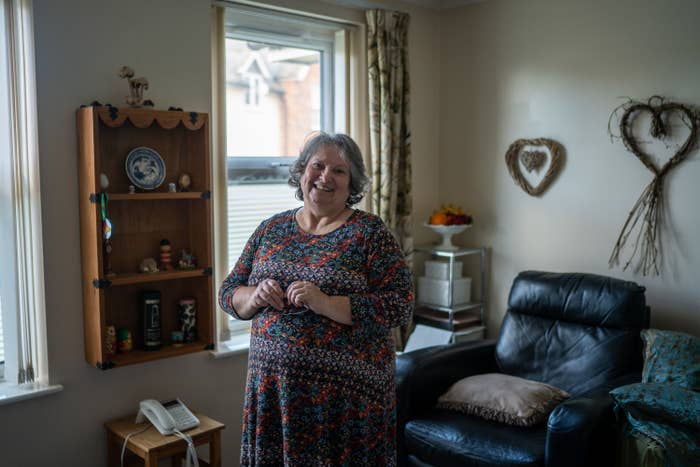 "We do find that [our clients] come from all skills, all backgrounds, all types of hobbies," said Samantha Richardson, general manager of Aura Flights. "As you can imagine, we speak to people that are fanatics of space, or fanatics of Star Wars or perhaps Star Trek, or they love astrology, or they love science. But we also talk to people that just love to travel."
Space burials might sound extravagant, but they're more affordable than you might expect.
Houston-based company Celestis sends capsules of ashes to space on existing space missions as a "secondary payload," meaning they are attached to a rocket stage or spacecraft already destined for space. Rather than being scattered, the ashes stay in the capsules throughout the mission.
The Earth Rise package, which sends capsules into space then brings them back to Earth, starts at $2,995. In the Earth Orbit service, which starts at $4,995, remains travel aboard a satellite, which orbits the Earth for periods ranging from a few months to a few years. Then, the spacecraft and ashes reenter the atmosphere and vaporize, as the Celestis website says, "like a shooting star." Both the Luna service, which carries remains to the surface of the moon and has only been completed once so far, and the Voyager Service, which debuts this year and will send remains on a "permanent celestial journey, well beyond the moon," start at $12,995. According to the National Funeral Directors Association's 2021 Cremation and Burial Report, the national median cost of a funeral with a viewing and burial in the United States is $7,848. The median cost of a funeral with cremation was approximately $6,971.
The company has launched about 1,700 capsules of remains, representing people from nearly three dozen nations. Each of the company's 18 missions so far has hosted between 50 and 350 capsules, all holding 1 to 7 grams of ashes.
An Aura Flights launch costs 2,950 pounds, or about $3,567 USD. There's also a more affordable alternative: Clients can send small samples of ashes up on a group mission, then have them returned to Earth, for 495 pounds, or about $598 USD. According to the 2022 Cost of Dying Report produced by the UK financial services company SunLife, the average cost of a funeral in the UK in 2021 was 4,056 pounds, or about $4,905 USD.
"I never dreamed the cost would be so reasonable," Klose told me. "A coffin can cost you four grand. What a waste of money, when it's going to be nibbled by the cheeselogs and the worms. I don't want to go through anybody's tummy."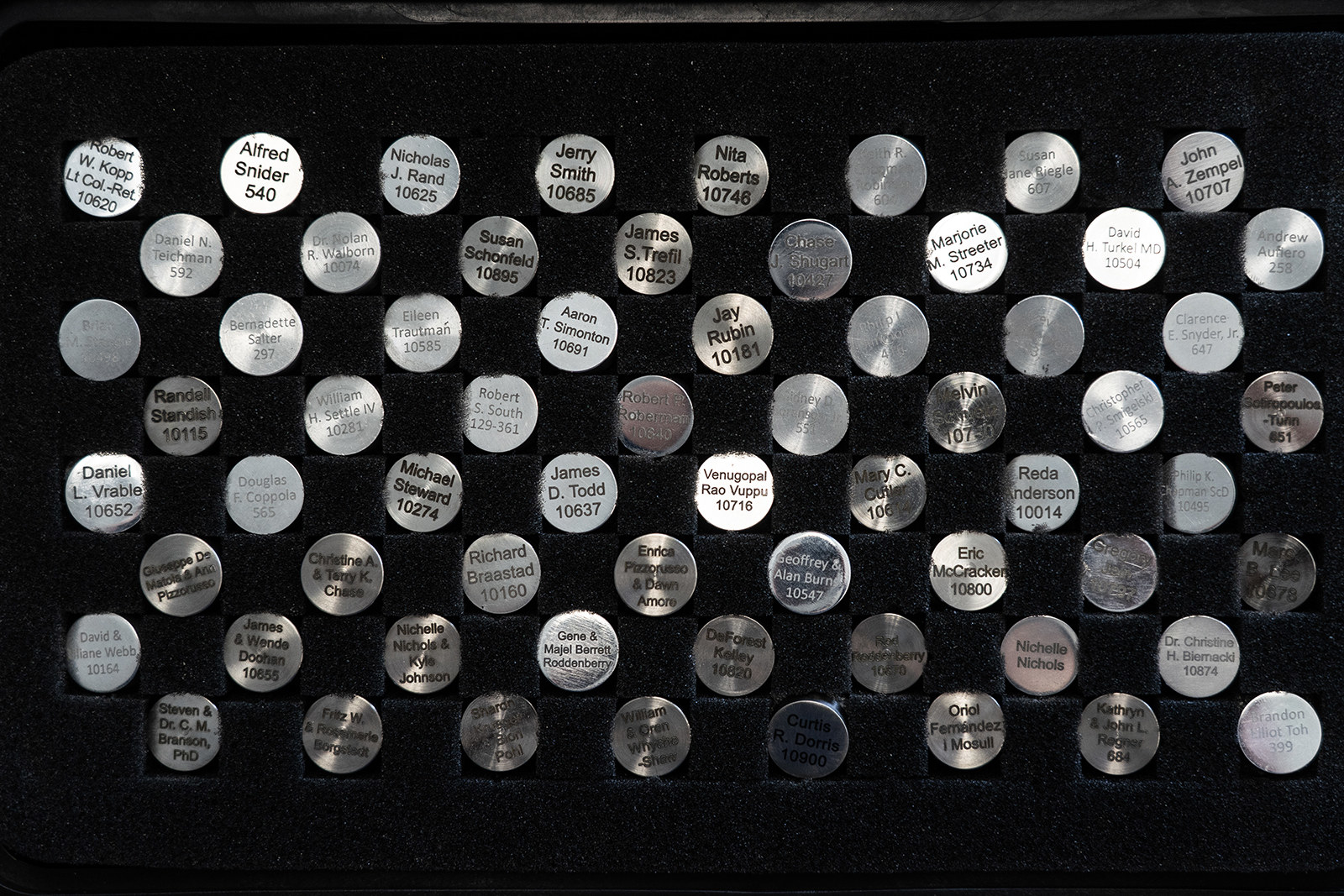 Founded in 1994, Celestis was the first company to take ashes into space. A few years later, the company worked with NASA to send the ashes of eminent space scientist Eugene Shoemaker to the moon. He's still the only person buried there. Customers who don't want to be cremated or living relatives who want to send a piece of themselves with a loved one's ashes can swab their mouths and send a sample of DNA instead. Other services include sending messages and the remains of pets into space.
Families and friends can use a tracking tool on the Celestis website to see where their loved ones' remains are at any given time or buy an "Above Satellite Tracker" to alert them when a Celestis satellite passes overhead. The company also hosts a memorial service where families gather to watch the rocket launch, which Celestis cofounder and CEO Charles Chafer likens to lighting "the biggest candle on Earth."
"Seeing any rocket launch is a pretty emotional experience," he said. "But if you're seeing it and you know, 'Hey, Mom's on that, and she's going to orbit, and I'll know every night about what time she's going overhead so I can say hello to her'? What I tell people is you don't see so much high-fiving and cheering at any funeral service as you do at ours."
In most Aura Flights burials, the ashes of one passenger (or two, if a pair's remains are being sent together) are carried up by a hydrogen balloon and released into the stratosphere by an "intelligent scatter vessel" while a camera captures the whole thing.
"The ashes [are] released into the arms of the stratospheric weather, into the arms of the stratospheric winds, and it falls out in a beautiful cascade," said Richardson, general manager of the company. "They're swept up to travel the globe."
After that, the balloon and capsule fall back down to Earth, and a team heads out to recover the video footage and equipment. The timing of each flight is selected based on atmospheric weather conditions to ensure the capsules land in safe, open areas.
The company has completed about 250 flights so far. The Aura Flights team creates a video for each client, combining the flight footage with photos and music selected by clients or their families. The videos show the capsules rising from the ground until the curve of the Earth is visible; a personal touch comes from photos and messages and client-chosen music ranging from apt choices like Norman Greenbaum's "Spirit in the Sky" to soaring Italian arias. Klose (who has chosen a peaceful Charlene Soraia cover of The Calling's "Wherever You Will Go" for her video), said watching the publicly available flight footage on Aura Flights' website was moving. "I know it's going to be gentle, and not just flipped open like a Hoover box and dumped," Klose said with a smile.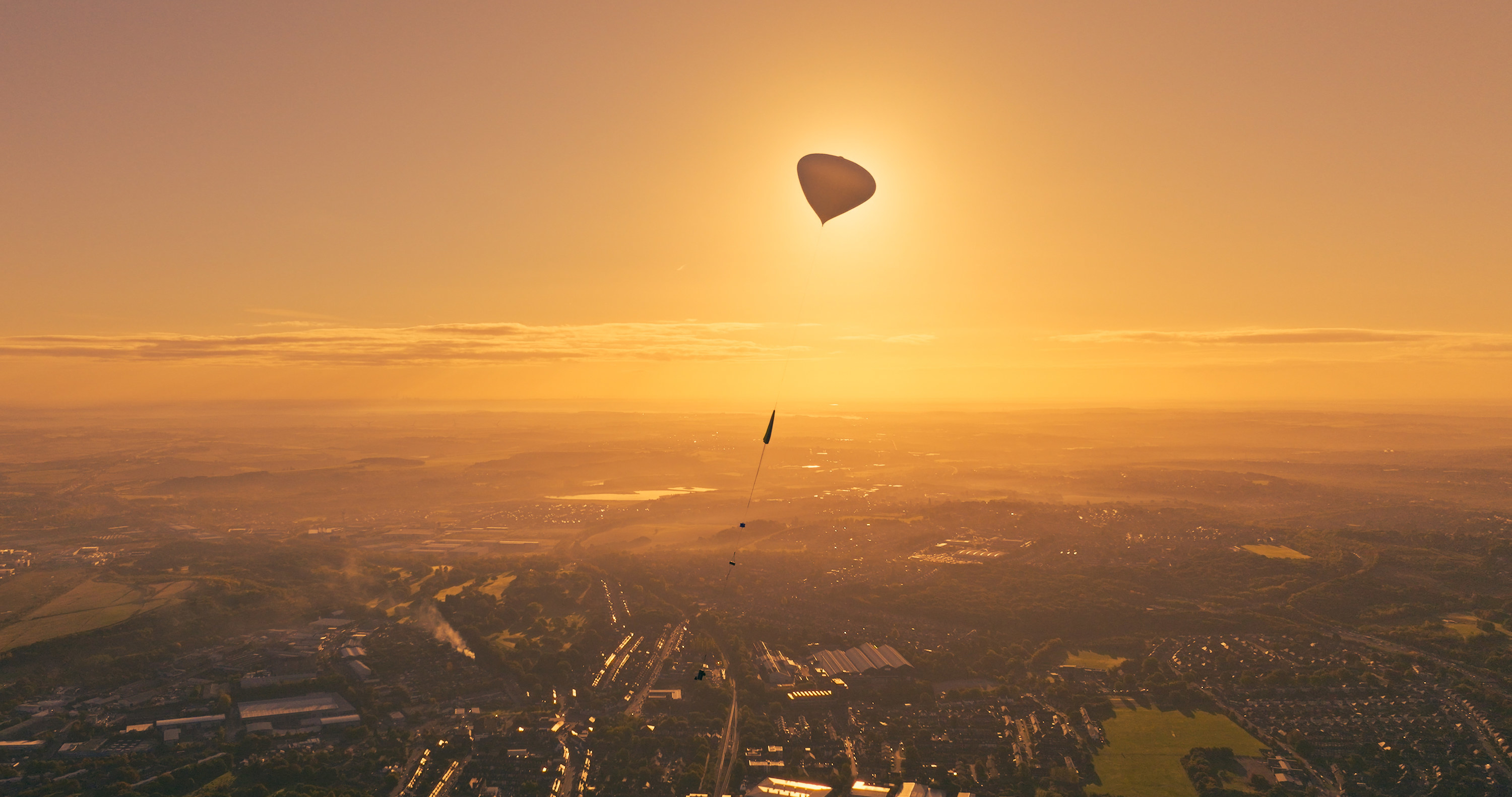 Sending remains into space is rising in popularity. Chafer, Celestis' founder, said the company has been growing by 60% year over year for the past four years. They once averaged one launch every 18 months, and now have six launches scheduled over the next six months. Aura Flights general manager Richardson saw a 300% growth in applications from 2021 to 2022, with over 150 launches last year. "We have seen a change in conversation with our clients, and the wider public, where we no longer have to justify that this is genuinely a thing that can be done, but we can instead discuss whether this already understood concept is right for them," she said.
Both companies say they work to minimize or avoid environmental impact.
Eloise Marais, an associate professor in physical geography at University College London who researches the influence of humans on atmospheric composition and air quality, noted that all rocket launches burn propellant, which produces pollution and contributes to the depletion of ozone in the stratospheric layer.
Celestis journeys piggyback on missions that are already heading to space, and the company prides itself on not contributing to the growing number of objects in Earth's orbit. But Andrew Ross Wilson, a research associate in the Advanced Space Concepts Lab at the University of Strathclyde and co-author of a recent paper on the environmental impact of proposed space activity (which did not examine space burials specifically), said in an email that activities like space burial "could encourage more irresponsible behavior in space."
"Acting as a secondary payload on a rocket already going into space should not be seen as a free pass to pollute," he said. "It does not devoid them from responsibility/pollution from the rocket."
Aura Flights' website details how the company works to keep a small carbon footprint, including manufacturing components in-house and using hydrogen balloons instead of non-renewable helium or other forms of propellant. Richardson tells me the balloons that bring Aura Flights capsules back down to Earth are designed to stay attached to the capsule after bursting, but that, if for some reason a piece of the balloon is lost, "it biodegrades at the rate of an oak leaf." According to Richardson, the ashes are released well below the altitude at which satellites orbit, and all eventually fall back down to Earth. "There is no threat to orbiting satellites or bodies and we do not contribute to space junk," she said.
"If the company is truly recovering all used materials and sourcing hydrogen from green production processes, then the environmental footprint seems quite small," Marais said in an email, adding that her words were not intended as an endorsement.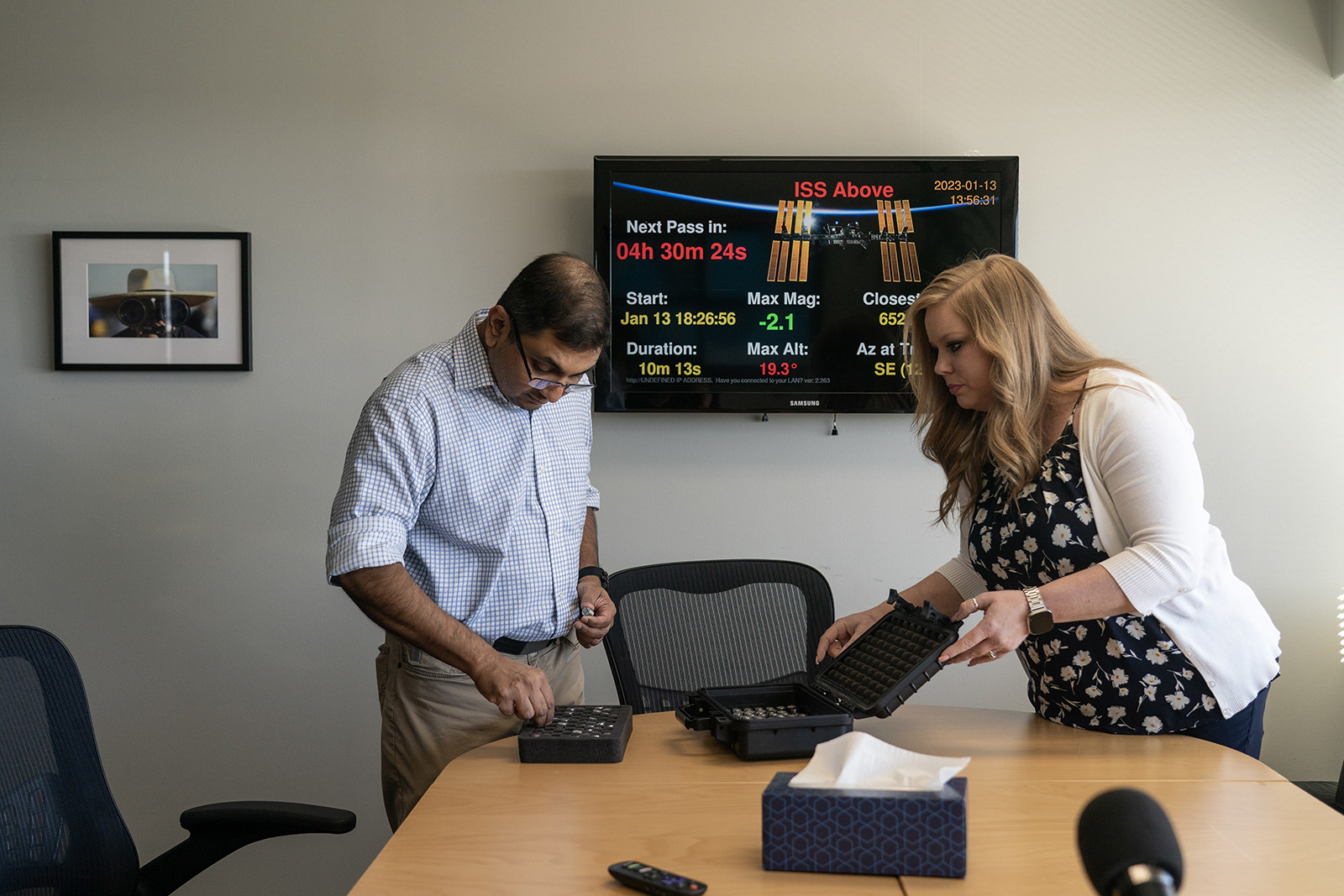 The rise of space burials may be part of a larger shift in how we handle the remains of loved ones, how we view our relationship to the environment, and how we relate to traditions. Kate Woodthorpe, a reader in sociology and director of the Centre for Death and Society at the University of Bath, says one thing that makes post-death rituals interesting is they're not really being held for the dead, but for the people left behind.
"You often get people saying, 'Just chuck me in a box, and I don't care what happens to me afterwards,'" she said. "I'm watching It's Always Sunny in Philadelphia, and Frank, Danny Devito's character, says, 'Just throw me in the trash.' It's all good and well for them to say, but it's the people who are still around who have to learn to live without that person."
After losing a loved one, some people feel frozen with indecision, comforted by the dictates of tradition. To get through grief, people follow the steps everyone has always followed. But in a 2020 study in the Journal of Death and Dying, Woodthorpe and fellow researchers examined whether a funeral ceremony alleviated grief more effectively than a direct cremation — or sending the body from the hospital or morgue directly to the crematorium, without a memorial service for the body. At first glance, it didn't.
However, talking to study participants revealed things weren't so black and white. It wasn't that those opting out of traditional funeral ceremonies were doing nothing to honor the dead. Instead, they were holding their own deeply personalized rituals, decoupled from the disposal of the body: celebrating the deceased's life at the beach or at a social club, for instance. People said those activities helped with their grieving processes.
"They felt that they weren't being cajoled into doing things that were conventional because that's just the way it's done," Woodthorpe explained. "Personally, I thought what they were doing was wonderful, because it was actually really meaningful to them and to the person who died."
Woodthorpe tells me she sees a baby boomer–led shift in which the funeral industry is increasingly led by consumers and less dictated by customs, like how weddings in the 1970s and 1980s started to break with tradition. Other scholars, such as Wake Forest University's Tanya Marsh, who teaches the only course at a US law school on funeral and cemetery law, make similar arguments.
"Baby boomers are insisting upon more control over their funeral and disposition so that their choices after death match their values in life," Marsh wrote in a 2017 article for the Conversation. "And businesses are following suit, offering new ways to memorialize and dispose of the dead."
This isn't the first time funerary practices have shifted in recent history. It wasn't long ago that cremation was rare in the United States, with rates rising from 5% in 1975 to 57.5% in 2021.
One Aura Flights reviewer admitted that making this unconventional decision about a loved one's remains earned them a few confused responses at first. But to them, "It was the solution to a problem we just couldn't solve."
As someone who thinks about death for a living, Woodthorpe doesn't see any singular "right" way to dispose of human remains, though she does think environmental considerations will become more important. And she says new trends in handling remains, from space burial to having ashes made into diamonds or vinyl records, have another benefit: They get people talking about death.
"It's actually become rather unhealthy that people don't engage with their mortality," she said. "Getting people to actually think in advance is helpful. It alleviates some of the pressure on bereaved families to have to make those decisions on people's behalf, which can be really difficult."
After Delma Carman lost her husband of nearly 40 years to COVID-19 in 2021, learning about Aura Flights did offer her a small sort of solace. For her, it wasn't the poetic idea of looking up at the sky and thinking of Ian — it's rare she's not thinking of him. But she thought her husband, who loved Apollo 13, tracking the International Space Station, and anything to do with the cosmos, would like the idea.
"It's just for him," she said. "It was his thing. If he was here, he would be beside himself to know."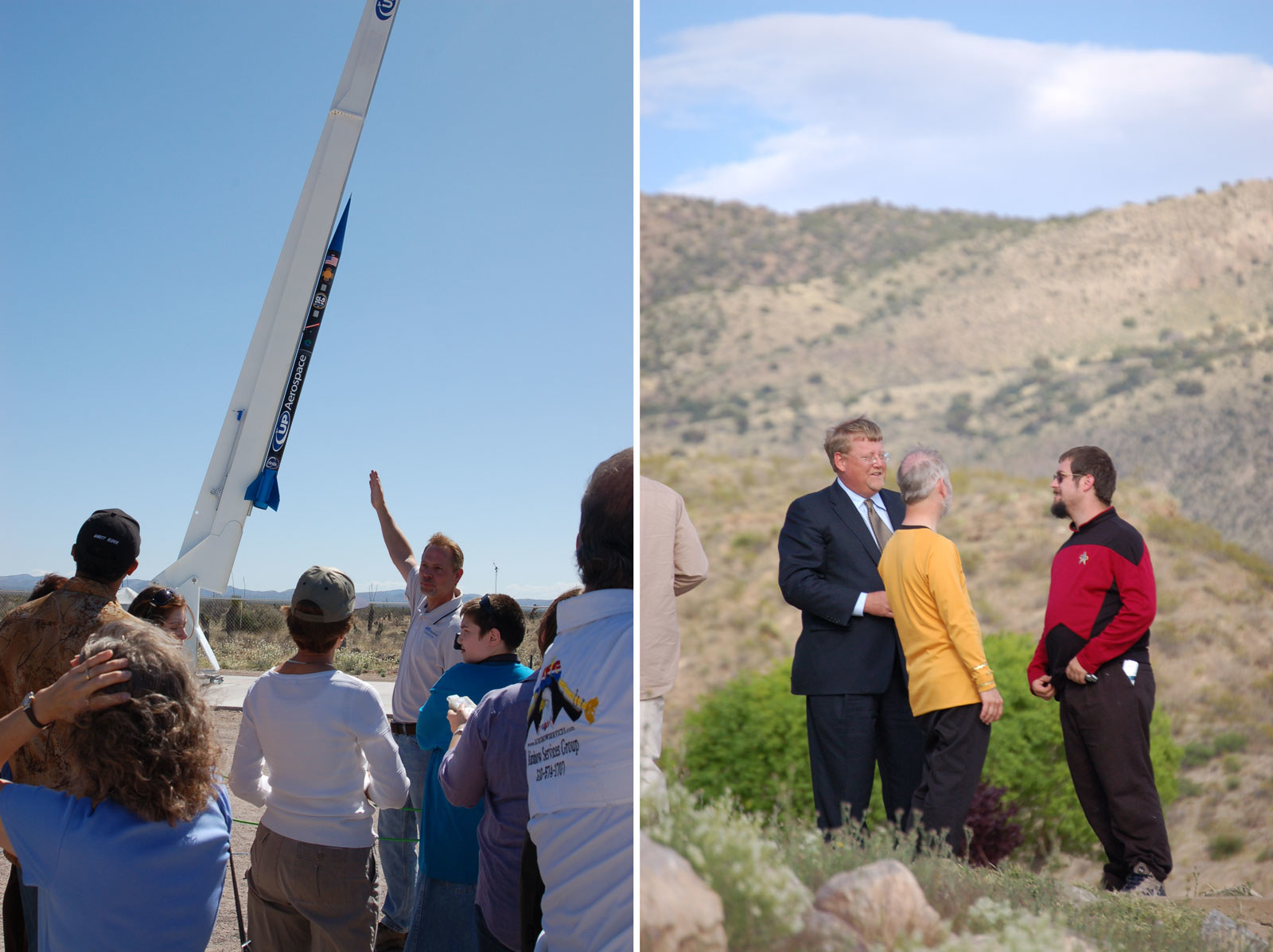 In 2007, Celestis launched a portion of the remains of James Doohan, who played Star Trek's Scotty, into space. This year, Celestis launches its first Voyager Service. Dubbed the "Enterprise Flight," it will send more than 150 flight capsules holding cremated remains, DNA samples, and messages into deep space. Passengers include the ashes of Star Trek creator Gene Roddenberry and his wife Majel Barrett Roddenberry, Doohan, Nichelle Nichols (who played Lt. Uhura in the original Star Trek series), and several others involved with the making of Star Trek, including visual effects artist Greg Jein.
Jein was a pioneering model maker and visual effects artist who also worked on Close Encounters of the Third Kind. According to friend Sharon Lee, in the 1970s, he fought hard for the inclusion of women in the visual effects industry and hired several, including her.
As Jein's health declined, Lee says she was fortunate to be able to spend many of his last days by his side before he passed in 2022. His loved ones promised him that when he got better, they'd take him up in an open-air biplane, something he'd always wanted to do. He died before they could make it happen, but Celestis reached out shortly after to see if his family and friends would like him included on the Enterprise flight.
"We all just started laughing and said, 'Yeah, a spaceship is better than an open-air biplane,'" she said. "I just know, deep down in my heart, he would be unspeakably thrilled." ●