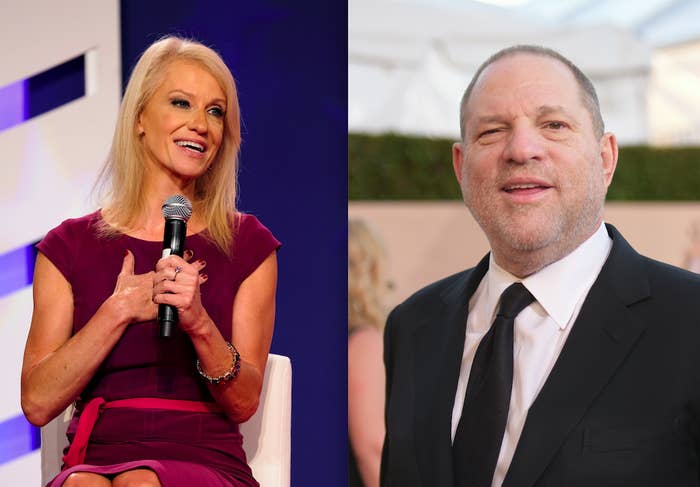 Harvey Weinstein was very present at a major summit of religious conservatives in Washington, DC, this past weekend. He was sprinkled into the speeches, where he was used as a symbol of the American left's moralizing hypocrisy, and he came up frequently in conversation in the crowd, a one-man allegory for what the breakdown of "family values" can lead to in the United States.

For a movement still reconciling itself to President Donald Trump and the allegations in his past, Weinstein, a Democratic mega donor and Hollywood mogul who stands accused of sexually harassing and assaulting dozens of women, has given a contrast that some on the right are already eager to latch onto.
"Third-wave feminism convinces women that masculinity is toxic. Masculinity isn't toxic, masculinity is marvelous," Dana Loesch, a conservative radio host and spokesperson for the National Rifle Association, said in her Friday speech to the Values Voter Summit, sponsored by the hyper-conservative group Family Research Council. "If there were more real men in Hollywood, Harvey Weinstein would have had a couple more black eyes," she continued as the crowd's cheers grew louder. "That's what happens in flyover nation if you mistreat women, that's what happens in the real world when real men are around and women are mistreated."
Social conservatives have long argued that the left is hypocritical, that liberals police people with "political correctness" but do not practice what they preach. For this point, Weinstein is a perfect case study, and bludgeon for the right.
Beyond having long been one of the most powerful men in "liberal Hollywood," Weinstein donated more than $25,000 to Hillary Clinton's 2016 presidential campaign, and more than $20,000 to the Democratic Congressional Campaign Committee, among other Democratic senators and candidates (most of whom, including Clinton, will now reportedly give Weinstein's donations to charity). Weinstein also threw massive high-profile fundraisers for Clinton and causes such as gun control and HIV/AIDS research.
In his official statement in response to the sexual assault allegations detailed in the New York Times, Weinstein vowed to "channel [his] anger" into attacking the NRA.
"I was especially entertained when I heard Weinstein say he was gonna go after gun owners and the NRA, because I was like, 'What are you gonna do, grope us?'" Loesch fired sarcastically in her speech. "Sexual predators agree, women should be disarmed. Thanks, Harvey!"
Shortly after Trump himself spoke to the crowd Friday, White House counselor Kellyanne Conway took part in an onstage interview with FRC President Tony Perkins, in which she contrasted her notion of the feminism of the left with the revelations of Weinstein's behavior. Conway touted her boss as a champion of women, telling the audience that the "greatest never-told story of the White House" is Trump's and Pence's respect for women.
"I work in a White House where working moms, and certainly women, are respected and elevated to the highest positions," she said. "It's very comfortable and natural for Donald Trump to surround himself and elevate women to high positions and always be respectful."
Trump, though, has seen his own share of allegations. Other than the infamous video of Trump on Access Hollywood in 2005, at age 59, bragging about sexually assaulting women, Trump has been accused of sexual assault and harassment by some dozen women. One of those women, Summer Zervos, a former contestant on the Trump's reality TV show The Apprentice, accused Trump of kissing and grabbing her when she went to his bungalow in 2007 to discuss a possible job in the Trump Organization.
Zervos and lawyer Gloria Allred, BuzzFeed News reported Sunday, have subpoenaed Trump's campaign for "all documents" concerning women who have accused Trump of assault and harassment.
Trump has consistently denied the claims against him. Asked at a press conference Monday about the allegations against him and the subpoena, Trump said, "All I can say is it's totally fake news. It's fake and made-up stuff and it's disgraceful what happens, but that happens in the world of politics."
Conway in her speech cited Trump's recent appointment of former White House deputy chief of staff Kirstjen Nielsen to secretary of the Department of Homeland Security as evidence of his respect for women, and said he never promotes women "just because they're women." She also pointed to Trump's interest in what the women in his White House's "home life is like, whether we're married or not, or have children or not."
"I hear a lot of people on their soap boxes ... always talking about women's rights and women in the workplace, and women's empowerment, while I'm in an environment where it's practiced regularly, I've never felt otherwise," Conway said. "I think there's a great juxtaposition right now, you see one of the major influencers in Hollywood, a major Democratic donor, really ensnared in some pretty ugly stuff."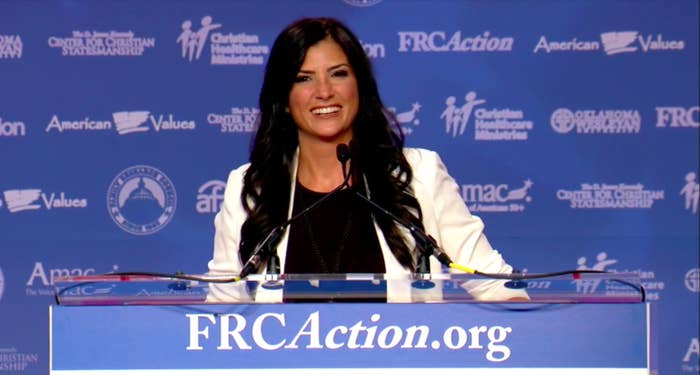 Conway and Loesch, and many of the summit attendees who spoke with BuzzFeed News, generally did not note or see any connection between the allegations against Weinstein and Trump's own alleged sexual misconduct.
When asked about any parallels between Weinstein and Trump's alleged behavior, most summit attendees dismissed the allegations as "inequivalent," or said that Trump had "reformed."
Chanel Rion, a political cartoonist and the fiancé of Courtland Sykes, who is running against Democratic Sen. Claire McCaskill for her Missouri Senate seat, told BuzzFeed News that she didn't think Conway raising Weinstein as a foil for Trump was hypocritical.
Trump "has never done anything, he has said crass things, but he's never done anything," Rion said, adding that Weinstein admitted to his actions. Weinstein did admit to behaving in a manner that "has caused a lot of pain," but did not admit to specific actions. Trump has consistently denied all allegations against him and dismissed the assault he was caught on tape describing as words and not actions.
Rion echoed Trump's 2016 apology, saying the two cases are not equivalent, as they are "words versus actions."
"I don't support [Trump's comments]," Rion said, "but with every sinner there's a future and with every saint there's a past."
Mallory Quigley, the spokesperson for the anti-abortion group Susan B. Anthony List, told BuzzFeed News that the president has "reformed" since his 2005 comments, citing his turnaround from being pro–abortion rights to supporting anti-abortion measures, such as the 20-week abortion ban currently awaiting a vote in the Senate.
"I think we can take at face value what [Trump] is doing now, which is elevating women to positions of great leadership," she said in the hallways of the summit as Loesch gave her fiery speech in the background. "It doesn't change anything about the past for Donald Trump, but as president he has raised up women regardless of what's happened in the past."
Weinstein was frequently brought up in the same breath as conversations about family values and the freedom for women to "be traditional mothers" while having careers if they want to, something that a number of speakers and attendees said that "modern-day feminists" had discouraged.
Rion, Quigley, and other summit attendees told BuzzFeed News that they considered Conway "a real feminist" because of her ability to balance motherhood and a powerful career.
"She has a husband, she has children, she has a high education, she has a career, and she has this amazing title of having put a man in presidential office," Rion said. "So as a person who is able to balance all the supreme identities of what being a woman is, she is a feminist."
One Harvard undergraduate student at the conference, who asked to be referred to only by her initials, CR, so that her comments could not be found online, agreed that Conway's family-oriented feminism was admirable. Yet she said she was "really upset" by Conway holding up Trump as an example of how to be respectful of women.
"Trump, he has a past too," she said. "It's totally hypocritical." CR admitted that while she likes Trump's "team and his family," she is not "a big fan" of the president himself.
"It makes me feel icky inside," she said. "Harvey Weinstein does this, and they're totally attacking him and hating him for this, but they're trying to cover up and forget that their very president is basically the same man."
"It makes me really upset," she said, "but I guess that's politics."