Here Are All The Things Donald Trump Said During His New York Times Interview
Trump said he hopes he and the New York Times can improve their relationship, as it would make his "job easier."
After canceling then un-canceling an interview with the New York Times on Tuesday, President-elect Donald Trump arrived at the meeting and answered questions on the alt-right movement, climate change, the Israeli-Palestinian conflict, and more.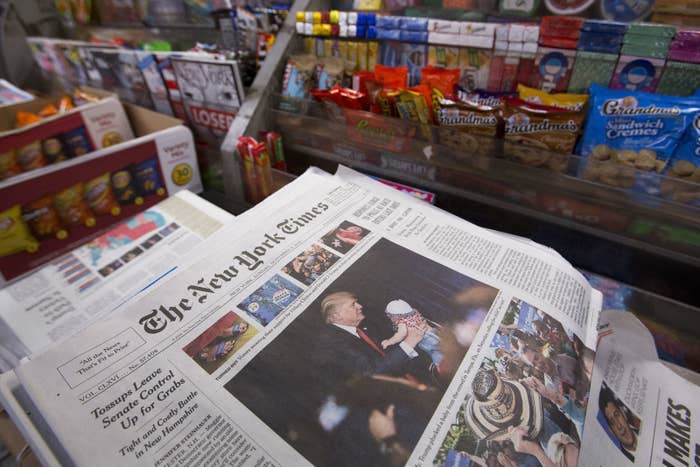 Trump began by complaining about the paper's coverage of him.
Trump frequently attacks the Times' coverage of him on Twitter, calling the paper "fools" and saying it was "failing."
In the meeting he said he had "great respect" for the Times, and that he would like to improve his relationship with the paper as it would make his "job easier."
He also called the Times "a great great American jewel — world jewel."
Trump called his campaign experience "brutal," said he was not "a fan of the electoral college" — Hillary Clinton won the popular vote — and said the "African-American community liked" him during his campaign.
Trump also addressed the alt-right movement, disavowing its support and saying he felt he did nothing to energize them.
The president-elect was also asked about video footage from a white nationalist conference over the weekend where attendees could be seen giving the Nazi salute.
Trump said he does not favor investigating or pushing to prosecute Clinton — a frequent promise on the campaign trail and a rallying cry he encouraged among his supporters. He said he believes it would be "divisive for the country."
He added that he doesn't want to "hurt the Clintons," saying that Hillary Clinton has "suffered greatly" already.
Trump later said that, despite tolerating chants of "lock her up" at his rallies and campaign events, prosecuting Clinton is "not something that I feel very strongly about."
He also said that he doesn't think his supporters will be disappointed about him not following through on his desire to "jail" Clinton, as he said during the second presidential debate.
Trump also addressed climate change.
He said that he is "looking at" withdrawing from the Paris Agreement — which regulates greenhouse gas emissions and the carbon footprints of major industrial countries — and that he has an "open mind to it."
Trump is considering the impact human activity has on climate change, saying he thinks there is "some connectivity," and how much regulating it will "cost our companies."
Here's what Trump said about running his business while running the country.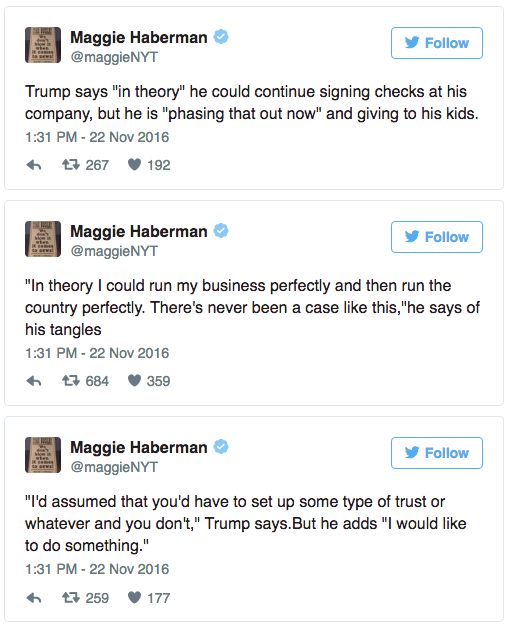 Trump touched on the conflicts in Israel, Palestine, and Syria. He said he thinks his son-in-law, and publisher of the New York Observer, Jared Kushner, who has little political experience, could help solve the Israeli-Palestinian conflict.
On the issue of Syria's ongoing civil war, Trump said, "We have to solve that problem" and "end that craziness."
At the end of the meeting Trump said that in regard to his stance on the First Amendment, the journalists in the room will be "very happy."
He exited the building to boos and some cheers from onlookers, many of whom came in off the street.