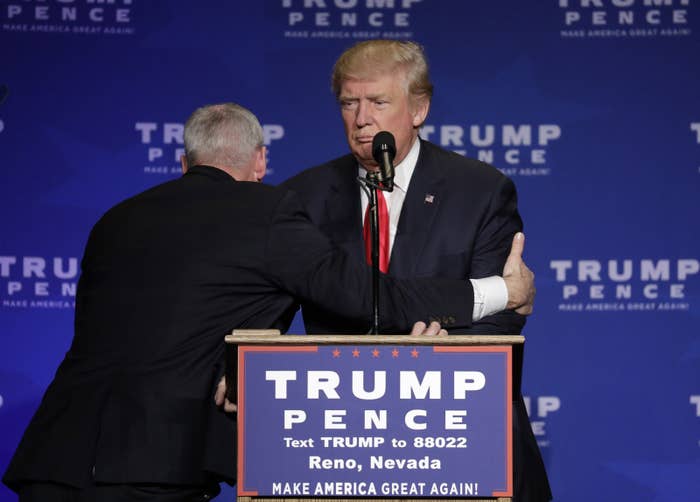 Top members of Donald Trump's campaign falsely referred to an "assassination attempt" on the Republican candidate after he was dramatically rushed off a rally stage Saturday by Secret Service agents in Nevada.
Agents said a member of the Reno crowd shouted "gun" during Trump's speech, causing a "commotion" that saw the candidate ferried off the stage for a time, before ultimately returning to conclude his speech. No gun was found on the man detained by agents, the Secret Service said in a statement.
Reporters at the scene said that the scuffle was caused by a protestor with a "Republicans Against Trump" sign. The man, Austyn Crites, told the Guardian that Trump supporters began physically attacking him before one of them yelled gun, provoking further chaos and confusion.
However, Trump senior advisor and social media director Dan Scavino and his son Donald Trump Jr. both retweeted misleading articles saying that Trump had been the victim of an "assassination attempt."
One of the tweets also mocked Hillary Clinton for wrapping up a Florida rally early on Saturday because of a torrential downpour.
When asked about the tweets on CNN on Sunday, Trump campaign manager Kellyanne Conway referred to "death threats" the campaign had received.
"I'm glad nobody was hurt, but it does remind you in the closing days, especially as the polls tighten, many of us are getting more death threats," she said.
Conway thanked the Secret Service but called the protestor, who has said he is a Republican, a "Democratic plant or operative trying to disrupt" Trump's rally.
"It's scary," she continued. "All the coverage is usually about our protestors wreaking havoc and making people feel afraid."
When anchor Jake Tapper tried again to have Conway directly address the tweets, she instead attacked CNN for reporting "the race is over."
Trump Jr. has since deleted his retweet, though Scavino's remains.