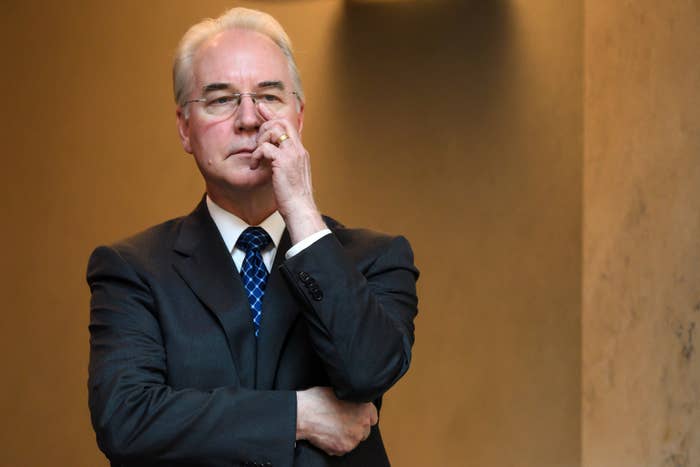 Health and Human Services Secretary Tom Price stepped down Friday, in the midst of a snowballing scandal over his repeated use of taxpayer funds for extravagant air travel while in office, including for trips that combined government and personal business.

"Secretary of Health and Human Services Thomas Price offered his resignation earlier today and the president accepted," White House press secretary Sarah Huckabee Sanders said in a statement late Friday afternoon. She added that Trump plans to designate Don J. Wright, the deputy assistant secretary for health and director of the Office of Disease Prevention and Health Promotion, to serve as acting secretary effective Friday night.

Price, in his resignation letter to President Trump, said it was "an honor and privilege" to serve at HHS, specifically citing his work to "reform a broken health care system."
"I regret that the recent events have created a distraction from these important objectives," he wrote. He aded that he would "continue to support" Trump's priorities from outside the administration.
Price did not explicitly apologize for his use of private jets in an internal note to HHS staff obtained by BuzzFeed News. He said it had been "a great joy" to serve at the department, adding, "The honor of leading the incredible folks at HHS is one I shall always treasure and never forget."
"Please know I shall be thinking of you and encourage you to remember the people, patients, and partnerships we're all privileged to serve," he concluded, signing the letter "Duty is Ours — Results are the Lord's!"
After Price's resignation, the White House issued a memo to cabinet heads stating that chief of staff John Kelly must now approve nearly all travel on "government-owned, rented, leased, or chartered aircraft."
"[W]ith few exceptions, the commercial air system used by millions of Americans every day is appropriate, even for very senior officials," said Mick Mulvaney, director of the Office of Management and Budget. "Therefore, all travel on Government-owned, rented, leased, or chartered aircraft, except space available travel and travel to meet mission requirements (as those situations are defined in Circular A-126) shall require prior approval from the White House Chief of Staff."
Price's resignation comes after Trump had signaled his displeasure with his health secretary for days.
Asked Wednesday whether he would consider firing Price, the president told reporters: "We'll see." In the days since, he has repeatedly told reporters that he was "not happy about" Price's use of private jets on taxpayers' dime.
Trump on Friday afternoon called his secretary a "very fine person," but said he did not like "the optics" around Price's travel and suggested his decision on Price's future was imminent. Trump told reporters that as of Friday afternoon, Price had not offered to resign.
Price spent more than $400,000 in federal money for official trips on private jets 26 times since early May, Politico has reported. Two of those trips were to areas where he owns real estate, and to visit family members and longtime colleagues, Politico also reported. Each private jet trip can cost taxpayers around $25,000.
HHS maintained that the trips were for business purposes and were because cheaper, commercial options were not available. Politico reported, however, that some of the flights occurred despite the availability of commercial options on a similar schedule.

Then on Thursday, Politico reported that the White House had approved the use of military aircraft for Price, accompanied by his wife, for official trips to Africa, Europe, and Asia at an estimated cost to taxpayers of more than $500,000.

That would bring Price's reported taxpayer-funded flight tab to roughly $1 million.
An HHS spokesperson said Thursday that Price would be paying $51,887.31 to cover his share of the privately chartered travel. But based on Politico's reporting, that's about one-eighth of the more than $400,000 the chartered flights cost the government.

Appearing on Fox News shortly after the announcement, Price was asked about his decision to pay only a faction of the cost of the flights.

"Is that OK?" Fox's Bret Baier asked.

Price dodged the question and repeated that "all of the trips, as I mentioned, had been approved."
In addition to an internal investigation at HHS, the House Oversight Committee is looking into Price's travel. In a letter to Price and the heads of 23 other federal agencies on Tuesday, the committee asked for documentation of each private flight taken by Price and other Trump officials.
Price previously served in the House of Representatives from 2005 to 2017, where he represented Georgia's 6th Congressional District. He eventually became the chair of the powerful House Budget Committee.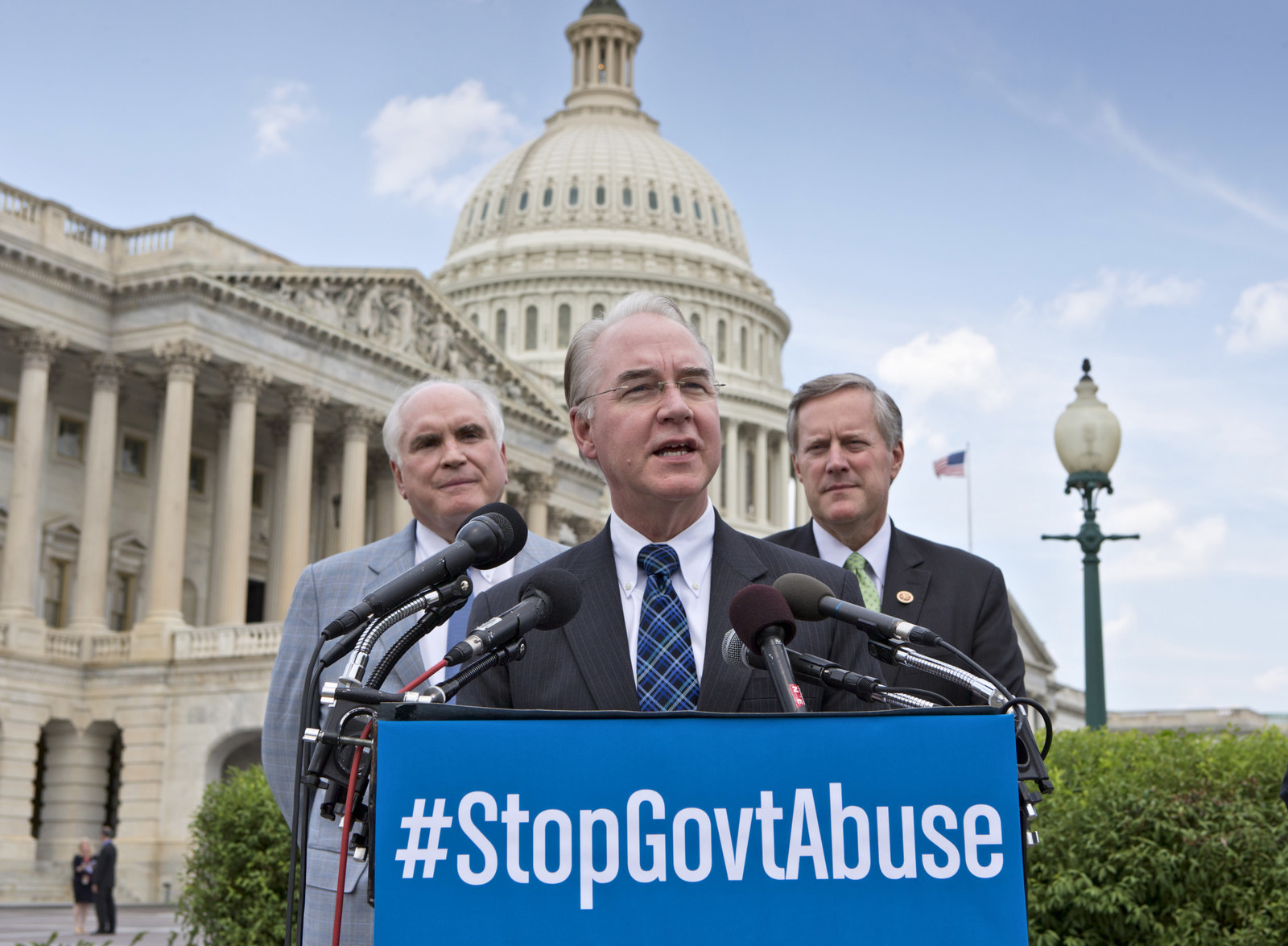 The travel scandal is at odds with Price's public image in Congress as a fiscal hawk who pushed to drastically cut federal spending. In 2010, Price criticized then-House Speaker Nancy Pelosi for "flying over our country in a luxury jet."

Trump nominated Price, a former physician, to take over HHS just a few weeks after the 2016 election. He was approved by the Senate and joined the department in February of this year.
Price's former House Republican colleagues, who have maintained a close relationship with Price since he joined the administration, were hesitant to publicly blast Price this week, telling BuzzFeed News that his travel practices were not wise but not poorly intended.
"I'll chalk it up to a mistake," North Carolina Rep. Mark Meadows said Wednesday. "I see no reason for him to leave his position."

Oklahoma Rep. Tom Cole, who worked with Price on the budget committee, had said he thought Price was "doing a great job" in his post, despite the "poor judgment" in his use of private planes.
House Speaker Paul Ryan praised Price in a statement after the White House announced his resignation. Price, Ryan said, is "a good man" who has "spent his entire adult life fighting for others." He said Price's work was "vital" to the House passing a health care bill this summer, which ultimately died in the Senate.
"I will always be grateful for Tom's service to this country and, above all, his continued friendship," Ryan added.
Congressional Democrats, meanwhile, were ready to kick Price on his way out, but not before insisting that he fully refund taxpayers for his travel practices.
Price was not the only member of Trump's administration to take advantage of private jets, and his resignation may just serve to concentrate attention on other cabinet members.
Environmental Protection Agency Administrator Scott Pruitt has billed taxpayers for more than $58,000 in costs for noncommercial flights since mid-February, the Washington Post reported this week. Education Secretary Betsy DeVos has solely used her personal private jet for business travel since she joined the department, and Small Business Administrator Linda McMahon has also used private jets, but a their spokespeople have said those flights have not come at any taxpayer cost.
Price's resignation comes shortly after the last failure of the Senate to repeal and replace Obamacare, a bill that Price supported and would have been charged with implementing.