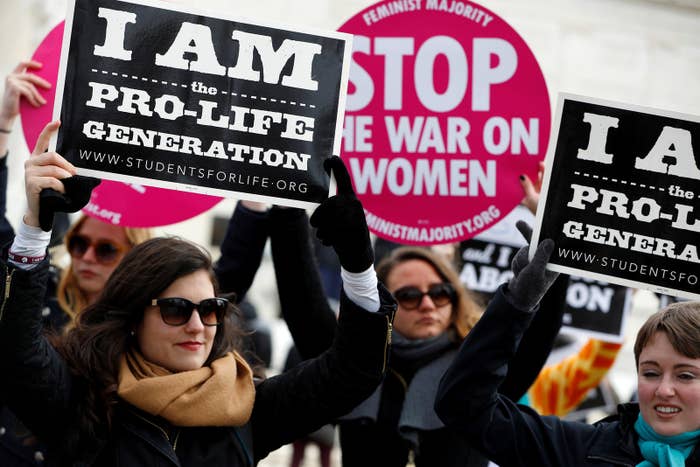 In the past few months, the Department of Health and Human Services has steadily picked away at the Obama administration's carefully constructed family planning policy.
Incrementally, the Trump administration is cutting Obama-era grant specifications and replacing them with language that benefits "faith-based organizations," abstinence-oriented programs, and "natural" family planning methods that don't involve hormonal or chemical contraceptives.
These changes themselves are subtle, but could end up having massive funding implications for health care organizations across the country.
It is no secret that the Trump administration is stacked with advocates of socially conservative family planning beliefs. Just last week, at an event celebrating the anti-abortion advocacy group Susan B. Anthony List, Vice President Mike Pence told attendees that Trump was the "most pro-life president in American history" and he believes there have been more anti-abortion measures taken "in the last year ... than I have seen in public policy in all of my years."
But because many of these policy changes were accomplished through small language tweaks, the aggregate effect has gone largely unnoticed by the public.
Title X
Most recently, HHS announced new, abstinence-oriented guidelines for Title X family planning grants, which give about $260 million to health clinics and organizations that serve more than 4 million, primarily low-income patients across the country.
Under Obama, Title X family planning grant recipients were required to offer "a full range of FDA-approved contraceptive methods" — specifically naming long-acting ones like IUDs — and emphasized compliance with Center for Disease Control regulations that required "equity" of patient coverage and "culturally competent" delivery of services to adolescents, LGBT patients, racial and ethnic minorities, people with disabilities, and "those with limited English fluency."
But the Trump administration's requirements do away with all of that language. The new guidelines released last month state that the "key issues" for the program are "cooperation with community based and faith-based organizations," as well as funding organizations that promote "activities for adolescents that do not normalize sexual risk behaviors, but instead clearly communicate the research informed benefits of delaying sex or returning to a sexually risk-free status." The only specific mention of a type of birth control is "natural family planning methods."
Abortion rights advocates fear these changes will drain funding from their organizations and ones they support, and funnel it into anti-abortion "crisis pregnancy centers," or other religiously-associated organizations that don't provide contraception and promote abstinence until marriage.
When asked for comment, HHS pointed toward excerpts from their "Frequently Asked Questions" page that addressed contraception. According to that excerpt, the funding announcement "requires Title X projects to offer a broad range of voluntary family planning methods and services, including information, and education related to family planning preconception care, contraception, natural family planning, and infertility services." The services "range along a continuum" from "natural family planning and contraception to sterilization." Neither the FAQ nor the regulations they refer to name specific kinds of contraception or refer to protections of LGBT and minority patients.
The shift toward abstinence and away from contraceptives can in part be traced to the secretary for population affairs at HHS, Valerie Huber, who was president and CEO of Ascend, an organization that advocates for "sexual risk avoidance" and "sexual delay" — in other words promoting abstinence. These terms can now be found in HHS guidelines.
Under the new Title X guidelines, Huber will make all final calls on who is awarded the grants. This is the first time this responsibility has been left up to one person.
Planned Parenthood vice president Dawn Laguens called this move "outrageous and dangerous" in a statement to BuzzFeed News Wednesday. "The Trump-Pence administration is handing [Huber] the future of the country's program for affordable birth control. It is unprecedented to give decision-making power for millions of dollars in family planning funding to just one individual, let alone someone who promotes abstinence only until marriage."
On the day of the funding announcement, Huber told press that Planned Parenthood and other organizations that provide abortions would not be restricted from applying for the grants. The goal of the changes, she said, was to expand funding availabilities to new types of organizations and to fill in geographic gaps in affordable family planning care.
The new guidelines also feature several new references to "fertility awareness," a category of "natural family planning" methods that consists of carefully tracking the menstrual cycle and either abstaining from sex or using condoms during periods of fertility. The method is sometimes used by women who have a negative reaction, aversion, or moral or religious opposition to chemical or hormonal contraception.
Dr. Marguerite Duane, the head of Fertility Appreciation Collaborative to Teach the Science (or FACTS, a natural family planning awareness group), told BuzzFeed News the day after the announcement that she was extremely pleased with the new guidelines, and felt that they would enable women to have affordable access to a larger range of family planning options.
"For the first time since Title X was passed in 1970, there is a concerted effort being focused on providing the funding for actually being able to offer fertility awareness services to patients," she said.
Alina Salganicoff, vice president for Women's Health Policy of the Kaiser Family Foundation who advised Obama's HHS on essential preventive services for women, told BuzzFeed News that Title X–funded clinics always offered natural family planning counseling, as well as other contraceptive methods.
The Obama guidelines said providers should inform adolescents that "avoiding sex (i.e., abstinence) is an effective way to prevent pregnancy and STDs," but that if the adolescent states the intent to have sex, "providers should give information about contraception." The recommendations specifically named all FDA approved contraceptives, such as Intrauterine Devices (IUDs), the pill, patch, or ring, among others, which was a purposeful and significant addition to the requirements for grantees.
Salganicoff said that the push to educate women and providers about long-acting contraceptives was in part because of how difficult natural family planning methods are to use successfully. The guidelines under Obama specifically outlined the effectiveness of different kinds of contraceptives versus abstinence and specified that the "rhythm method," misuse of condoms, and the "pull-out" method, put women "at a high risk of unintended pregnancy."
According to the American College of Obstetricians and Gynecologists, these methods result in pregnancy in 12 to 24 women out of 100 when used typically ("the way the average person does") within the first year. The CDC says that women "with conditions that make pregnancy an unacceptable risk" should avoid using fertility-based methods, "because of the relatively higher typical-use failure rates."
The Teen Pregnancy Prevention Program
In August, HHS announced that they were ending the "current implementation" of the Teen Pregnancy Prevention Program and abruptly cut the full $213.6 million in funding to all 81 of the grantees (which served more than a million teens across the country) two years before their grants were supposed to end.
Instead, HHS announced in November it would funnel $10 million dollars into an effort to research questions about how to make the program more effective, such as: "Is it possible for youth who are currently engaged in risky behaviors to make healthier choices in the future?" and "What economic impact does sexual delay have on the individual and on society as a whole?"
In mid-February, three Planned Parenthood affiliates filed a lawsuit against HHS over the cuts to their TPP funding, arguing that it was a "politically motivated decision" that will and has already caused "irreparable harm to Plaintiffs and the high-need communities they serve," the lawsuit states.
These moves are by no means the first shots HHS has taken at Obama's liberal women's health policy. Very early on in the Trump administration, Pence cast a tie-breaking vote — his first — to allow states to strip Title X funding from organizations like Planned Parenthood that provide abortion, repealing an Obama-era rule that protected the funding. (Federal rules already prevent Title X funding from going toward abortion itself, instead it goes toward other services like contraception and cervical cancer screenings.)
Then in October, HHS rolled back one of the Obama administration's biggest accomplishments in reproductive health, when it issued two new rules that enabled insurers or employers to stop providing insurance coverage for contraception for "religious" or "moral" reasons. This move triggered instant outrage and several state attorneys general quickly sued HHS over the rules. They are currently blocked nationwide under a judge's ruling.
Earlier this year, HHS opened an entire office devoted to fielding and acting on the complaints of health workers who don't want to perform abortions or sex-reassignment surgery for transgender patients.
These latest moves may have been quieter, but to abortion rights advocates they are no less serious. Jennifer Conti, a fellow with the advocacy group Physicians for Reproductive Health, called the funding changes a "quiet but direct attack."
"As a physician, I am concerned about the dire consequences this decision will undeniably have for the health of patients across the country."
CORRECTION
Alina Salganicoff's name was misspelled in an earlier version of this post.