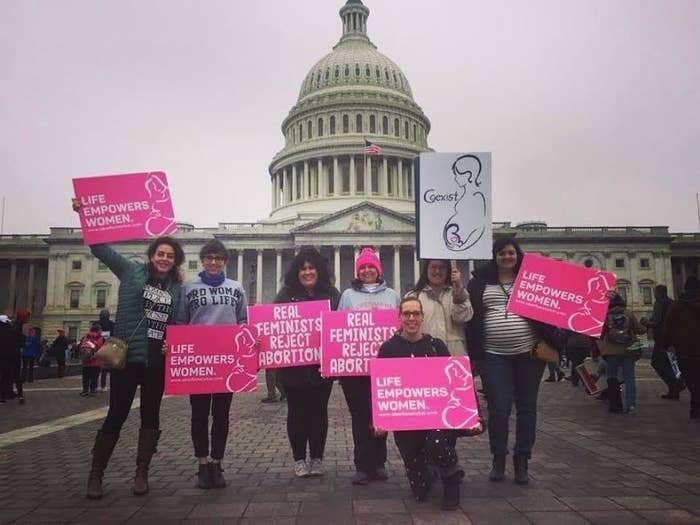 In the middle of the thickest part of Saturday's Women's March in Washington D.C., a teal banner reading, "Stop Killing Human Beings," broke through the sea of pink "pussy" hats. Sarah Burkey, 33, handed out signs reading "Life Matters." Fellow Women's Marchers took them, read them, then handed them back with a polite, "Not really my thing, thanks."

On the other side of the Washington Mall, a few hundred thousand people over, the Students For Life stood along the side of the march route with signs reading "Abortion Betrays Women." A line of Women's March organizers stood in front of them holding hands, protecting them from members of the Women's March who had grabbed their signs and ripped them up, or jostled them off the curb.
The debate over whether or not anti-abortion groups should be allowed to attend Washington's Women's March became heated during the week leading up to Saturday's march.

At first a number of anti-abortion advocacy groups, including And Then There Were None and New Wave Feminists, were approved by the Women's March organizers to be official partners — meaning co-organizers.

However, once people on Twitter began complaining about anti-abortion groups being included, the march released a statement declaring it was "pro-choice," and removed the anti-abortion groups from the partnership list.

Many of the anti-abortion groups who planned on going to the march told BuzzFeed News that this turn of events made them reconsider their decision, or at least the reason they were going.

"It was a shame, I think the organizers just bowed to pressure," Burkey, a volunteer with New Wave Feminists, told BuzzFeed News. "Planned Parenthood has many, many supporters, and I suppose the ones who were upset were just more vocal about it."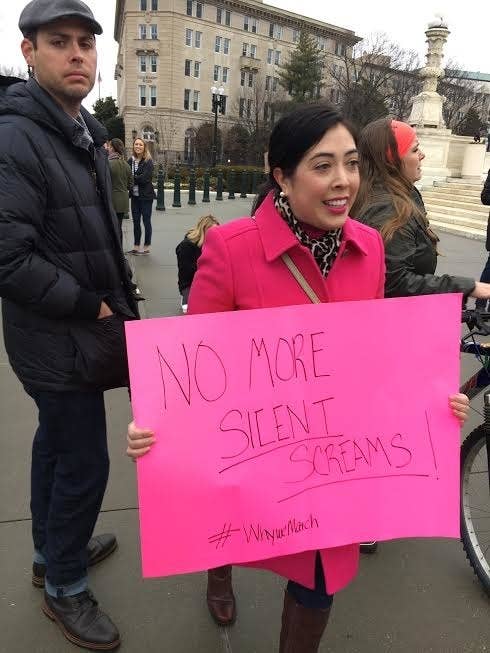 The president of Planned Parenthood, Cecile Richards, told BuzzFeed News Saturday that Planned Parenthood was "not in charge of the march." The group was one of the march's two main sponsors.

However, she said that one of the "main tenants of this march is that we believe in women's ability to make their own reproductive decisions and their decisions about their pregnancy."
"Anyone who supports that, jump on in, and as you're seeing," she gestured around her, "I think a million today did." The Women's March official organizers did not return BuzzFeed News' request for comment.
While the majority of the anti-abortion marchers who spoke to BuzzFeed News would not support a woman choosing abortion, their reasons for attending included, "representing pro-life feminism," wanting to "hold Trump to his pro-life word," being "concerned about the way [Trump] speaks about women," and "general lady parts solidarity."
Compared to the march as a whole, which filled up the entire Washington Mall and many of the surrounding streets, the anti-abortion contingent was not very big.

Though the annual March For Life on the Washington Mall next week usually draws a few hundred thousand attendees, only a few dozen anti-abortion marchers showed up at the women's march, and often with different motives.
"We are not here for political reasons, this is not about Trump," Michele Hendrickson, the D.C. regional director of Students For Life (SFL), a secular anti-abortion group that focuses on college campuses, told the people marching with them as they prepared to set off into the crowd. "We're here to convey to the protesters that when you make women's rights about abortion access it literally silences voices, both of pro-life women and babies."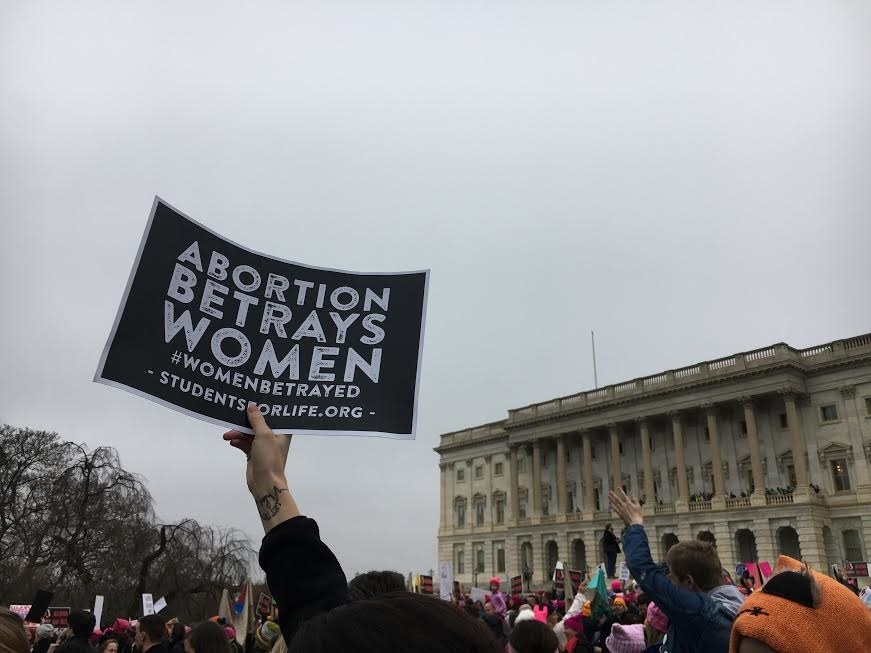 The approximately a dozen members of the Students For Life began the day by walking along with the other marchers. While some people looked askance at the identical "Abortion Betrays Women" signs they held, their interactions with the crowd were peaceful.

It wasn't until they stopped marching and stood by the the side of the march route, unfurling a large banner reading "We don't need Planned Parenthood," that interactions between them and the rest of the marchers began to get volatile.
When the anti-abortion groups would start chanting protest chants along with the passing crowd such as, "This is what democracy looks like," the crowd would take notice and quickly switch to "My body my choice" to drown them out.

Three marchers barreled into the group from behind, knocking a woman pregnant with twins, Abby Johnson, into the people in front of her. Reagan Barklage, also of SFL, told BuzzFeed News that a few men came up to her and grabbed her sign out of her hand, ripping it up.
Eventually official Women's March organizers were called over to the group, holding hands in a line in front of them to protect them.
"That part felt like a counter-protest, which was never our intention," Johnson, the founder of the anti-abortion group And Then There Were None, who attended the march with a group of six, told BuzzFeed News. She knew some of the SFL members and joined them momentarily, but after she was shoved she and her group left the counter-protest.
Despite these interactions, and even though they said they were there to send a message to the other marchers and not to the government, SFL maintained that they were not counter-protesters. "We agree with lots of the principles of unity present here," Hendrickson said.
Johnson and Burkey had much more pleasant experiences of the march.
"When there was just a few of us walking it was no problem," Johnson said. "We had a lot of women come up to us and say, 'thank you for being here,' or 'I may not agree with you but that's for being here representing your belief.' It was nice."
Burkey agreed. Though both she and Johnson want to see Planned Parenthood defunded, they said, they felt a solidarity with the women around them.
"We really do care very much about babies," Burkey said, "but the way [Trump] treats women, the way he talks about them and chooses them based only on their looks, it's really scary. We all have that fear in common."