Four of Ryan Lochte's sponsors announced they would be ending their contract with the Olympic swimmer Monday as fallout over the swimmer's "over-exaggerated" story about being robbed in Rio continued.
Speedo was the first to end its sponsorship, followed by Ralph Lauren, a mattress company called Airweave, and Syneron Candela, the parent company of Gentle Hair Removal.
In a statement to BuzzFeed News on Monday, Speedo said that while it had "enjoyed a winning relationship with Ryan for over a decade," it cannot "condone behavior" counter to company's values.
The swimwear company added that it will be donating part of Lochte's fee to Save the Children's Brazil chapter.
Ralph Lauren also told BuzzFeed News that it would not be renewing the Olympian's contract.
"Ralph Lauren continues to proudly sponsor the US Olympic and Paralympic Team and the values that its athletes embody," Ralph Lauren said in a statement Monday.
"Ralph Lauren's endorsement agreement with Ryan Lochte was specifically in support of the Rio 2016 Olympic Games and the company will not be renewing his contract," the company said, without giving a specific reason for this lack of renewal.
Last week, Lochte and three other US Olympic swimmers got drunk at a party in Rio and allegedly trashed a gas station bathroombefore they were confronted by employees and security guards. The following day, Lochte told his mother, and later the press, that he and his fellow swimmers had been robbed at gunpoint.
However, Rio police, using security camera footage, discredited Lochte's account of the events. And after Brazilian officials said they were ready to indict Lochte and fellow US swimmer Jimmy Feigen on charges of making a false report, he apologized for "immature behavior." But in an interview with NBC, he refused to deny that he and his fellow swimmers were robbed.
"People can see it in many different directions," Lochte said. "I was intoxicated, so I don't know. All I know is there was a gun pointed at us and we were demanded to give money."
The indictment would still have to be approved by prosecutors and a judge before criminal proceedings begin.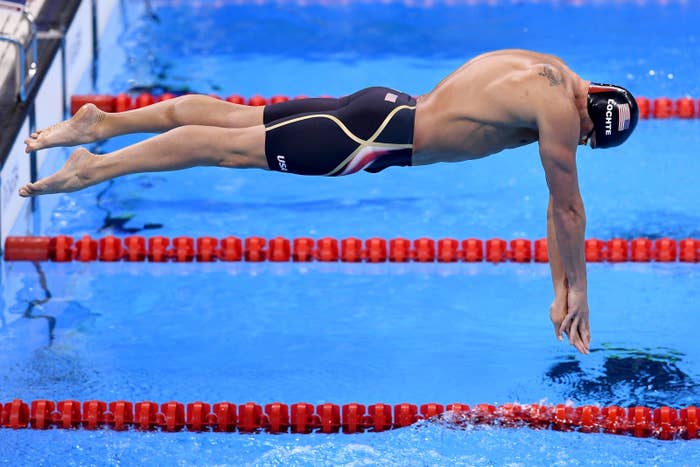 A few hours after Ralph Lauren and Speedo's announcements, Airweave and Syneron Candela released their statements.
Airweave used the same language as Ralph Lauren, while Syneron Candela added their own flair:
"We hold our employees to high standards, and we expect the same of our business partners," the hair removal products company wrote. "We wish Ryan well on his future endeavors and thank him for the time he spent supporting our brand."
Read Speedo's full statement:
Speedo USA today announces the decision to end its sponsorship of Ryan Lochte. As part of this decision, Speedo USA will donate a $50,000 portion of Lochte's fee to Save The Children, a global charity partner of Speedo USA's parent company, for children in Brazil.

While we have enjoyed a winning relationship with Ryan for over a decade and he has been an important member of the Speedo team, we cannot condone behavior that is counter to the values this brand has long stood for.

We appreciate his many achievements and hope he moves forward and learns from this experience.