Two students and one teacher were shot Wednesday at an elementary school in Townville, South Carolina, after a teenager opened fire with a handgun, officials said.
A teenage suspect was taken into custody and authorities said they do not believe anyone else was involved. He was not officially identified, but the Anderson Independent Mail reported he was 14 years old and homeschooled.
Before heading to the school, the suspect shot and killed his father, Jeffery Osborne, in their home on Osborne Road, about three miles from the school, Anderson County Coroner Greg Shore told reporters Wednesday.
Authorities said the teen called his grandmother at 1:44 p.m. and was crying so hard that she couldn't understand him and decided to go to his home.
The first report of gunfire was received at 1:45 p.m., authorities said.
At the teen's home, his grandmother found her son — the teen's father — dead and called 911, police said.
The teen was charged Friday as a juvenile with murder and three counts of attempted murder, according to the Associated Press. He was ordered to be held.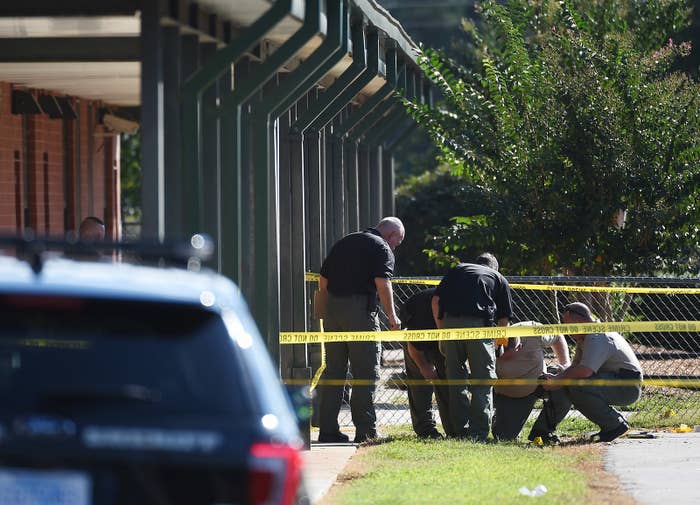 Everyone involved in the shooting was white, police Capt. Garland Major told reporters, adding that there was "no terrorism involved" and "no racial undertones there." Police did not reveal the shooter's motivation.
Emergency responders arrived at the school in seven minutes and had the shooter in custody within 15 minutes.
The teacher and two children were taken to a nearby hospital. One of the children was shot in the leg, the other in the foot, and the teacher in the shoulder. None of their injuries appeared life-threatening, officials said, but they said one of the children, a 6-year-old boy named Jacob Hall, underwent surgery.
Before Wednesday's shooting, Townsville faculty had undergone "active shooter training," school district Superintendent Joanne Avery told reporters.
"We are heartbroken by this senseless act of violence," Avery said, while also praising the efficiency of the teachers, administrators, and first responders who "saved lives."
A family friend of one of the injured students, Jacob Hall, posted a picture of the six-year-old on Facebook with an update on what befell him during and after the shooting.
Jacob, along with the teacher and other student, were on the playground during recess when the shots rang out, Alan Clemmons wrote.
"The bullet ripped through little Jacob's femoral artery," Clemmons wrote. "He died twice, and was revived, during medical transport and again during surgery."
He was air-lifted to a nearby hospital and kept there as doctors attempted to stabilize his condition and give him multiple surgeries. After speaking with Hall's grandfather, Steve McAdams, Clemmons wrote another update on Thursday:
"The good news is that the six year old victim continues to fight, though his condition is still critical. The shot that severed Jacob's femoral artery required immediate chest surgery to staunch the blood flow," Clemmons wrote, thanking the thousands of people on Facebook who sent their thoughts to Hall and his family.
After the shooting, students were evacuated to Oakdale Baptist Church, where parents were told they could pick them up.
One parent told WYFF that her daughter and her classmates went to the bathroom terrified during the incident.
"All the kids were crying, the teacher was all shaken up," she said in tears. "It's just so sad."