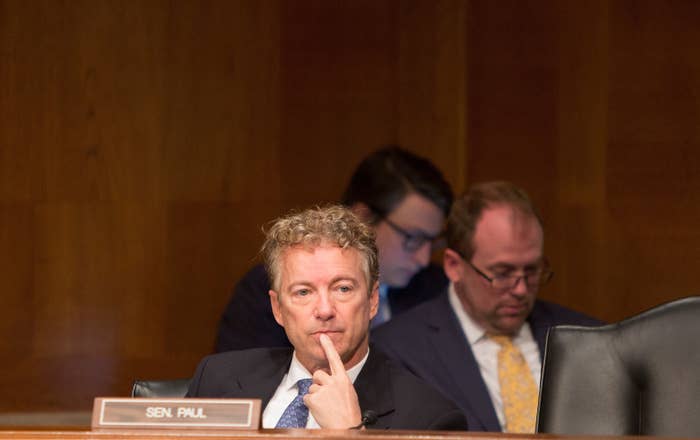 Several Republicans raised concerns Wednesday that President Donald Trump's pick to head the Department of Health and Human Services is too close to the pharmaceutical industry, questioning whether he would work to reduce rising drug prices if confirmed.
While the majority of Republicans at the Senate Health Committee's hearing supported Trump's pick, citing his six years at HHS under President George W. Bush's administration, some raised concerns inspired by Azar's 10-year employment with major pharmaceutical company Eli Lilly and Co., and questioned whether he would be committed to lowering the cost of medicines for consumers.
Sen. Rand Paul, who recently returned to the Senate after having six ribs broken in a fight with his neighbor, grilled Azar about his "Big Pharma" past, accusing pharmaceutical companies of "manipulating the government" for their own gain.
Azar stated in his opening remarks at the hearing that lowering drug prices was one of his top four priorities going into the position of secretary, by fighting "gaming in the system by patents and exclusivity agreements." Paul, however, was not convinced.
"You've got some convincing to make me believe that you're gonna represent the American people and not Big Pharma," Paul said, adding that he knew that suggestion was "insulting," but that he and his colleagues "all have our doubts, because Big Pharma manipulates the system to keep prices high."
Paul's central concern was regulations upheld by multiple presidential administrations that prevent the reimportation of drugs made in the US and sold for lower prices in other countries, including Canada and the European Union. Paul argued that these laws prevent competition and access to cheaper pharmaceuticals that would lower drug prices in the US.
Azar conceded that there were "clearly abuses" by pharmaceutical companies "in the system," but that past HHS secretaries from both parties had not been able to determine that importing drugs from Europe could be safe for American use and that he was "against unsafe reimportation."
"That's BS and the American people know it's BS," Paul countered, stating that past secretaries were "beholden to the drug companies" and that he could not trust their opinions on this matter.
"This isn't capitalism," Paul said, raising his voice. "Walmart is capitalism, Bill Gates was capitalism, Big Pharma is not. They're trying to maximize their profit by using government, and we're letting them do it."
Paul finished his questioning by stating that unless Azar was open to exploring this controversial strategy of reimporting drugs, "I can't support you."
Azar did not get a chance to fully respond to Paul's statements, as they had run out of time.
Sens. Lisa Murkowski of Alaska and Susan Collins echoed Paul's concerns about misbehavior in pharmaceutical companies. Murkowski told Azar that she was interested in hearing his responses to Paul's questions. She said that this issue was of particular concern to citizens of Alaska, as their "neighboring state is Canada," and many of Alaska's citizens wonder why the government can't "do more about safely reimporting drugs" from a country right next door to them.
Collins picked up Paul's concern over the lack of competition in the pharmaceutical market, referencing a study that found that some drug companies may be blocking potential competitors from being able to get FDA approval to create generic versions of a drug, thereby driving up costs.
Azar responded that he was aware of that issue as "one of the abuses that occur" in the pharmaceutical industry, and that he planned to look into it.
Though the Health, Education, Labor, and Pensions (HELP) Committee is able to question Azar in these hearings, his appointment to the post is up to a vote by the Senate Finance Committee, which has not yet scheduled its hearing on Azar's nomination.
If Azar is confirmed to his position by the Senate, he will replace former HHS Secretary Tom Price, who resigned under pressure in late September due to reported misuse of private planes using taxpayers' money.