"SNL" Holds Firm On Donald Trump As Host Despite Protests
Demands that Saturday Night Live "Dump Trump" have been growing in recent days, but so far, NBC has held firm.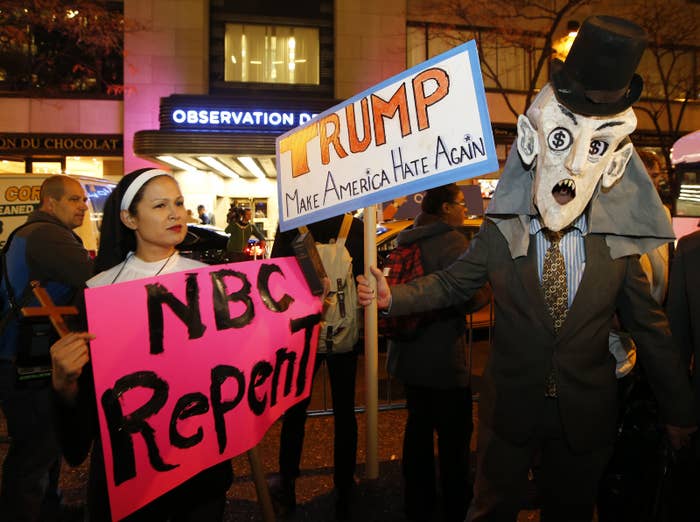 Despite continued protests and petitions signed by hundreds of thousands of people, Saturday Night Live is showing no sign of canceling Donald Trump's upcoming appearance as host.

In the weeks since NBC announced plans for Trump — a leading contender for the Republican presidential nomination — to host the popular sketch comedy show, there has been growing public outcry and protest against the choice, mostly due to his controversial positions on immigration.
A number of celebrities have spoken out, #DumpTrump began trending on Twitter, and in the past week, dozens have gathered outside NBC's famed headquarters at 30 Rockefeller Center in New York to deliver a box containing what they claim is "522,080 petition signatures demanding that NBC revoke Donald Trump's invitation to host 'Saturday Night Live' on Saturday, November 7th, 2015."
"We believe this individual has been very divisive toward the Latino community," Brent Wilkes, the national executive director for the League of United Latin American Citizens told NBC News at the protest. "He's called us rapists, murderers. He's called us criminals. He's called us drug dealers. And that's extremely offensive to us."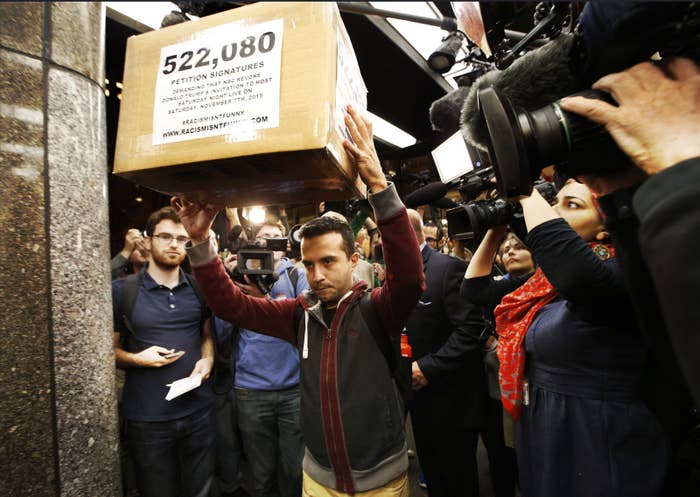 During Trump's announcement of his presidential bid in June, the famed businessman said Mexico was "sending people that have lots of problems" into the U.S., including drug dealers, criminals, and rapists.
Prominent national Latino groups have been outspoken against Trump throughout the real estate mogul's campaign. Apart from their opposition to his stringent stance on immigration, which involves building of a "huge wall" along the Mexican border — many Latino groups have blamed Trump's comments about immigrants for inciting of recent cases of violence against Latinos.
One of those protesting outside NBC, Karina Garcia, said Trump's comments directly insulted her family from Mexico, making his candidacy a "personal issue" for her.
"This level of racism ... it's like a tumor that if you ignore it, it actually spreads," she said. "It's unconscionable that they would do this — that they would give him this stage."
Michael Ian Black – a comedian who has often collaborated with SNL alums and cast members – decried the show's choice of host on Twitter, calling Trump a racist and criticizing the show for "sucking up to the powerful."
Black added that though he didn't support Hillary Clinton's appearance on the show either, "at least she didn't host."
Latino actor and former SNL host John Leguizamo said in an interview with Yahoo that he was done hosting or watching the show for good, calling the choice of Trump "hurtful," "insulting," and "hate-mongering."
Leguizamo argued that if the candidate had said "those things about any other ethnic group, he would not be on SNL."
Neither NBC nor Trump's campaign responded to BuzzFeed News' request for comment.
NBCUniversal, which perviously aired Trump's series Celebrity Apprentice and his Miss USA and Miss Universe pageants, cut ties with the GOP candidate in June over his controversial statements.
The SNL episode hosted by Trump, with musical guest Sia, is scheduled to air Saturday night on NBC.