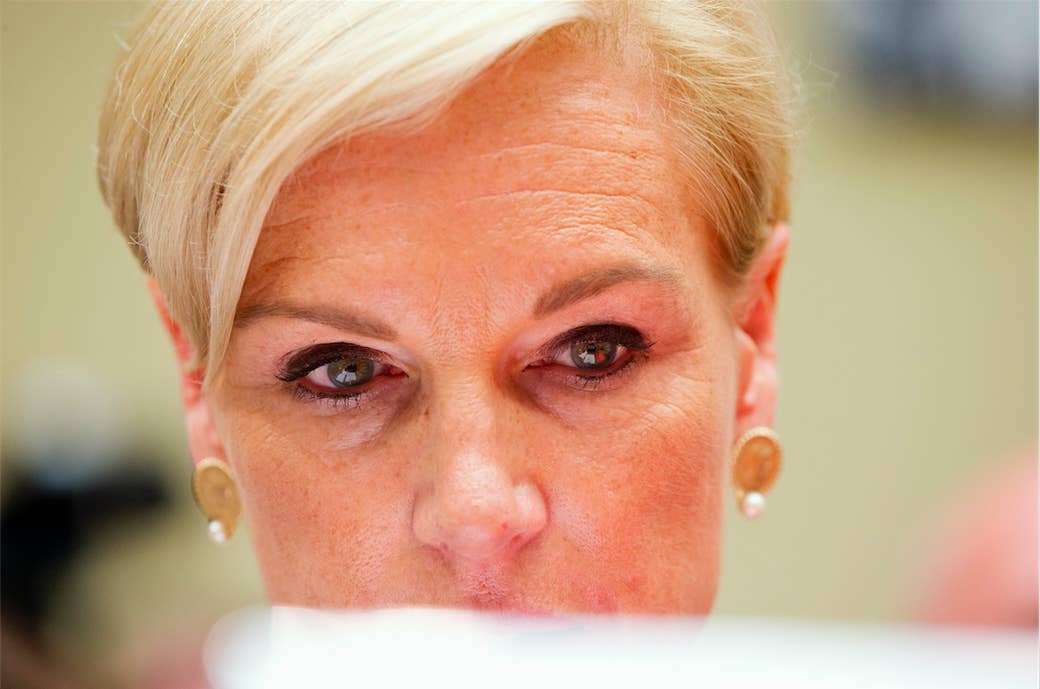 KENOSHA, Wisconsin — The president of Planned Parenthood, Cecile Richards, stood in the front room of a Planned Parenthood clinic in the Speaker of the House's district adjusting her hot-pink blazer. Her staff gathered around an iPhone watching a news report on the leaked draft of a House bill that would repeal the Affordable Care Act — and defund Planned Parenthood.
Republicans have tried to defund Planned Parenthood for years. Now, with the GOP in control of both chambers of Congress and the executive branch, it's extremely likely the nonprofit will be stripped of the more than $500 million it gets from the federal government for Medicaid reimbursements each year. So this provision in the bill was expected; what was setting in for those in the clinic is that the process had begun.
Richards and her team were in Speaker Paul Ryan's district — Kenosha, Wisconsin — for a hastily planned "roundtable" with some of his constituents, who also happened to be Planned Parenthood patients and providers. The six women sat at a table facing an audience of nearly the same number, each taking their turn telling stories of their relationship with Planned Parenthood as Richards leaned forward in her chair nodding intently. Four protesters stood outside in the cold holding signs reading variations on "life."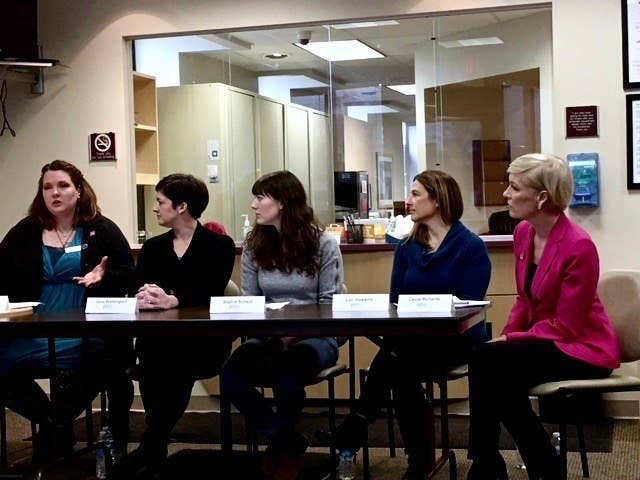 The three Planned Parenthood clinics in Ryan's district don't even provide abortions. Women go to these clinics for services like STI tests, contraceptives, and cancer screenings.
Highlighting areas like these is part of a post-election shift back to the center for Planned Parenthood. Within months of the presidential election, the women's health provider overhauled its strategy from campaigning for federal coverage of abortions to running ads in which a patient tells a story of a Planned Parenthood nurse telling her not to have an abortion.
Richards told BuzzFeed News this is not a shift in messaging, but "an education campaign" to "fill in a picture for people" in certain areas about the non-abortion services Planned Parenthood provides. With the threat of losing their government funding becoming more imminent by the day, the organization is appealing to Republican-voting and often anti-abortion-rights constituents whose representatives and senators may decide their future — hoping they pick up the phone and demand the clinics stay open, like their Democratic neighbors are doing all over the country. So they find themselves increasingly in states like Wisconsin, which went to Trump.
"Call your representative" and "Our doors will stay open" have become new mottos for the health care group, often chanted with the crowd at pro-Planned Parenthood rallies.
"The stakes have become quite clear recently, and they're very high," Richards told BuzzFeed News on the drive back from Kenosha to Milwaukee. "The patients I talk to are terrified they're going to lose their access to health care, and docs and clinicians are terrified that this Senate is going block the women with the least access to health care from getting any at all."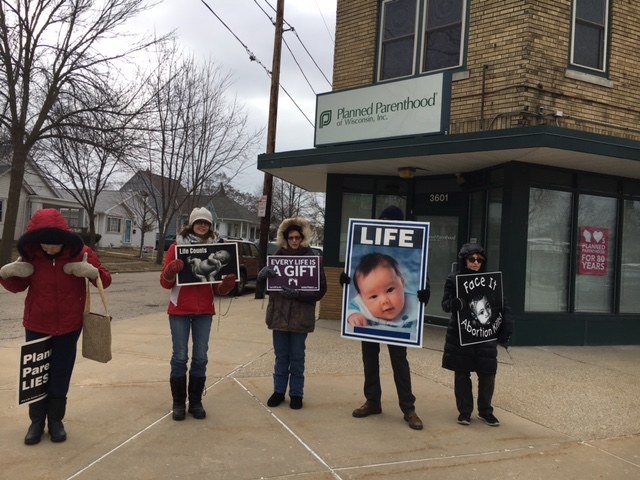 Planned Parenthood neared the end of the 2016 campaign expecting a much brighter future. It had just become revitalized from one of the worst public relations crises in its history and was looking forward to an administration run by Richards' friend, Hillary Clinton, who received the organization's first-ever presidential endorsement in the primaries.
In 2015, anti-abortion-rights activist David Daleiden released a series of heavily edited videos accusing Planned Parenthood of profiting from the sale of "baby parts," a term still used frequently by the organization's opponents. The videos caused more than a dozen Republican-governed states to investigate — and many to temporarily defund — Planned Parenthood, though the investigations came up with no evidence of wrongdoing. The United States Congress set up a special committee to launch a lengthy investigation into the health organization, which also found nothing. Funding for several Planned Parenthood clinics became a flashpoint in the middle of a government spending bill, but again the group came out unscathed.
Its proponents even gained a Supreme Court victory in June 2016 with Whole Woman's Health v. Hellerstedt, which reaffirmed the unconstitutionality of an "undue burden" on women's access to abortion. The group campaigned alongside Clinton and helped push successfully to get the Democratic Party to include repealing the Hyde Amendment as part of its 2016 platform, an addition that would previously have been controversial.
Now, just a few months later, Richards' organization stands not only to lose its funding but also the Affordable Care Act's mandate requiring insurers provide birth control coverage. Richards told BuzzFeed News that getting that mandate into the ACA was one of the fiercest battles she's ever fought.
"The truth is, no one really knows what will make a difference anymore, but that's why we have to do everything we can."
Even Roe v. Wade, the 1973 law that legalized abortion, might be in danger. "Quite clearly the Supreme Court is an enormous risk," Richards conceded, saying that she had "no hope" for President Donald Trump's Supreme Court nominee, Neil Gorsuch, based on his past decisions.
"It is really frightening to think we would go back to a time when we were fighting about access to birth control in women's insurance plans," she said. "Or that you would let your boss decide whether or not you could get it."
The bright side? People are paying attention.
"I've never seen a reaction like this before in this volume," Richards told BuzzFeed News. Earlier that day, two Kenosha Planned Parenthood patients had announced on camera that throughout their lives they had been "silent supporters" of the health organization, that they didn't even tell their families, but that "now it was time to speak up."
Even after the historically massive women's marches around the US the day after the inauguration, people continue to show up at their representatives' town halls in such large droves and with such fervor that many Republicans have canceled their town halls to avoid facing their constituents.
"The truth is, no one really knows what will make a difference anymore," Richards said. "But that's why we have to do everything we can."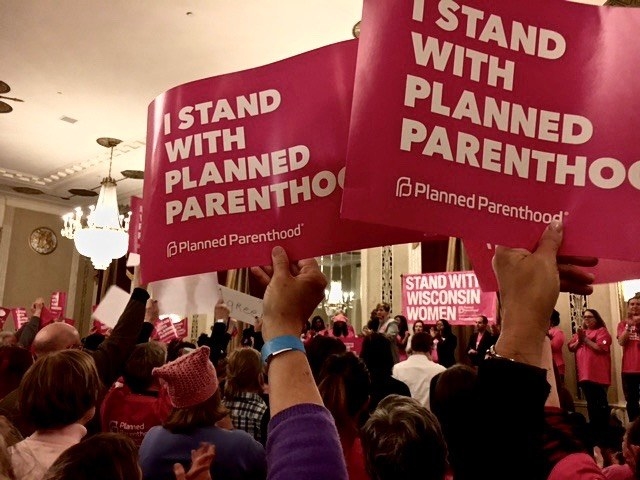 In part of Ryan's district, Racine County, there are no federally qualified health centers besides Planned Parenthood. A number of physicians and clinic directors at non-Planned Parenthood federally qualified health centers in the rest of his district said the four health centers would not be able to successfully absorb Planned Parenthood's roughly 6,000 patients at their three clinics in Ryan's district. Organizations like Wisconsin National Right to Life Commission insist nonprofit pregnancy-care organizations can pick up the slack post-defunding, though many of these do not provide STD testing or contraception.

When asked about the lack of centers to replace Planned Parenthood in his district, Ryan's office told BuzzFeed News, "Our goal is making sure women get the kind of care they need and we believe that can best be achieved by putting money into community health centers, which provide similar services as Planned Parenthood but vastly outnumber them."
Ryan, with the support of the White House, argues that despite a federal law preventing federal funds from reimbursing Planned Parenthood for abortions, that funding is still propping up the largest abortion provider in the country and contributing to "the abortion industry," as he calls it, when many of those taxpayers are anti-abortion rights.
Richards said Planned Parenthood is preparing for the worst-case scenario. "We've got a lot of work we're doing on contingency," she said, adding, "but there's no way to overstate what a health care crisis this would be for women if they were blocked from going to Planned Parenthood."
Should Republicans in Congress pass a bill cutting off federal funding for the group, as they have tried to do unsuccessfully twice in the past decade, Planned Parenthood's low-income clients — at least 60% of their 2.5 million patients nationwide — would no longer be able to afford to receive non-abortion health care from the organization. The loss would most likely cause many Planned Parenthood clinics to close down, especially in low-income areas where an even higher percentage of patients need free or discounted care. In 2013, Wisconsin blocked Planned Parenthood from receiving some state family-planning grants, and a number of its clinics closed as a result.
Richards is frequently asked if all the money Planned Parenthood has received through donations from supporters could replace the federal funds they now receive, which is from reimbursements for patients on Medicaid and from federal Family Planning programs. "The answer to that is no," she said. "Not to take care of 2.5 million patients."
Women, especially young women, became used to a certain level of treatment under President Obama, Richards theorized, and said, "I think that's a door that's opened now and I think generationally there's a great change ... they're are not gonna go back without a fight."
CORRECTION
Hillary Clinton received Planned Parenthood's first presidential endorsement in the primaries. A previous version of this article misstated she received its first presidential endorsement.