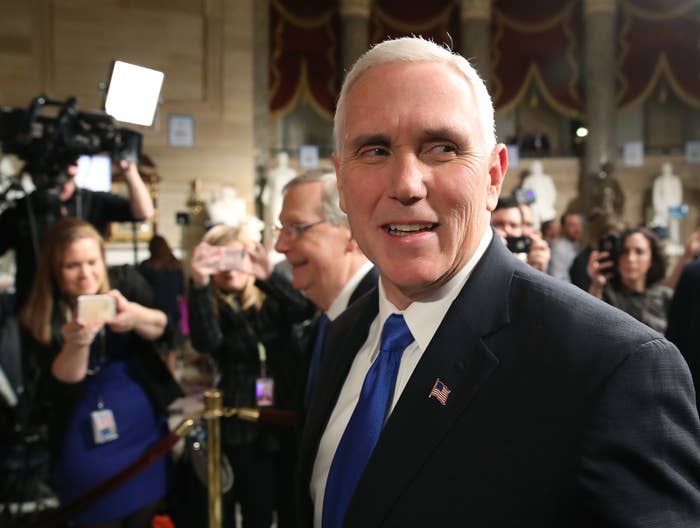 WASHINGTON — Vice President Mike Pence stepped into the Senate on Thursday to break a tie on a vote that would allow states to defund Planned Parenthood and other health clinics that provide abortions.
Two Republicans voted against the bill and one arrived in a wheel chair recovering from back surgery to support it, giving Pence the chance to break the tie and send the bill to President Donald Trump's desk, where he is expected to sign it into law. This is the first time Pence has broken a tie on legislation since he was sworn-in in January.
The legislation overturns an Obama administration rule, which went into effect two days before he left office in a last-ditch effort to protect Planned Parenthood from losing funding under a Republican Congress and president. The rule prevented states that receive federal Title X funding for family planning from withholding those funds from qualified health centers, including those that provide abortions.
A Department of Health and Human Services report released at the time said that since 2011, 13 states restricted Title X funds from going toward clinics that provide abortion, harming those clinics' ability to see and provide treatment for low-income patients.

Federal funds cannot, however, go toward abortions themselves. Clinics like Planned Parenthood can be reimbursed with those funds for providing non-abortion services such as cancer screenings, STD tests, fertility services, and contraception to low-income patients without insurance who don't qualify for Medicaid.
Still, many Republican federal and state legislators, including Pence and the 50 Republican senators who voted to overturn the rule Thursday, argue that taxpayer money should not go toward organizations that perform a service that many of their constituents do not agree with, even if the funding doesn't go toward the service itself.
The Center for American Progress found that about half of the women who rely on Title X funds to reimburse their health centers for non-abortion services are women of color, many of whom live in medically underserved areas.

After Obama's rule was implemented, a few states, like Missouri, rejected millions of dollars federal funds in order to defund Planned Parenthood in their states. And anti-abortion lawmakers and advocates said as soon as it was passed that rolling the rule back would be at the top of their list of priorities once President Donald Trump took office. Though the repeal proved controversial, Vice President Pence and congressional Republicans helped them keep their promise.
Just two Republicans in the GOP-controlled Senate, Sens. Lisa Murkowski and Susan Collins, who have long opposed defunding Planned Parenthood, voted against overturning the rule.
"I am not one that wants to go backwards or reduce in any way women's access to health care, and I felt that by pulling back this rule, we would be doing that," Murkowski said.

Collins said before the vote that Congress shouldn't further restrict funding for Planned Parenthood and other clinics like it, arguing that "family planning ... is the best way to reduce the number of abortions."
Those no-votes forced Pence to head to the Senate to break the tie, and because two votes were actually needed to set up and pass the bill, Pence played tie-breaker twice Thursday.
A morning vote on the bill was left open for roughly an hour, as Sen. Johnny Isakson, who is still recovering from recent back surgery, made his way to the Senate to cast his vote and ensure that Republicans could provide a tie for Pence to break. "It's my job," Isakson said, as he left the Senate in a wheelchair after the first vote.
The bill also had the support of Nevada Sen. Dean Heller, the only Republican up for reelection in 2018 in a state that Hillary Clinton won in the 2016 presidential election.
The House, meanwhile, passed the bill in February with the support of nearly every Republican in the chamber and two Democratic members.
Republicans were able to target the rule via the rarely used Congressional Review Act, which allows Congress to undo recent rules implemented by the executive branch with just a simple majority vote, meaning it didn't require Democratic support in either the House or Senate.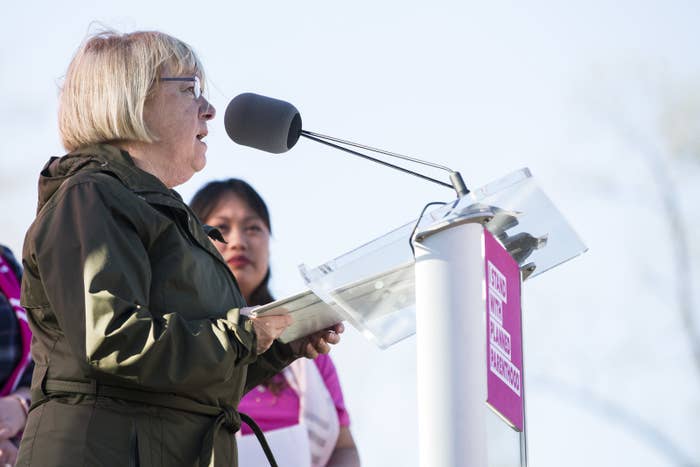 On the Senate floor Thursday, a clearly angry Sen. Patty Murray, the ranking Democrat on the Senate's health committee, emphasized how close the vote was and was criticized Republicans for pushing it through.
"My colleagues and I came to the floor weeks ago to make clear that this harmful legislation shouldn't come to the floor," Murray said. "Republicans didn't listen to us — they didn't listen to women across the country who made clear that restricting women's access to the full range of reproductive care is unacceptable."
Meanwhile, Senate Majority Leader Mitch McConnell labeled the Obama administration rule as "unnecessary" and harmful, arguing that the money should be spent on local community health centers that do not provide abortions, rather than a national organization like Planned Parenthood.
"[The rule] substituted Washington's judgement for the needs of real people, controlling Americans' access to health care services while hurting the community health centers that so many Americans — especially women — depend upon," McConnell said in a press release quoting his floor remarks. "Fortunately, by sending [this legislation] to the president's desk, we can once again return power back to the people — and we'll do so without decreasing funding for women's health by a penny."
Planned Parenthood Vice President Dawn Laguens contested McConnell's claims in a statement after the initial vote Thursday morning, calling their decision to repeal the rule restrictive to women's access to healthcare.
"Mike Pence went from yesterday's forum on empowering women to today leading a group of male politicians in a vote to take away access to birth control and cancer screenings," she wrote. "There's a reason they could barely get enough votes to get this bill through a procedural step: People are sick and tired of politicians making it even harder for them to access health care, and they will not stand for it."

Marjorie Dannenfelser, president of the anti-abortion group SBA List — which has close ties to the Trump administration — thanked Pence for breaking the tie and celebrated the vote as a victory for anti-abortion advocates.
"Pro-life President Trump's signature on this legislation will undo former President Obama's parting gift to the abortion industry," she said in a statement. "Never again will the federal government thwart efforts by states that – acting on the will of the people – want to fund real women's health care, not abortion."