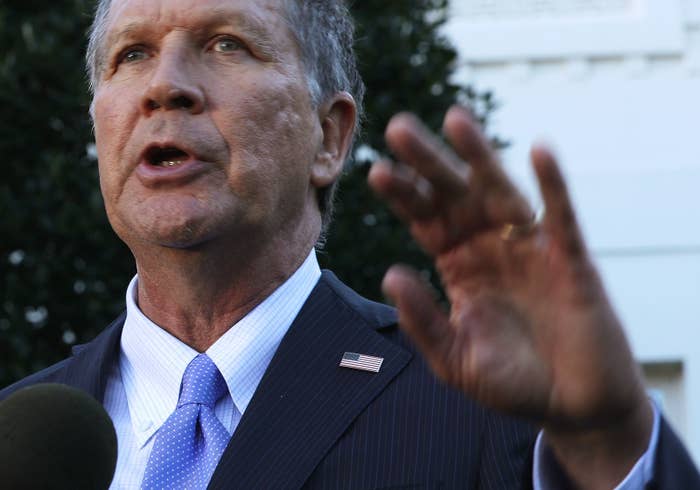 Ohio Gov. John Kasich vetoed a bill Tuesday banning abortions after about six weeks of pregnancy, and signed into law a second bill barring the procedure after 20 weeks.
The six-week ban, known as the "heartbeat bill," would have prohibited abortions after a fetal heartbeat could be heard — which is usually after about six weeks and before many women are aware they are pregnant.
The Pain-Capable Unborn Child Protection Act will ban abortions after 20 weeks of gestation, except in the cases of threat of death or "irreversible impairment" of the pregnant person's body.
Under the law, doctors who perform an abortion after 20 weeks could also be prosecuted.
"I agree with Ohio Right to Life and other leading, pro-life advocates that [the Pain-Capable Unborn Child Protection Act] is the best, most legally sound and sustainable approach to protecting the sanctity of human life," Kasich said in a statement following the signing.
The heartbeat bill had caused an uproar among anti-abortion and abortion rights advocates alike, including protests outside Kasich's Ohio residence.
In his "veto messages," Kasich wrote that while he has worked hard as governor to protect the "sanctity of human life," he found that "certain provisions" in the heartbeat bill were "clearly contrary to the Supreme Court of the United States' current rulings on abortion."
Referring to legislation in other states similar to the six-week ban that were declared unconstitutional by federal judges, Kasich said he would not risk putting Ohio in the place of being a "losing party in that lawsuit and ... forced to pay hundreds of thousands of taxpayer dollars to cover the legal fees for the pro-choice activists' lawyers."
The veto, he said, "is in the public interest."
Rather than rejoice in the victory of the six-week ban on abortion being prevented from becoming law, many abortion rights advocates warned fellow supporters not to feel victorious.
"Don't let John Kasich fool you. ... Kasich is on a mission to make abortion illegal in Ohio, and he's intent on using smoke and mirrors and backdoor politics to do it," Planned Parenthood Executive Vice President Dawn Laguens wrote in a statement.
"He may hope that by vetoing a six-week ban ... he comes off as moderate," she continued, adding that the 20-week ban "will force women to travel long distances and cross state lines in order to access safe, legal abortion."
Ohio joins 14 other states in having various forms of the Unborn Child Protection Act, and the effort to increase that number is gaining strength. In a letter written by Donald Trump during his campaign outlining his platform on abortion, he pledged to turn the bill into federal law.
The law is based on the the idea that after 20 weeks, a fetus can feel pain. Many physicians, including the American Congress of Obstetricians and Gynecologists (ACOG), a nonprofit advocacy and aid group, concluded there is "no evidence of fetal perception of pain until 29 weeks at the earliest." The ACOG added that the legislation would make doctors unable to do their jobs to the fullest and would "harm women's health in very clear ways."