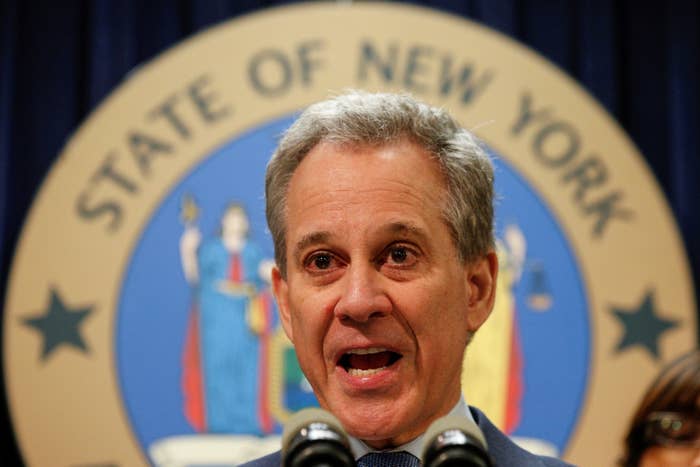 New York is likely to sue the Trump administration over a proposed rule intended to allow health care providers to decline to provide medical care — like abortion or sex reassignment surgery — for "religious, moral, ethical," or other reasons.
"Unless the draft rule meaningfully changes I expect we'll sue once it's finalized," a spokesperson for New York Attorney General Eric Schneiderman told BuzzFeed News Wednesday.
The rule was proposed in January by the Department of Health and Human Services (HHS) as part of a new division in the department's Office of Civil Rights devoted entirely to field complaints from medical workers in HHS-funded programs with "religious or moral" opposition to certain procedures. This new rule is intended to protect these health care providers from having to perform those procedures.
Critics of the rule say it will enable health care providers and insurers to discriminate against marginalized patients — particularly LGBT individuals and low-income patients who rely on federal funding for health care — and allow medical personnel to withhold information from patients about possible procedures they object to.
Among these critics are 19 Democratic state attorneys general, who wrote a lengthy, joint comment on the rule demanding that it be withdrawn. Eighteen Senate Democrats also wrote a letter to HHS Secretary Alex Azar opposing the rule.
"At a time when many Americans are struggling to obtain affordable health care, the Proposed Rule would reduce access to health care by allowing a vast new set of individuals and institutions to opt out of providing that care," the attorneys general wrote in their comment on the rule.
The mandatory public comment period for the rule ended Tuesday, and now the administration will consider those comments and either make changes, withdraw the rule, or officially implement it as is. HHS did not immediately respond to BuzzFeed News' request for comment.
Of the 19 attorneys general, only New York, who led the coalition of attorneys general in writing the comment, said they expected to sue. Most of the other states in the letter said they were waiting to see what the final version of the rule looked like, or did not respond to BuzzFeed News' request for comment.
A spokesperson for Virginia Attorney General Mark Herring said, "We are hopeful that HHS will take this input seriously and change course, but if they do not, we will examine the final rule and any tools at our disposal to appropriately protect our citizens."
California did not sign onto the comment, but wrote their own comment opposing the rule. California Attorney General Xavier Becerra argued that California, in particular, would be adversely impacted should the rule be implemented, because of "California's carefully crafted laws" pertaining to patient protection.

In its original announcement about the rule in January, HHS said it is intended to "enforce 25 existing statutory conscience protections for Americans involved in HHS-funded programs" and to roll back policies from previous administrations to ensure that "Americans of faith should feel at home in our system, not discriminated against," then–acting HHS secretary Eric Hargan said in a statement.
But the attorneys general argued that the proposed rule is "unsupported" by these 25 protections and in fact "conflicts with federal statutes" and undermines state health care policies and laws.
The attorneys general also purported that the rule violates the Constitution in multiple ways. It threatens women's constitutional right to abortion, the comment said, by enabling medical workers to decline to perform or give them information about the procedure. They also cited a 1995 Supreme Court case, Estate of Thornton v. Caldor, which determined that any law that compels employers to "conform their business practices to the particular religious practices of … employees," violates the First Amendment's "establishment clause."
The proposed rule gives HHS's Office of Civil Rights the power to investigate and enforce these conscience protections for all medical facilities and organizations that receive federal funding, including removing that funding if they find the facility in violation of the rule.
The attorneys general called this aspect of the rule "impermissible" and "coercive," arguing that it was a threat "to terminate billions of dollars in federal health care funding if at any point HHS determines that a state has failed — or even 'threatened' to fail — to comply with the Proposed Rule's extensive mandates."
"It will needlessly and carelessly upset the balance that has long been struck in federal and state law to protect the religious freedom of providers, the business needs of employers, and the health care needs of patients," the comment concluded. "Accordingly, we urge HHS to withdraw the Proposed Rule."