Most of the world would gladly accept refugees, including 71% of the Americans interviewed, according to a survey conducted in 27 countries by Amnesty International.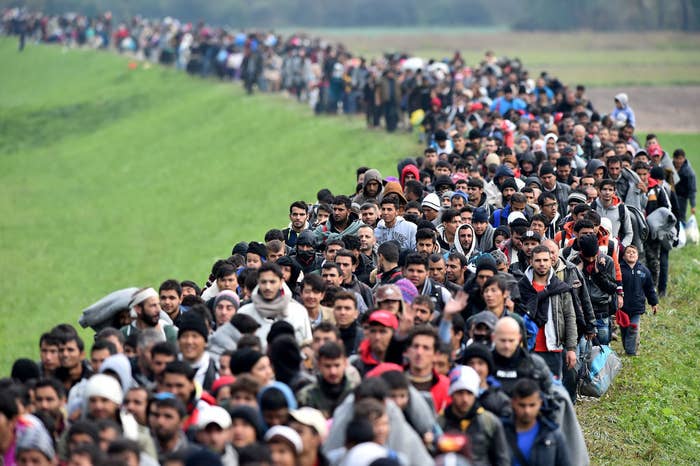 Researchers called or went to the doors of about 1,000 people in each country, distributed evenly among age, gender, education, and locations based on the respective national census.
Pål Nesse, senior adviser of the Norwegian Refugee Council, told BuzzFeed News that taking a relatively small sample size of a large population is standard practice for these kinds of surveys.
"If you have a good predetermined base it can be statistically sound," he said.
Respondents were asked to agree or disagree with two statements: "People should be able to take refuge in other countries to escape from war or persecution," and "Our government should do more to help refugees fleeing war or persecution."
They were then asked how closely they would "personally accept" refugees, giving them the options of allowing them into their household, neighborhood, city, or country, or refusing refugees entry entirely.
The survey found that the vast majority of people believed that other countries should take in refugees, with Germany, Spain, and Canada giving the strongest affirmative, while a smaller majority thought their specific government should do more, with China, Nigeria, and Jordan taking the lead.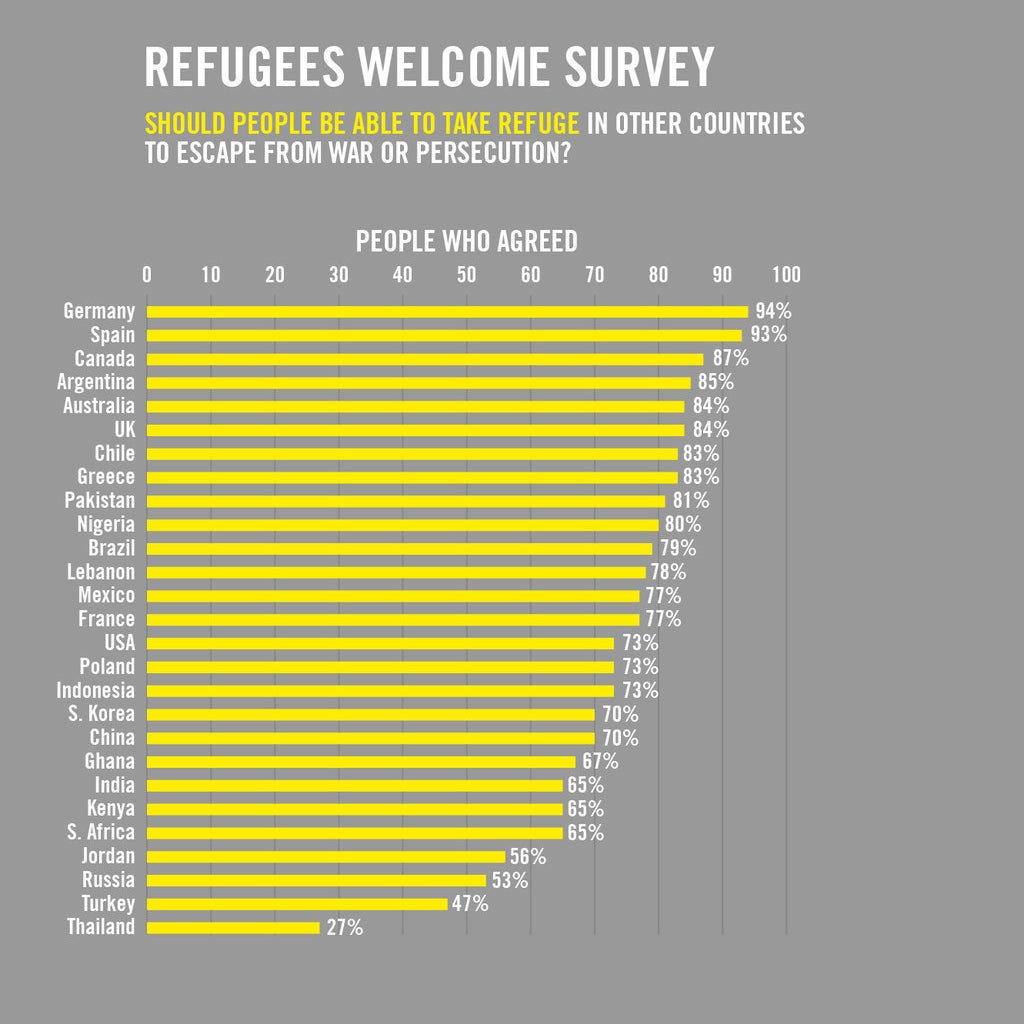 "It's interesting to see countries like China and Spain, which have barely taken in any refugees making the top of these lists, and that the places that have [like Germany and Greece] remain up there as well," Nesse told BuzzFeed News.
The findings were also broken down by demographic, finding that urban residents with higher incomes and more education tended to agree that those persecuted in their home countries should be able to take refuge elsewhere.
However, Thailand disagreed with that sentiment more than any other country, followed distantly by Turkey — which according to the United Nations had taken in more than 2.7 million refugees as of May 2016, more than any other country.
Researchers also found that around 2 out of 3 people globally think their government is not doing enough for the refugee crisis, except in Turkey, India, and Russia, where it's the opposite.
Women were slightly more likely to believe that more should be done for refugees, but only by around 2%.
When asked if they would accept "people fleeing war or persecution," 80% said yes — the vast majority in every country questioned except for Russia.
When asked if they would take those same refugees into their homes, the majority in each country said no, with the highest affirmative at 46% in China, and 29% in the U.K.
The U.S. was the ninth-most accepting country on the list, but had the fifth-highest rate of people who said they would accept refugees into their own homes, tying with Canada.
Fifteen percent of Americans interviewed said they would personally take in a refugee, while 27% said they would accept them into their neighborhood. However, 22% said they would outright refuse to allow refugees in.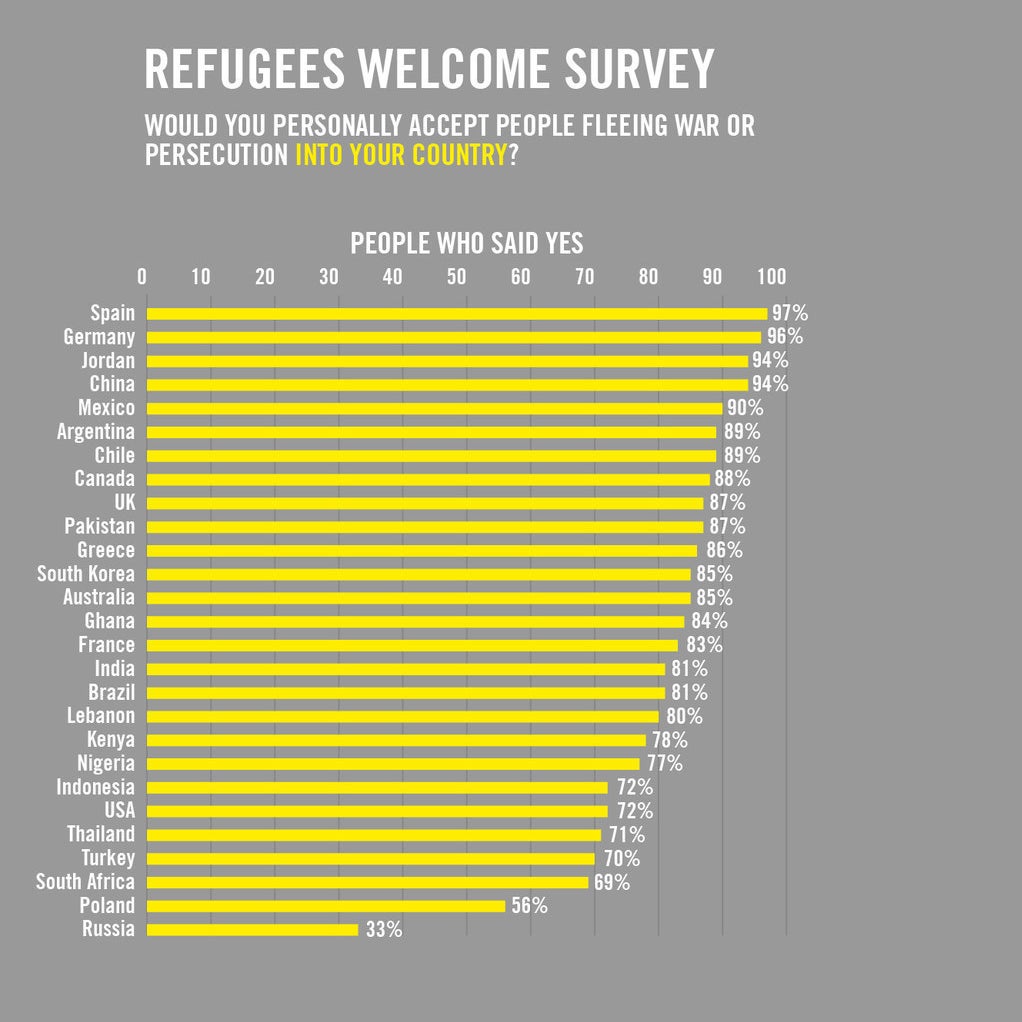 In June 2015, nearly 60 million people were displaced worldwide, 19.5 million of whom qualified as refugees under the U.N. Refugee Agency's definition.
In the past year, that number has grown as more than 1 million refugees flooded into Europe. Most of those were from Syria, followed by Afghanistan and Iraq. Germany received the highest number of asylum applications in 2015 at more that 476,000.
Last year, President Obama vowed to take at least 10,000 Syrian refugees by the end of September 2016. By April, the U.S. had taken in less than a fifth of that, government figures show.
"What this survey does is give a voice to the silent majority," said Caroline Holme, director of GlobeScan, which conducted the research. "The vocal minority has had their say quite strongly in the media, on the internet. ... The value of this is to make governments aware that that is not the majority opinion."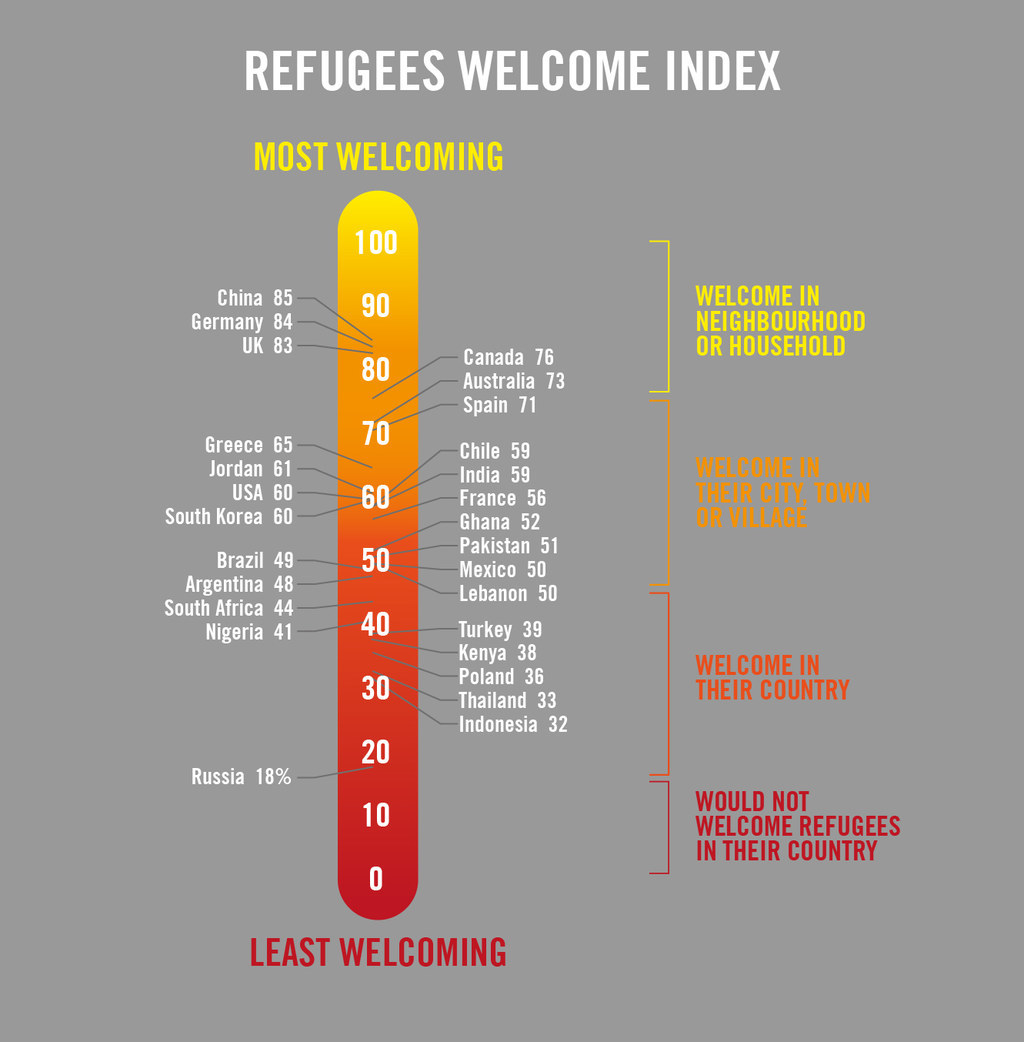 As with most surveys, answers depends greatly on who decides to take part. Usually people who are passionate about the topic in one direction or the other are more likely to answer questions than those who are relatively neutral.
Still, Holme said the wording of the questions was purposefully neutral and carefully worded to make it as accurate as possible.
"We purposefully gave people many different options so they weren't forced to answer one way or choose between opinions they didn't agree with," she said.
Holme and Nesse agreed that another danger with an "attitudinal" survey like this one — particularly one about the much discussed refugee crisis — is that the public's attitude "almost changes week to week."
The attitudes have seen a "change in mood" since last summer, when the crisis came to the public's attention due to a series of disturbing photos of children who drowned while fleeing Syria, Nesse said. As more nations accept more refugees, the attitude of the country shifts.
"I would be very interested to see what people say in a year's time," Holme said, adding that this is the first survey of its kind, and that there are currently no plans in place for another next year.
Nesse said that while he had little to say about the presidential campaign in the U.S., what politicians say "does matter a lot."
"In this last year there's been ... a lot of political language about fear," he said. "Hopefully, this survey confirms that the underlying mood of the people remains positive toward refugees."