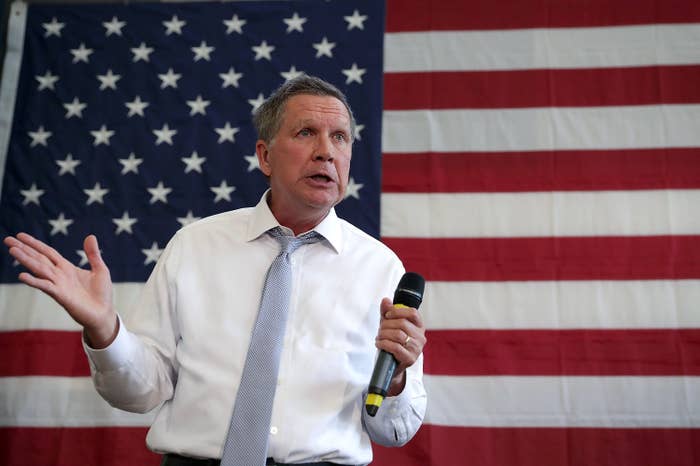 Ohio Gov. John Kasich — the last candidate opposing Donald Trump in the race for the Republican presidential nomination — officially called it quits during an appearance in his home state of Ohio Wednesday evening.
In an emotional and occasionally teary speech, Kasich thanked his family, staff, and supporters, reminiscing about his favorite moments of his campaign.
"We all remember that hug in South Carolina from that young man who had found despair and then found hope somehow, and he just wanted to give me a hug," Kasich said in his concession speech, "and the country marveled."
"As I suspend my campaign today," Kasich said, "I have deeper faith that the Lord will show me the way forward."
Kasich canceled a scheduled campaign appearance in Virginia on Wednesday, and instead said he would make an announcement in Ohio at 5 p.m. ET.
CNN reported he had been on the way to meet with donors before having a change of heart.
Kasich did not mention Trump once throughout his emotional speech, but addressed pundits critical of the campaign, saying their criticism showed "how little they understand life."
He also emphasized the importance of balancing economic growth with the natural human impulse to "reach out to help lift up someone else."
Kasich's decision comes a day after Trump won a big victory in the Indiana primary, forcing his chief rival, Ted Cruz, to abandon his campaign. Kasich placed a distant third to Trump and Cruz in Indiana.
Since the primary season contests began in February, Kasich enjoyed only one victory — in his home state of Ohio — and often finished behind Trump and Cruz.
Kasich weathered the initially crowded Republican field and stayed in the race longer than expected, positioning himself as a sensible moderate against Trump's bombast and Cruz's far-right policies.
After Cruz stepped aside on Tuesday, Kasich said that Cruz should be "proud of his strong and disciplined campaign." In a Facebook post Tuesday night, Kasich's senior strategist, John Weaver, vowed Kasich would remain in the race until a Republican reached the required delegates to clinch the party's nomination.
On Wednesday morning, just hours after releasing a few Star Wars–themed campaign ads on his Twitter account, Kasich apparently had a change of tune.