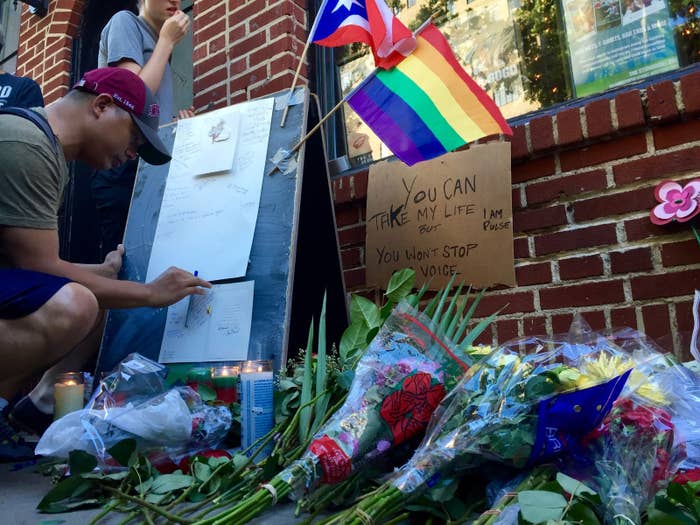 NEW YORK — Hundreds of New Yorkers gathered outside Manhattan's historic Stonewall Inn on Sunday evening for a vigil honoring the 50 people killed and 53 injured in the massacre that occurred at a gay nightclub in Orlando, Florida, early Sunday morning — the deadliest shooting in modern U.S. history.
"Pulse was not just a gay club, it was a place of solidarity," a man yelled from the top of a stoop next to the Stonewall Inn. Hundreds repeated his words back to him in unison.
"A gay bar is the first place I learned to be me. A queer club is the first place I saw people that looked like me," he said, motioning to the Stonewall Inn.
"A gay bar started a revolution," he concluded to cheers.
The Stonewall Inn was the site of the 1969 Stonewall riots, a series of days-long violent protests that erupted after police raided the gay bar, attacking the patrons. It helped to spark the LGBT rights movement.
The historic bar and park across the street will soon become the first national monument to the LGBT rights movement in the United States.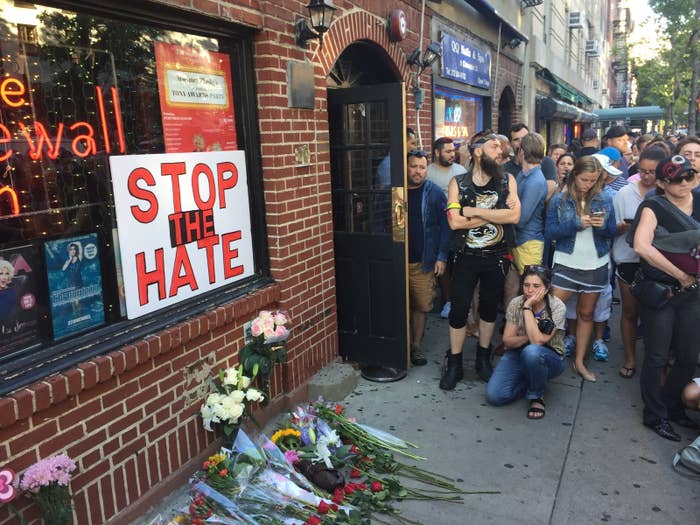 Around 3 AM Sunday morning, 29-year-old U.S. citizen Omar Mir Seddique Mateen entered Pulse nightclub and open fired on the crowd inside. The club was hosting a night for gay and transgender latinos and latinas.
The shooter called 911 shortly before the shooting and pledged allegiance to the leader of ISIS, though there has been no official confirmation that he was trained or ordered by the Islamic State to carry out the attacks.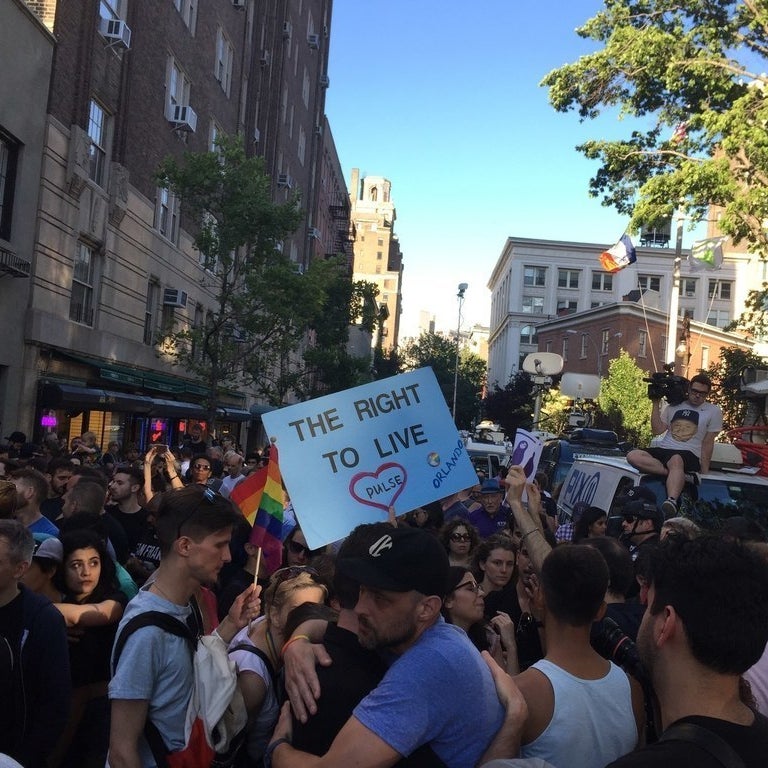 In the late afternoon a crowd of queer people and their allies began to gather outside of Stonewall Inn, drawn to the cradle of the LGBT movement to express their grief.
People held signs reading "NRA = Death," "Not afraid," and "We Are Orlando."
Some attendees hoisted their young children onto their shoulders, some put their arms around their parents.
One young woman stood alone in the crowd crying. A stranger approached her and hugged her before introducing themselves.
"These kinds of spaces are almost like our church," a young woman named Jackie told BuzzFeed News, referring to queer bars like Stonewall and Pulse.
"It's places like these that I can go high-femme with my girlfriend. We can kiss each other and the only reaction that we would probably get is, 'Go girl!' No one would ask to watch, no one would leer at us," Jackie said. "It's a place we can go to be ourselves, to be free.
"For someone to cross that line, to violate that sacred space is truly abhorrent. I feel scared and sad and angry and frustrated," she said.
Many other people at the vigil echoed Jackie's feelings, saying that spaces like Pulse are, for many LGBT Americans, one of the only places they can feel safe.
To have that taken away so suddenly "feels like having the carpet ripped out from under us," one man, who declined to give his name, told BuzzFeed News as he held his young daughter on one hip.
"We were doing so well," he said, "everything was looking better for us in these past few years— but now..."
During a moment of silence to honor the victims of the attack, many held each other, kissed, and cried.
"The most important thing for people to know right now is this is not an issue that should pit Muslims against queer people," Jackie told BuzzFeed News.
She said the cause of the attack was not an issue of religion, but of "good, old fashioned, home grown, homophobia, born and bred in America."
She said that the most important thing right now was for minority communities in America – Muslim and queer alike – to "hold each other's hands in solidarity."
The overall message of the vigil was not one of anger, but one of love and solidarity.
"We have before us two paths," a stoop speaker yelled to the continuously expanding crowd. "One is the path of hate and fear, and the other is of love and kindness."
"Do not be blinded by hate! Choose the path of love now!"