This was the confused reaction of many on Sunday as they were alerted to an urgent message from Facebook telling them they were in Lahore, Pakistan, and asking if they were OK.
"Are you OK?" The Facebook notification read. "It looks like you're in the area affected by The Explosion in Gulshan-i-Iqbal Park, Lahore, Pakistan. Let friends know that you're safe."
Dozens of people were killed and injured in the Pakistani city when a suspected suicide bomber attacked a crowd meeting in a park on Sunday evening.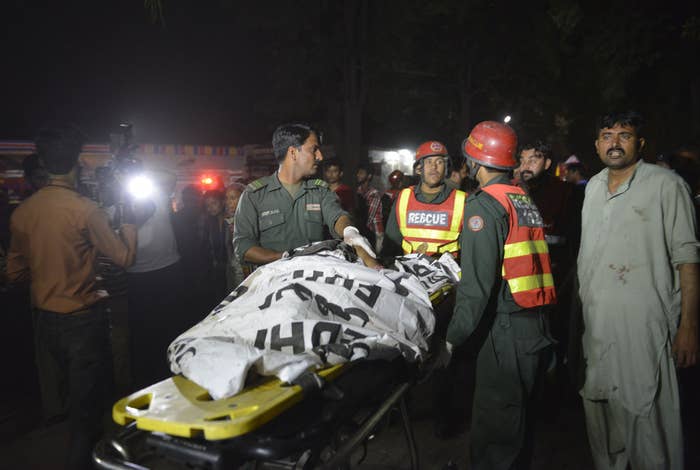 Launched in October 2014, the Facebook safety check feature lets users tell family and friends they're OK if they're caught in a disaster zone.
But the safety check alert was accidentally sent to users across the globe, many of who immediately expressed their confusion online.
Perplexed tweets were sent from all over the world, including England, Russia, Portugal, Germany, France, the U.S., and Israel — whose existence is not formally recognized by Pakistan.
Many said they were thoroughly frightened before they realized that the explosion was not in fact in their area.
Some users suggested the error was an effective way to notify people of the tragedy.
Many who had their cellphones linked to their Facebook accounts received text messages asking if they were OK if they did not check in on Facebook.
A few hours after the mix up, Facebook founder Mark Zuckerberg posted on Facebook about the Safety Check and the logic behind using it for this disaster as well as past ones.
Zuckerberg implied that by enabling a quick and easy way for people in the area to let their loved ones know they are safe, Facebook might help to decrease the fear the terrorists were attempting to instill in that community.
"I believe the only sustainable way to fight back against those who seek to divide us is to create a world where understanding and empathy can spread faster than hate," Zuckerberg wrote Sunday, "and where every single person in every country feels connected and cared for and loved."
A Facebook spokesperson told BuzzFeed News the company was "looking into" the error.
"We activated Safety Check today in Lahore, Pakistan, after a bombing that took place there," the Facebook spokesperson said. "Unfortunately, many people not affected by the crisis received a notification asking if they were okay. We worked to resolve the issue and we apologize to anyone who mistakenly received the notification."
Since the "Safety Check" feature was introduced to Facebook in November, 2015 Facebook has notified around 950 million people of their friend's safety in a crisis. The incidents Facebook chose to activate this feature for in the past were during the floods in Chennai, India, after earthquakes in northeast India and southern Taiwan, and after the terrorist attacks in Paris, France; Yola, Nigeria; and Ankara, Turkey.
The company also posted on Facebook to apologize for the accident: