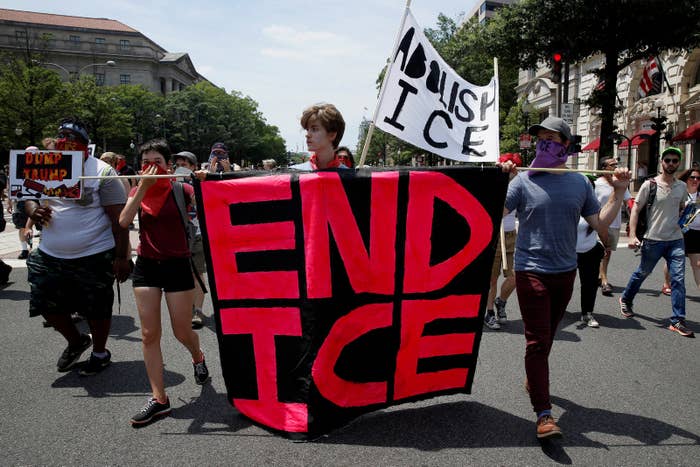 Sen. Patty Murray will introduce legislation Tuesday that would dramatically reduce the number of pregnant women in immigration detention and set new standards of care for those in custody, citing a BuzzFeed News report on several women who said they were mistreated while in immigration detention.
The bill is called the Stop Shackling and Detaining Pregnant Women Act and aims to do just that. The bill would prohibit immigration officials from detaining pregnant women, except in cases in which the Department of Homeland Security determines that a woman "presents an immediate and serious threat of hurting herself or others." The bill would also prohibit the shackling of pregnant and postpartum women in DHS custody, something four pregnant women told BuzzFeed News they were subjected to, despite several warnings by major obstetrics and family medicine organizations that the practice is dangerous to the health of the woman and her pregnancy.
The legislation would also set a minimum standard of medical care for all pregnant women passing through immigration custody. BuzzFeed News reported on five women who said they were not given appropriate medical care while in immigration detention, three of whom said that they miscarried. And the bill would require public, quarterly reports on the number and status of detained pregnant women and youth, including audits and reports to Congress.
"Our country should not be shackling pregnant women and should not be denying them health care when they are pregnant," Murray told BuzzFeed News on Tuesday, before the bill was introduced. "It's an inhumane practice, I truly don't understand it, I don't think [the Trump administration] understand[s] the implications for pregnant women."
In December 2017, the Trump administration quietly issued a new Immigration and Customs Enforcement policy allowing for the detainment of pregnant women not yet in their third trimester, and then officially announced it in March. Previously, ICE was instructed not to detain pregnant women "absent extraordinary circumstances" or in cases of expedited deportation. Between the implementation of the new policy and early April, ICE detained 590 pregnant women, the agency told BuzzFeed News in a statement.
"The Obama administration had a policy that was acceptable, but now clearly we need more than somebody's word from the past," Murray told BuzzFeed News, "we need to make this clear law going forward."
Murray's office specifically cited BuzzFeed News' reporting, published last week, which detailed claims of mistreatment by pregnant women detained by ICE and Customs and Border Protection. The report includes interviews with three women who had miscarriages while in CBP and ICE detention, two affidavits signed "under penalty of perjury," and interviews with 11 legal, medical, and advocacy workers who work with pregnant detainees in or near detention centers.
The former detainees and advocates told BuzzFeed News of pregnant women being denied or given inadequate medical care by ICE and CBP officials while in dire circumstances — three of the women said they bled for days on end while pregnant without receiving medical attention — and being shackled around the arms, legs, and belly while pregnant.
The bill includes an emphasis on standards of medical access including "routine or specialized prenatal care, comprehensive counseling and assistance, postpartum follow-up, lactation services, [and] abortion services," the bill reads. All of these standards and the prohibition on shackling pregnant women are already included in ICE's most recent detention standards. However, ICE-contracted detention facilities are subject to three different versions of those guidelines, only one of which contains that express prohibition and specific medical care instructions. Murray's bill aims to make these guidelines law, extending them to all detention centers under ICE, CBP, and local jurisdiction regardless of contract.
While "belly chains," as they are referred to by CBP in their official guidelines, are a standard form of restraint in US detention facilities, medical professionals warn that they could put a woman and her pregnancy at risk if she is in or past her second trimester. Shortly after the new policy allowing for the detention of pregnant women was announced by the Trump administration in March, the American College of Obstetricians and Gynecologists (ACOG) and two other medical organizations wrote a letter to the acting director of ICE opposing the policy. The letter noted that "practices like shackling during pregnancy … have serious negative physical and mental health impacts on pregnant women."
The ACOG as well as the American Civil Liberties Union, Planned Parenthood Federation of America, NARAL Pro-Choice America, the Center for Reproductive Rights, and the National Asian Pacific American Women's Forum have all already endorsed Murray's legislation ahead of its release Tuesday.
The practice of shackling pregnant women in immigration detention is a topic Murray has attempted to legislate for years. In 2013, Murray partnered with Republican Sen. Mike Crapo in an attempt to pass an amendment that would prohibit restraints being used on any pregnant women in Department of Homeland Security custody, but the legislation never made it through Congress. The following year, however, Murray successfully attached a congressional directive to that year's appropriations bill requiring ICE to prohibit the shackling of pregnant detainees in its updated guidelines.
Murray's most recent bill is cosponsored by 20 Democratic senators, including Sens. Kamala Harris, Cory Booker, Kirsten Gillibrand, Elizabeth Warren, and Bernie Sanders, among others. Murray told BuzzFeed News on Tuesday that she hadn't yet spoken to any Republicans about supporting the bill, but she was "hopeful" Republicans would join them in supporting the bill.
Booker told BuzzFeed News Tuesday that he is hopeful that Murray's bill will gain bipartisan support, but even if it does not, "perhaps by bringing this to the public's attention it will change practices" on a state or institutional level, he said.
"We have practices in this country that most Americans aren't aware of that are morally abhorrent, so I want to see the end of this practice for immigrants and for American citizens," Booker added.
On Friday, Harris sent a letter to Department of Homeland Security Acting Inspector General John Kelly calling for an investigation into the treatment of pregnant women detained in ICE facilities. The letter was signed by Murray, as well as Sens. Maggie Hassan and Tom Carper. Booker will send a similar letter to DHS Secretary Kirstjen Nielsen Tuesday afternoon. Both letters cited BuzzFeed News' investigation.