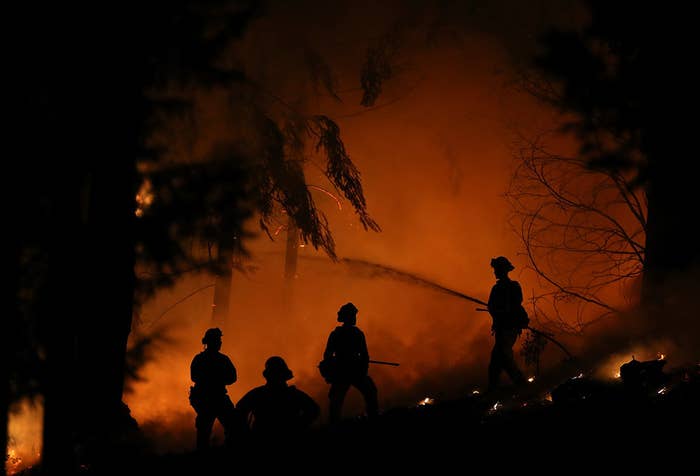 A California man was sentenced to 20 years in prison on Friday, after pleading guilty to lighting a devastating wildfire in 2014 — and filming a selfie video of himself committee the act of arson.
The 2014 King Fire burned through almost 100,000 acres of wild land in the Sierra Nevada mountains in California over 27 days. The massive blaze injured several firefighters and forced thousands to be evacuated from their homes.
After setting the fires on Sept. 13, 2014, Wayne Allen Huntsman, 37, ran from the blaze and onto a nearby road, where he was rescued by a retired firefighter who happened to be driving past.
Huntsman showed a selfie video he took of his handy work to his savior, who recorded a copy for himself.
"I got fire all around me," Huntsman can be heard saying in the video, gesturing casually to the burgeoning flames, beer in hand. "I'm stuck in the middle, babe."
The former firefighter turned his copy of the video over to authorities, and Huntsman was arrested for arson a few days after the fire began.
Huntsman pleaded guilty to three counts of arson and was sentenced 20 years in prison, the El Dorada District Attorney said in a statement. He was also ordered to pay more than $60 million in victim restitution.