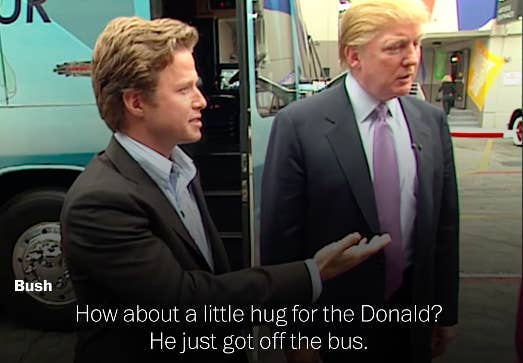 Billy Bush's departure from NBC's Today show is a "matter of when, not a matter of if," CNN's Brian Stelter reported Tuesday.
While there's negotiations taking place over how the exit will be carried out, Stelter said Bush "won't be back on the Today show."
NBC did not immediately respond to BuzzFeed News' request for comment on the matter.
Bush has already been suspended from his position as a co-host on Today.
It was reported earlier that Bush would use his appearance on the show Monday to further address his comments in the leaked 2005 footage of Donald Trump describing sexually assaulting women and attempting to seduce a married woman — Bush's co-host on Access Hollywood at the time, Nancy O'Dell.
Bush laughed at Trump's "grab them by the pussy" comment and joined him in remarking on women's looks.
The executive producer of the Today show, Noah Oppenheim, told staff that "NBC has decided to suspend Billy, pending further review," according to a memo obtained by BuzzFeed News.
Dear TODAY Family --

I know we've all been deeply troubled by the revelations of the past 48 hours.

Let me be clear -- there is simply no excuse for Billy's language and behavior on that tape. NBC has decided to suspend Billy, pending further review of this matter.

If any of you have any questions or concerns please reach out to me directly, anytime day or night.

Best,
Noah
On Monday, Savannah Guthrie said that "pending further review," Bush was suspended from Today.
Bush publicly apologized for laughing at Trump's remarks, including Trump saying he could "do anything" to women including "grab them by the pussy."
Bush also encouraged Trump's co-star in his Days of Our Lives cameo to give Trump a hug shortly after they discussed in an objectifying manner how attractive she was, and after Trump said that he often "can't help" but kiss beautiful women without asking.
"Obviously I'm embarrassed and ashamed. It's no excuse, but this happened 11 years ago — I was younger, less mature, and acted foolishly in playing along. I'm very sorry," Bush said in a statement on Friday.
Bush was inundated with criticism after the footage was released, and momentarily deleted his Twitter account.
Bush is the cousin of former President George W. Bush and Jeb Bush, who ran against Trump in the GOP primaries.
He was involved in another controversy earlier this year, when he was one of the first to report that Olympic swimmer Ryan Lochte had been robbed at gunpoint. It quickly came to light that Lochte had fabricated his claims and lied to Bush about it on camera. Bush later defended Lochte.