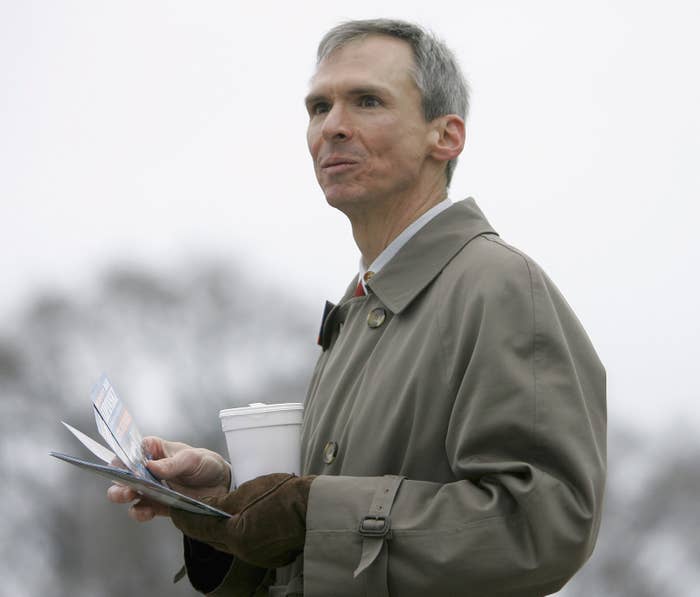 When Mary, 18, asked the man whose door she knocked on Sunday afternoon whether he would be voting in Tuesday's Illinois 3rd District Democratic primary he said no. He was a Republican.
"Do you oppose taxpayer funding for abortion?" Mary asked the man.
"I oppose abortion," he responded.
Mary, who requested that only her first name be used, lit up. That's why she was in the southwest suburbs of Chicago canvassing door-to-door with the Susan B. Anthony List, an influential anti-abortion group: to convince voters like him to go vote — for a Democrat, Rep. Dan Lipinski.
"Actually, Lipinski's the only Democrat I would ever vote for," the man at the door told Mary, interrupting her spiel about Lipinski's abortion record. She thanked him and marked him as a "yes" on her spreadsheet.
A number of the people SBA's canvassers talked to at their doors felt the same way.
Throughout the campaign, Lipinski's opponent, Marie Newman, and her team, have used his conservative views on social issues like abortion, as well as immigration and LGBT rights, to try to oust one of the last anti-abortion Democrats in Congress from office. So when SBA List — a group that nearly exclusively endorses Republicans and has had Vice President Mike Pence speak at their events — announced a massive last-minute push on Lipinski's behalf in a Democratic primary last week, it was unclear whether the effort would help him or just reaffirm his opponent's narrative.
Tuesday's vote is an open primary, meaning you don't have to be a Democrat to vote in it, though bringing out non-Democrats to a Democratic contest could be a tall order. Nevertheless, SBA List targeted socially conservative voters in the district, some of whom were Republicans. Arthur Jones, the Republican running unopposed, is an open Holocaust denier who told the New York Times in February that he doesn't believe in racial equality. So if enough Republicans feel motivated to vote in the Democratic contest instead, that could potentially give Lipinski the push over the edge that he needs to keep his seat.
Lipinski's district has voted blue in presidential elections since 1988 and went to Sen. Bernie Sanders in the 2016 Democratic primaries. Newman, who is pro-abortion rights, has the fundraising and mobilizing support of major progressive groups like EMILY's List, MoveOn, Planned Parenthood, and NARAL Pro-Choice America, and a slew of elected lawmakers.
It's a rare display of unity during 2018's somewhat acrimonious primaries — all against an incumbent Democrat. Newman's latest campaign slogan is, in fact, "Vote for the real Democrat."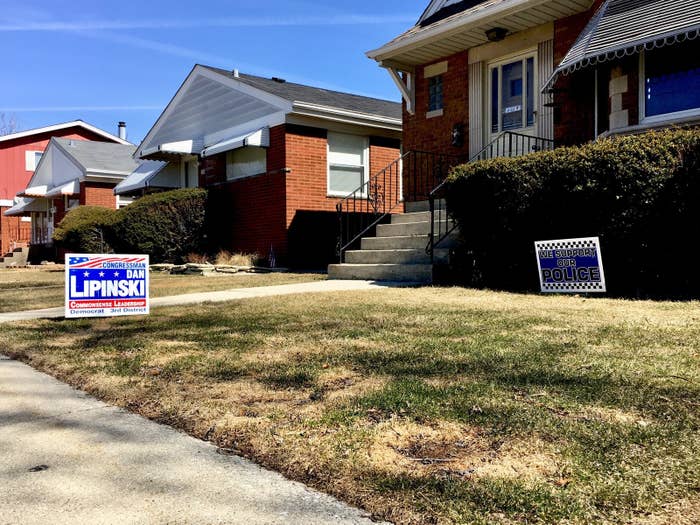 Still, Tuesday's election is an early test of a question that looms for Democrats as they try to wrest seats from Republicans to take back control of Congress: Should the Democratic Party accept and support anti-abortion candidates? Last week, suburban Pittsburgh voters sent Conor Lamb, who has said he is personally anti-abortion (though he has also said he would vote against a 20-week abortion ban), to Congress with massive Democratic support.
Here in Illinois, there appears to be another close race, though primary and special election polling is notoriously difficult to do. A poll conducted on behalf of NARAL in February showed Lipinski only two points ahead of Newman.
Less than a week before the primary, SBA List announced a "six-figure investment" in digital and mail campaigns, and sent more than 70 students from Christian universities to Illinois to knock on almost 26,500 doors before heading back to school on Monday. SBA List has never before launched a campaign of this magnitude for a Democrat.
Of the roughly 6,090 people who completed the students' door-to-door surveys, SBA List told BuzzFeed News, 72% said they were voting, 58% said they would be voting for Lipinski, and 63% said they "opposed taxpayer funding for abortion."
"What I've experienced over the past five days is a constituency that is maybe a little more purple than what happened in 2016," Spencer Bindel, a 19-year-old Notre Dame freshman canvassing for SBA List told BuzzFeed News. "The biggest complaint among my friends about government is the polarization and not having someone who really represents them. I think Lipinski represents these people a whole lot more than Marie Newman does."
Lipinski frequently ran unopposed by Democrats during his 14 years in Congress, in a seat he inherited from his father, Bill Lipinski. Both father and son are well known in the white, working-class neighborhoods of Illinois' 3rd District, which avidly support labor unions and have signs in their front yards reading, "We Support Our Police."
"When voters stop Dan at the Jewel, the local grocery store, they don't talk to him about an abortion vote from five years ago," Matthew Mayer, a spokesperson for Lipinski's campaign, told BuzzFeed News. "They're generally talking about the dysfunction in Washington, economic security, sending their kids to college, and retirement. Those are the things they're concerned about."
During his time in Congress, however, Lipinski's district has become more racially diverse and, Newman's campaign argues, more concerned with Democratic issues like immigration, LGBT rights, and health care. Lipinski voted against Obamacare and the DREAM Act, he was the only Democrat not to sign onto a bill to increase protections for LGBT individuals, and he supports a $12 minimum wage over the more recently preferred Democratic bid for a $15 minimum wage.
Bindel, who is a political science and theology major from a conservative Republican town in Texas, said that when he first heard he would be campaigning for a Democrat he was skeptical.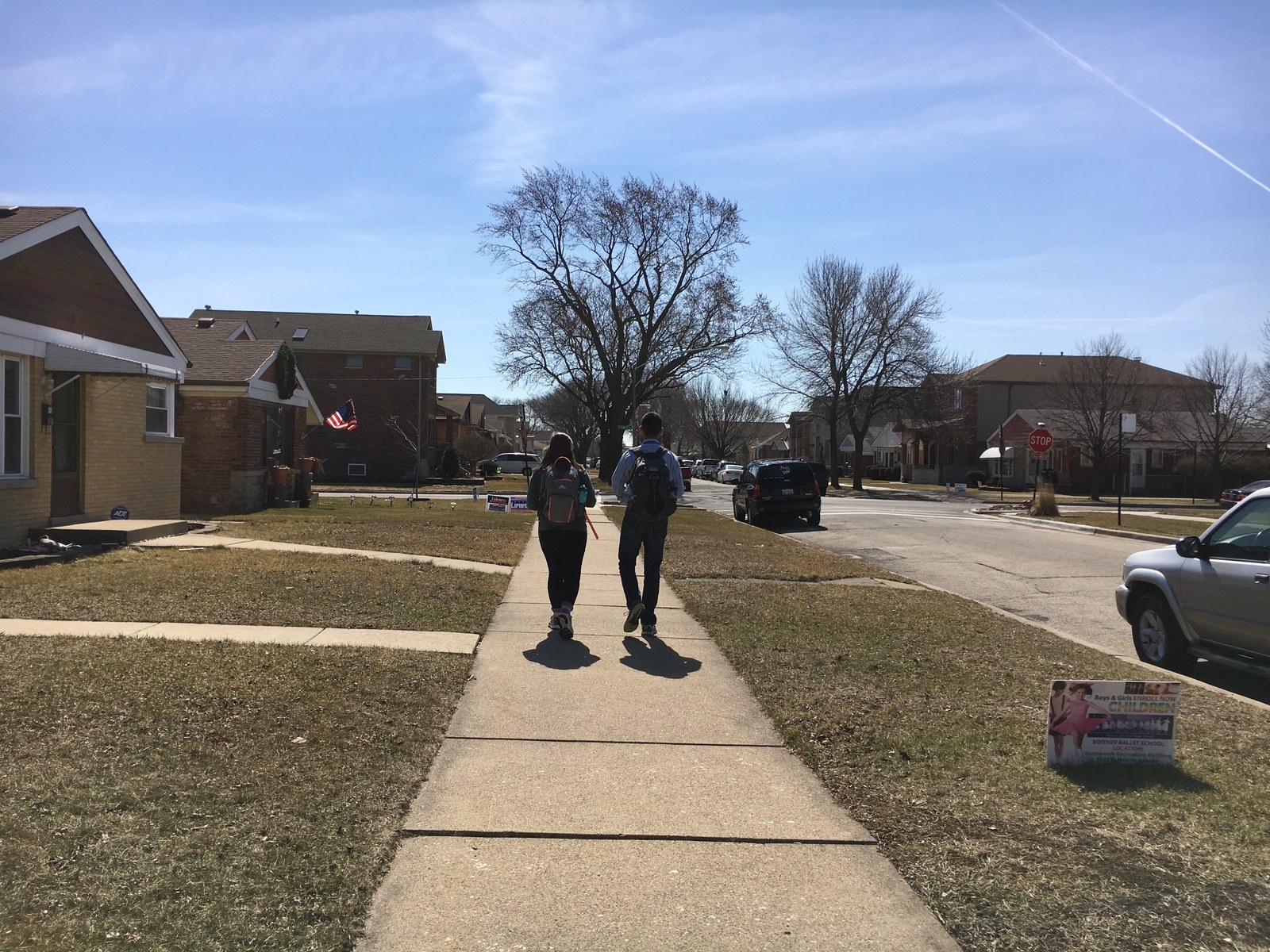 "I called [Mary] and I was like 'Hey, this may or may not work out,'" Bindel said. "But we looked him up and saw what he stands for and his voting record, and I realized pro-life and a Democrat don't have to be mutually exclusive."
Mallory Quigley, vice president of communications for SBA List and one of the leaders of the trip, told BuzzFeed News that showing that the anti-abortion cause could be a bipartisan effort was "one of the many reasons we wanted to be here."
"We want to show everyone, and to show the Newman campaign, that pro-life is a winning issue whether you're a Republican or a Democrat," she said.