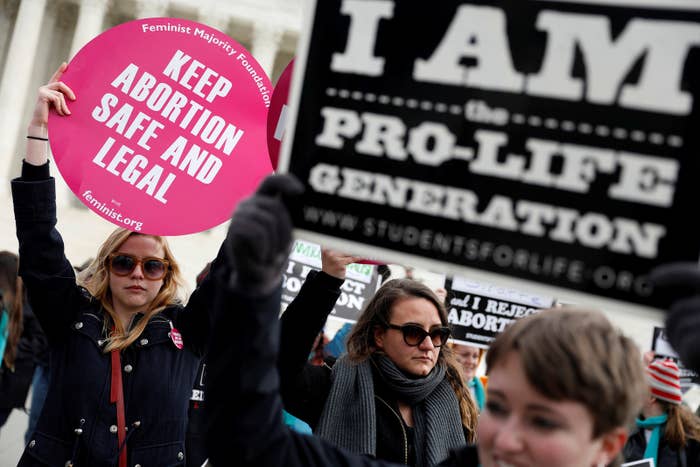 Major anti-abortion groups and leaders are pouring money and their support into an upcoming congressional primary in Illinois — but this time, it's for a Democrat.
Rep. Dan Lipinski is one of the last anti-abortion Democrats left in Congress. For that reason — and his other socially conservative stances on LGBT rights and immigration — organizations like Planned Parenthood Action Fund and NARAL Pro-Choice America have put their weight behind his progressive opponent, Marie Newman.
But in an unusual move, as first reported by McClatchy Thursday, the influential anti-abortion group Susan B. Anthony List is putting significant resources into a last-minute push on Lipinski's behalf, including a "six-figure investment" in digital and mail campaigns and a canvassing push that aims to knock on 17,000 doors of anti-abortion, Democratic households in the district before the election next Tuesday.
"This is absolutely the first time we have supported a pro-life [Democratic] candidate in a campaign of this magnitude," SBA List spokesperson Mallory Quigley told BuzzFeed News Thursday.
"He has come under fire from his own party specifically for his pro-life position, and his primary challenger is making the race about abortion." Quigley continued. "It's unfortunate that there are not more of his kind in his party."
SBA List is a nonpartisan organization, but it is rare for them to support a Democrat. In 2010, the group actively worked to take down 20 Democrats in the House of Representatives who called themselves "pro-life" (15 of them were not reelected), going so far as to attempt to put up billboards in the district of then–Ohio Rep. Steve Driehaus reading, "Shame on Steve Driehaus! Driehaus voted FOR taxpayer-funded abortion!"
Since President Donald Trump's election, the question of whether or not Democrats should accept and support anti-abortion candidates to win back seats in Republican-held districts has been hotly debated in the party, and some see Lipinski's seat as putting this question to the test. Recent polling shows Lipinski and Newman neck and neck.
Though SBA List is the only major anti-abortion organization actively campaigning for Lipinski, many anti-abortion leaders said they have personally donated time and money to support Lipinski's campaign.
Tom McClusky, the vice president of March for Life, told BuzzFeed News that Lipinski is the first member of Congress he has ever personally donated to. McClusky and March for Life's president Jeanne Mancini both donated to Lipinski's campaign this year and have encouraged other anti-abortion movement leaders and friends to do the same.
"He's a pro-life hero, the exact kind of person we want in office," Mancini told BuzzFeed News in a statement Thursday. "Lipinski is in office for the right reason, really fighting for the dignity of the human person in every way. I respect him tremendously."
Lipinski has represented Illinois' 3rd District since 2003. The district has voted blue in presidential elections since 1988 and went to Sen. Bernie Sanders in the 2016 Democratic primaries. Only one Republican is running for the seat — Arthur Jones, an open Holocaust denier (he has a section on his website labeled "Holocaust?") who is very unlikely to win given the district's tilt.
"Dan Lipinski has worked with groups like SBA List for years to try and restrict the reproductive freedom of women," in the past, Newman told BuzzFeed News in a statement. "So it's no surprise they are launching a last ditch effort to keep their anti-choice mouthpiece in office now that he is in danger of losing his seat."
Lipinski's campaign did not immediately respond to BuzzFeed News' request for comment.
Pro–abortion rights groups have been focused on this race for much longer than SBA List and their conservative counterparts. NARAL began a passionate campaign against Lipinski in November, which included a digital and mail campaign called "Let's Dump Dan." Other progressive organizations like EMILY's List, MoveOn, and Planned Parenthood Action Fund, among others, joined NARAL in a super PAC to spend a total of $1.6 million on advertising and canvassing campaigns for Newman and against Lipinski.
Planned Parenthood Action Fund and NARAL told BuzzFeed News that they didn't see SBA List's last-minute push as a threat to Newman, but rather as a sign that the anti-abortion movement was worried about their candidate. They also saw it as a confirmation of what they had been accusing Lipinski of since November: that he is in line with Trump on the issue.
In the wake of some of those attacks, Lipinski quietly ditched a scheduled speaking engagement at the anti-abortion March for Life in January, after it was announced at the last minute that Trump would speak as well.
"Maybe [SBA List] is worried, but their involvement should worry Dan Lipinski's people more," NARAL spokesperson Kaylie Hanson-Long said. "When the same organization that stands solidly with Donald Trump decides to go all in, how do you think that's going to go with this energized Democratic base that wants nothing more than to defeat Trump and his values? Not well."