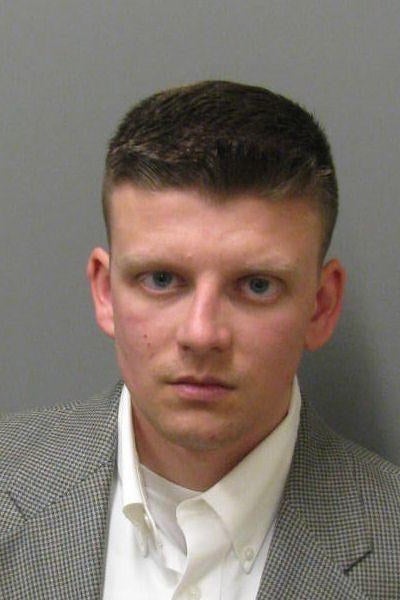 An Alabama police officer was charged with the murder of an unarmed black man Gregory Gunn, Montgomery District Attorney Daryl Bailey announced Thursday.
Aaron C. Smith, 23, was charged with fatally shooting Gregory Gunn, 56, on February 25. Smith was arrested Wednesday, with his bond set at $150,000.
The Montgomery Police Department told BuzzFeed News the Alabama State Bureau of Investigations (SBI) is currently looking into the case, and they were unable to comment further. SBI did not immediately respond to BuzzFeed News' request for comment.
Bailey told reporters Wednesday that he and the SBI "agreed that if there were probable cause that a crime had been committed then an arrest would be made."
"After meeting extensively with SBI agents, we have concluded that probable cause exists to make an arrest in this case."
The shooting occurred, Bailey said, after Smith was seen by neighbors reportedly stopping to talk to what he called a suspicious person. The person was later identified as Gunn, though why he was thought suspicious remained unclear.
Montgomery Police Chief Ernest Finley said in a news conference Friday morning that a struggle took place between Gunn and the officer, which lasted as they moved down the block.
Neighbors said they then heard multiple gunshots and Gunn yelling for help and calling for his mother, AL.com reported.
Gunn was believed to have been armed with a stick or "painting pole," Finley said.
Smith is white and had reportedly been an officer with the department since 2012.
In a statement handed out to press, Bailey assured the Montgomery community that the arrest was not "an indictment against the Montgomery Police Department."
"In fact, 99.9% of the officers at the Montgomery Police Department do an exceptional job making sure our citizens are protected," Bailey said.
"They are in fact the thin blue line between order and chaos. I encourage this community to rally around the police at this time and let them know that they are appreciated."
Following the shooting, Gunn's neighbors and supporters gathered outside a Montgomery City Council meeting Tuesday night, demanding justice.
Around a dozen protestors held signs saying "Justice For Gunn" and "Black Lives Matter." Some publicly called for white police to no longer patrol predominantly black neighborhoods. The protest reportedly caused the meeting to adjourn early.
Bailey concluded his announcement by addressing "rumors" circulating in the press and on social media that he deemed "completely untrue."