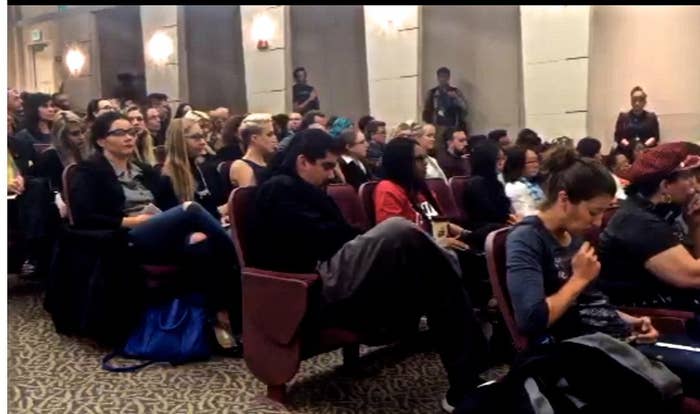 More than 100 porn actors spoke out against the proposed rule at the hearing, held by the California Division of the Occupational Safety and Health Standards Board (Cal/OSHA) in Oakland. Ultimately, the board voted against the the regulation that would have required all adult film performers to use barriers to protect their mouth, eyes, and other orifices from potential infection.
Had it been passed, workplaces could be fined up to $25,000 for violating the proposed requirements.
Groups of porn performers and advocates against the regulation — including the vocal advocacy group Free Speech Coalition — have been fighting it since its proposal in 2012.
After the board's vote, Free Speech Coalition executive director Eric Paul Leue said in a statement the proposal was based on "stigma rather than science."
"Now we face a larger battle, against a statewide ballot initiative which would seek to replicate and amplify the worst parts of the regulations," he said. "In fact, the ballot initiative, allows private citizens to sue adult performers who do not use condoms, and would drive a legal industry underground where performers would be less safe. This idea — that private citizens can sue adult performers because of actions they disapprove of is outrageous, and would not be permitted in any other sector of our society. We will fight this, and this too, we will win."
Porn performers, workers, and other advocates lined up to speak to the board one by one, arguing that the proposal would "drive the industry underground," and put actor safety at a greater risk.
The draft of the bill rules before Cal/OSHA's Board an attempt to reduce exposure to pathogens during sex by mandating that employers "ensure that the employee uses appropriate personal protective equipment" to provide a barrier for "the eyes, skin, mouth, and mucous membranes" when a performer could be exposed to potentially infectious materials.
"These fluids include, but are not limited to, pre-ejaculate, ejaculate, semen, vaginal secretions, fecal matter and rectal secretions," including during oral sex, the draft regulations say.
Currently, many production companies in California's massive porn industry voluntarily have performers tested for infections before working on set under a protocol called PASS.
Infectious disease experts argued that the regulation would not change the way people have sex and would only cause people to have sex in unregulated situations where frequent STD tests are not required.
"Condoms are an impractical solution to a theoretical problem," said porn performer Siouxie Q, quoting a nurse practitioner at a Northern California Planned Parenthood who she said was unable to attend that day.
"Rather than attempting to force consenting adults to use barriers," she said, adult performers should be required to take preventative HIV medication Prep, "which is available at every Planned Parenthood in California," as well as legally requiring STD tests before every shoot. That approach "makes so much more sense," she said.
Many of the female and transgender performers who spoke framed their opposition to the regulations as a feminist issue, saying the government was taking away their right to choose what they do with their bodies.
"I feel safe in my job," Jessica Drake, a "condom-only" performer and director who also spoke out against the regulation.
"I have the choice of what I would like to do to feel safe on set and so do my performers that work for me," Drake said to the board members. "This regulation is taking the choice away from us and therefore making us feel out of control."
Julia Ann, a well known 24-year veteran of the porn industry, said that the she felt the law was personally violating.
"To propose the insertion of unwanted foreign objects into my body in order for me to made a living is … quite frankly un-American," Julia Ann said, visibly crying. "You are supposed to be protecting me. ... This proposal is not in my best interest."
Other performers, many of whom said they had webcams in their bedrooms where they regularly live-streamed sex with their live-in partners, said they felt that the rules were an extreme invasion of privacy.
"Forcing consenting adults to have a certain kind of sex is a form of institutionalized violence," Siouxsie Q added.
Others said it was a matter of threatening the many "small businesses" that exist within California's large industry, which Siouxsie Q said had a high percentage of companies owned by "women, people of color, and transgender people."
Some speakers noted most consumers of porn prefer videos without actors wearing condoms and goggles.
Julia Ann said that, after 24 years in the porn industry, she is not qualified for any other position. "I will no longer be able to make a living in the state of California," she said.
Siouxsie Q said passing the bill is "the opposite of [OSHA's] job."
Many of the advocates and performers grew emotional in their pleas with the board, saying that the fines included with the regulations were essentially "criminalizing the porn industry."
"You should be working with us, not against us," many of the speakers said.