Abortion rights organizations across the country grappled Wednesday with how they plan to deal with President-elect Donald Trump, who ran on an anti-abortion platform.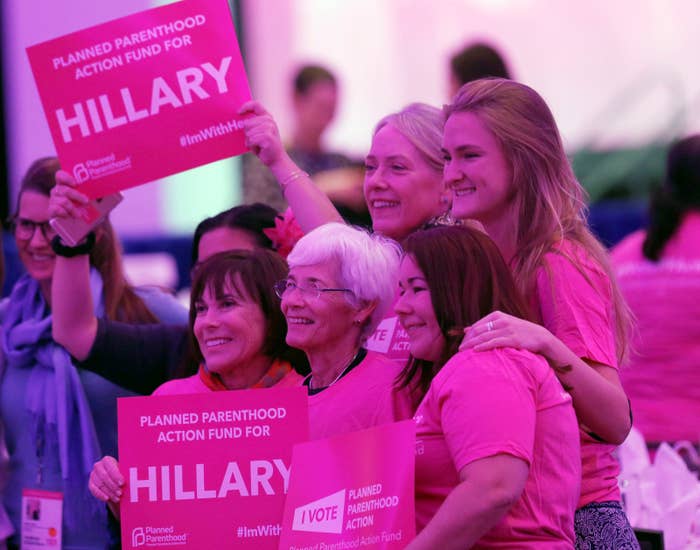 Trump has had a confusing relationship with abortion. Though he was pro–abortion rights for many years, he ran from the beginning of his campaign on an anti-abortion platform.
It wasn't until he announced his choice of Mike Pence, who is strongly anti-abortion, as vice president that he detailed a specific policy.
In a September letter written with Susan B. Anthony List, a well-known anti-abortion organization, Trump announced a "Pro-Life Coalition" in which he vowed to nominate anti-abortion justices to the Supreme Court, to make the Hyde Amendment — which prevents government-funded health care from covering abortion — "permanent law," ending late-term abortions, and to defund Planned Parenthood.
Trump has also repeatedly said that he will appoint justices who will overturn Roe v. Wade, which would make abortion illegal across the US.
In a series of tweets, Planned Parenthood, the central and most specific target of Trump's abortion policy plans, released a statement assuring the women of America that they would stand by them throughout.
Here is the full statement from Planned Parenthood President Cecile Richards:
There are almost no words to capture the threat that this election result poses to our democracy, to our economic security, to access to reproductive health care and most especially to the safety and dignity of people of color.

We will fight alongside our partners to make sure that the progress of the past eight years, including emerging from the worst recession we've had in close to a century, expanding health care coverage to more than 20 million Americans, breaking down barriers of discrimination and racism, and upholding marriage equality, is protected.

We cannot allow the acceptance of institutionalized racism, sexism, and discrimination to become our new normal.

We will fight to make sure that Planned Parenthood health center doors stay open, and that people in this country can get access to basic reproductive health care, no matter their zip code, income, sexual orientation, race, religion, gender, or country of origin.

The majority of Americans, including Trump's own voters, support access to health care at Planned Parenthood and want abortion to stay legal and safe.

We will fight to make sure those rights are protected and that people can still access the care they need. We will not give up, we will not back down, and we will not be silenced.
Hillary Clinton was the first presidential candidate endorsed by Planned Parenthood in its 100-year history.
NARAL Pro-Choice America made reference to Trump's earlier statement that there should be "some form of punishment" for women who have abortions.
Trump has since walked back those comments, though he has not said how he plans to enforce the law should abortion be made illegal.
NARAL also cited a poll they conducted in 2014 which found that 7 out of 10 people they interviewed thought that abortion should be legal.
National Latina Institute for Reproductive Health called Trump and Pence's plans "some of the most egregious and draconian rollbacks of progress towards reproductive justice made in recent years."
NLIRH recommits to fight for health, dignity and justice for the 28 million Latinas and their families in the United States and we urge the new administration to prioritize these values and the voices of our community. We hope for policy solutions that put our families first and put Islamaphobia, xenophobia, homophobia, transphobia, racism, classism and sexism last. Our communities are powerful and the Latinx community will continue to demand that our voices be heard.

We are heartened by the historic election of the first Latina to the United States Senate and the quadrupling of women of color in the senate.

Each one of us deserves the opportunity to shape our future, to live safe and healthy lives, and to be free to determine if, when, and how we form our families, without shame, stigma or punishment. NLIRH is committed to ensuring that health care is accessible and available to all, including contraception and abortion care. We will never stop in our fierce defense of our human rights as we work to advance a vision of our nation in which health, dignity and justice are prioritized for women, people of color, LGBTQ communities, people with disabilities, immigrant communities and working people of every race, region and ethnicity. At NLIRH, we will continue to work until reproductive justice—in all of its dimensions—is a reality for everyone.
The National Abortion Fund said that despite Trump's victory, which could make their services illegal, they will continue to show up for work.
The Physicians for Reproductive Health said that a Trump presidency means "attacks on access to abortion and all other reproductive health services" will get worse.
As physicians, we know firsthand the medical and social harms inflicted on our patients by politically motivated policies that prevent access to safe and comprehensive reproductive health care, including abortion. Regardless of how we feel personally about abortion, women should have access to a full range of care options.

Every patient faces her own unique circumstances, challenges, and potential complications and must be able to make medical decisions in consultation with her healthcare provider and what is right for herself and her family—without interference from politicians.

We urge President-Elect Trump to oppose all policies that harm the health, wellbeing, and dignity of our patients and that interfere with the doctor-patient relationship. We will remain vigilant and hope to find a way to work with the administration to protect our patients.
The National Abortion Federation does not have an official statement but NAF President Vicki Saporta told BuzzFeed News that she and her organization will continue to work to uphold Roe v. Wade, just as they have during past Republican presidencies.
"We've gone from potentially having a president who supported the repeal of the Hyde Amendment, to one who supports overturning Roe v. Wade," Saporta said.
"He's not the first Republican president who has wanted to overturn Roe. Ronald Regan and the two Bushes did, and none of them were successful."
She added that NAF will continue to work to "make sure women have access to the abortion care that they need" and that they will "work to ensure that [abortion] providers remain safe."
Sister Song Women of Color Reproductive Justice Collective said that women of color will continue to "lead & resist."