Kylie Jenner is under fire once again for breaking numerous official COVID-19 restrictions to throw a birthday party for her 3-year-old daughter, Stormi, and flaunting the celebrations on Instagram.
On Instagram on Monday, Kylie revealed that the original plan for the annual "Stormiworld" extravaganza had been "canceled," but that she was still going ahead with a "cousin party" involving "all of her family."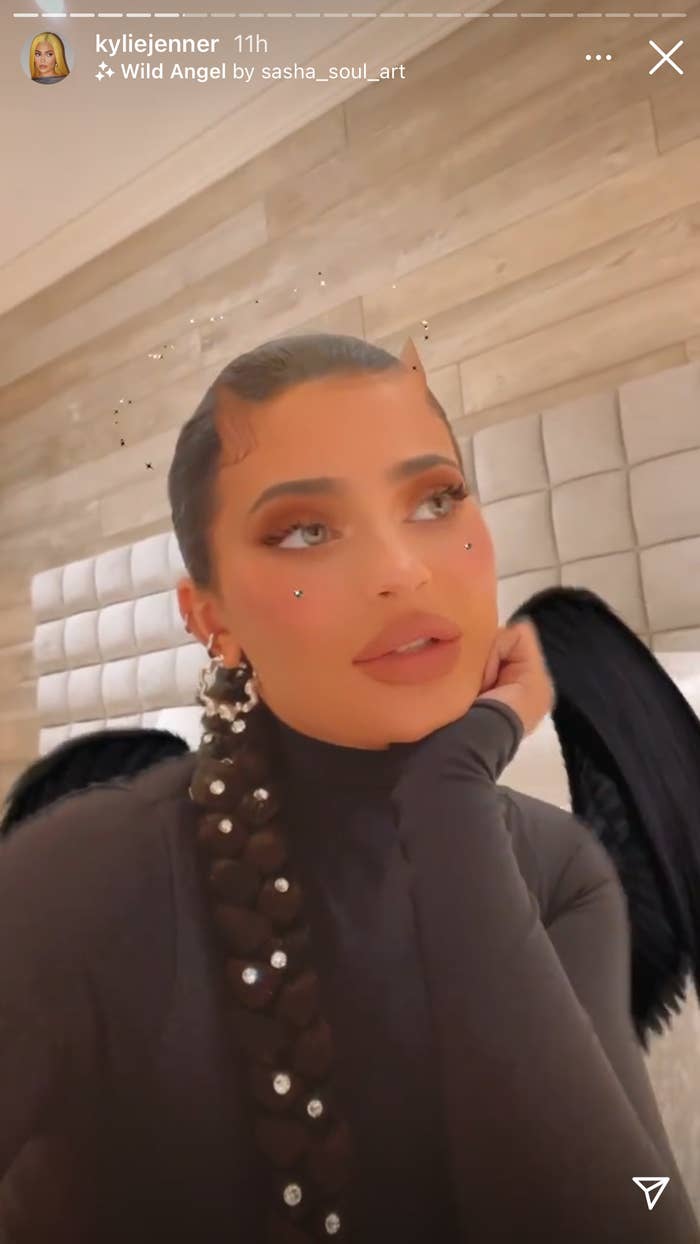 However, in throwing a party in any form, Kylie appeared to violate numerous parts of the official stay-at-home order issued by the mayor of LA in January, as COVID-19 cases surged and the state was placed in the "extreme risk" category.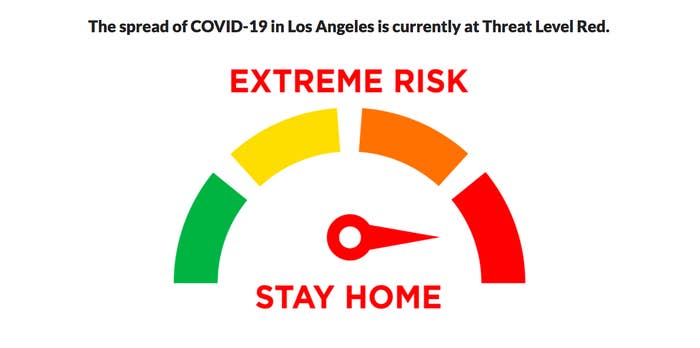 The stay-at-home order states that people in LA must "minimize contact with others as much as possible," with private gatherings involving more than three different households strictly prohibited.
The order also states that any private gatherings that are held should take place outside. However, judging by several photos shared on social media, parts of Stormi's party were held inside.
All attendees are also required to follow social distancing protocols which didn't appear to happen here.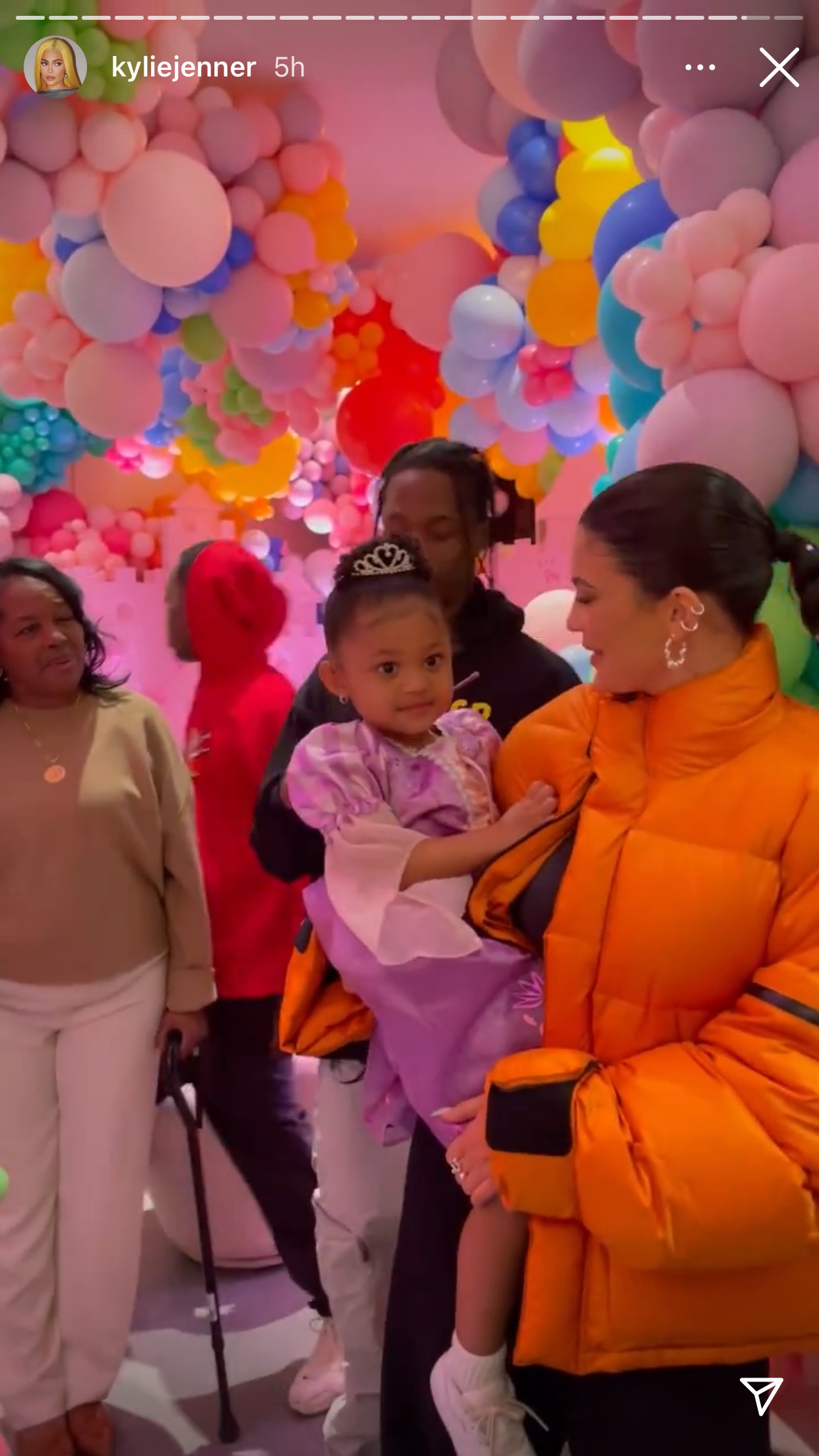 And, finally, "singing, chanting and shouting are strongly discouraged," since all three activities increase the spread of respiratory droplets. The order states that if attendees do sing, they should "wear a face covering at all times."
However, all the attendees at Stormi's party sang "Happy Birthday" without masks.
Of course, there was also the usual lavish display of a bouncy house with Stormi's face on it...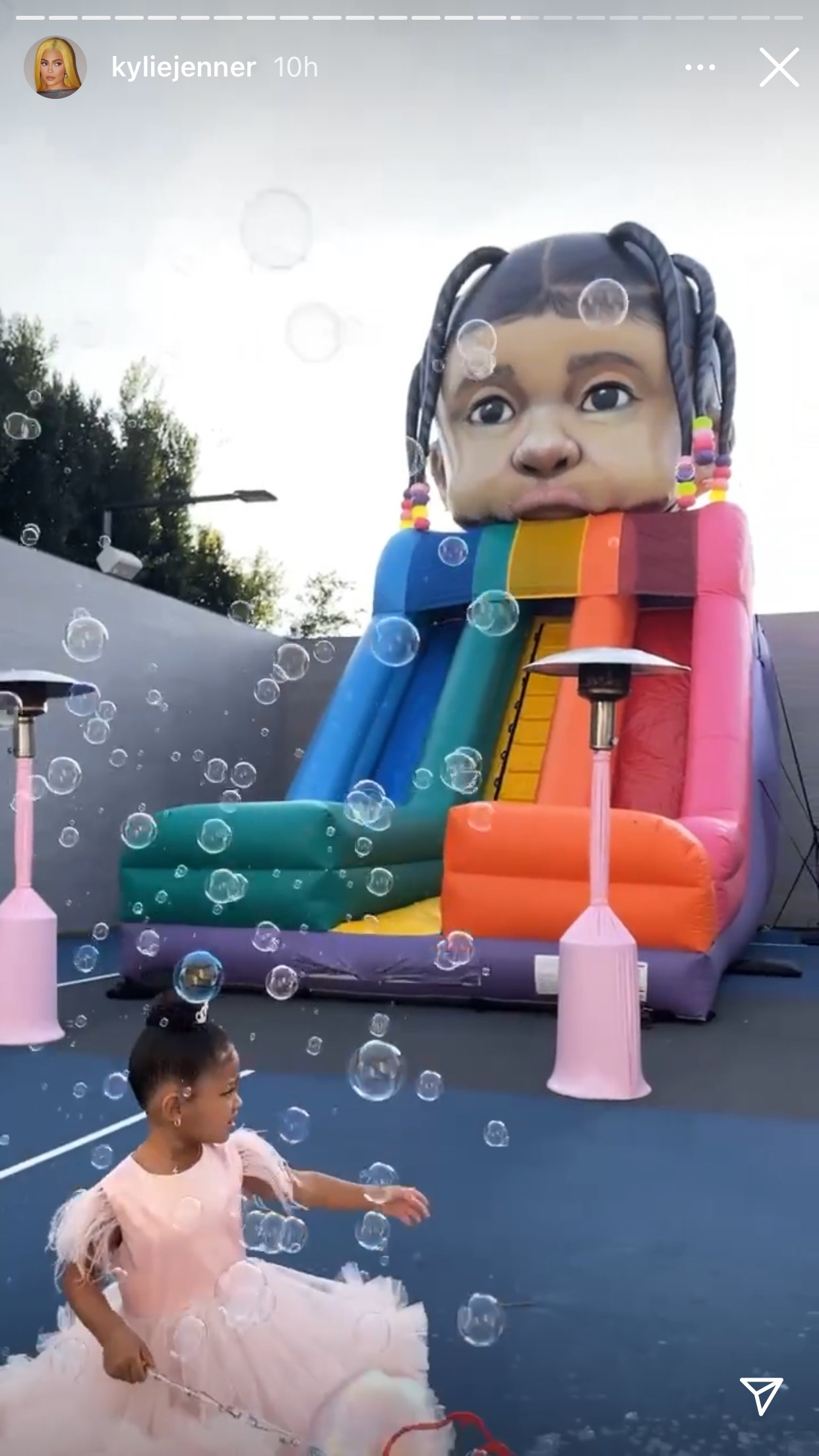 A candy shop...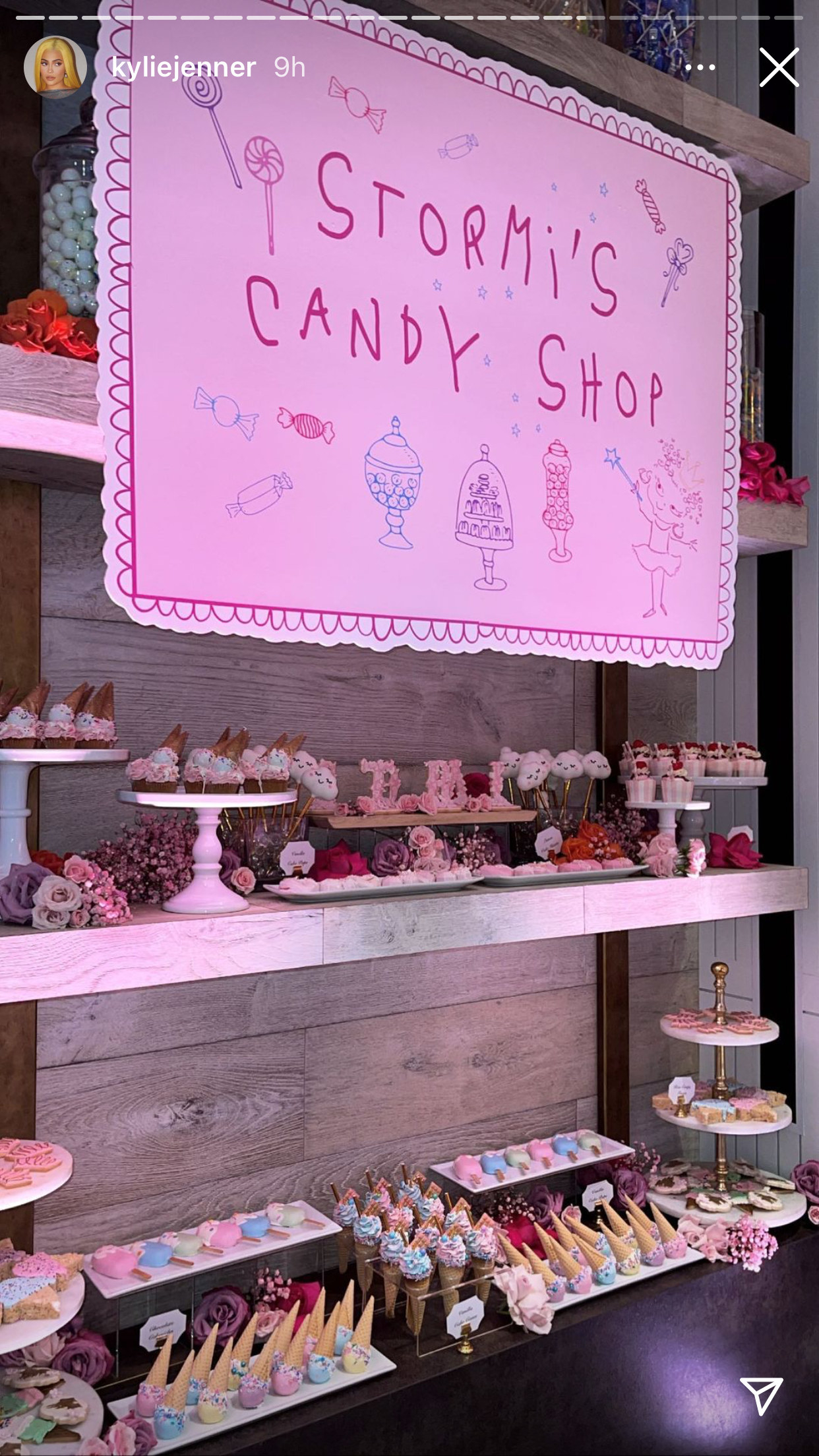 ...a Cane's truck...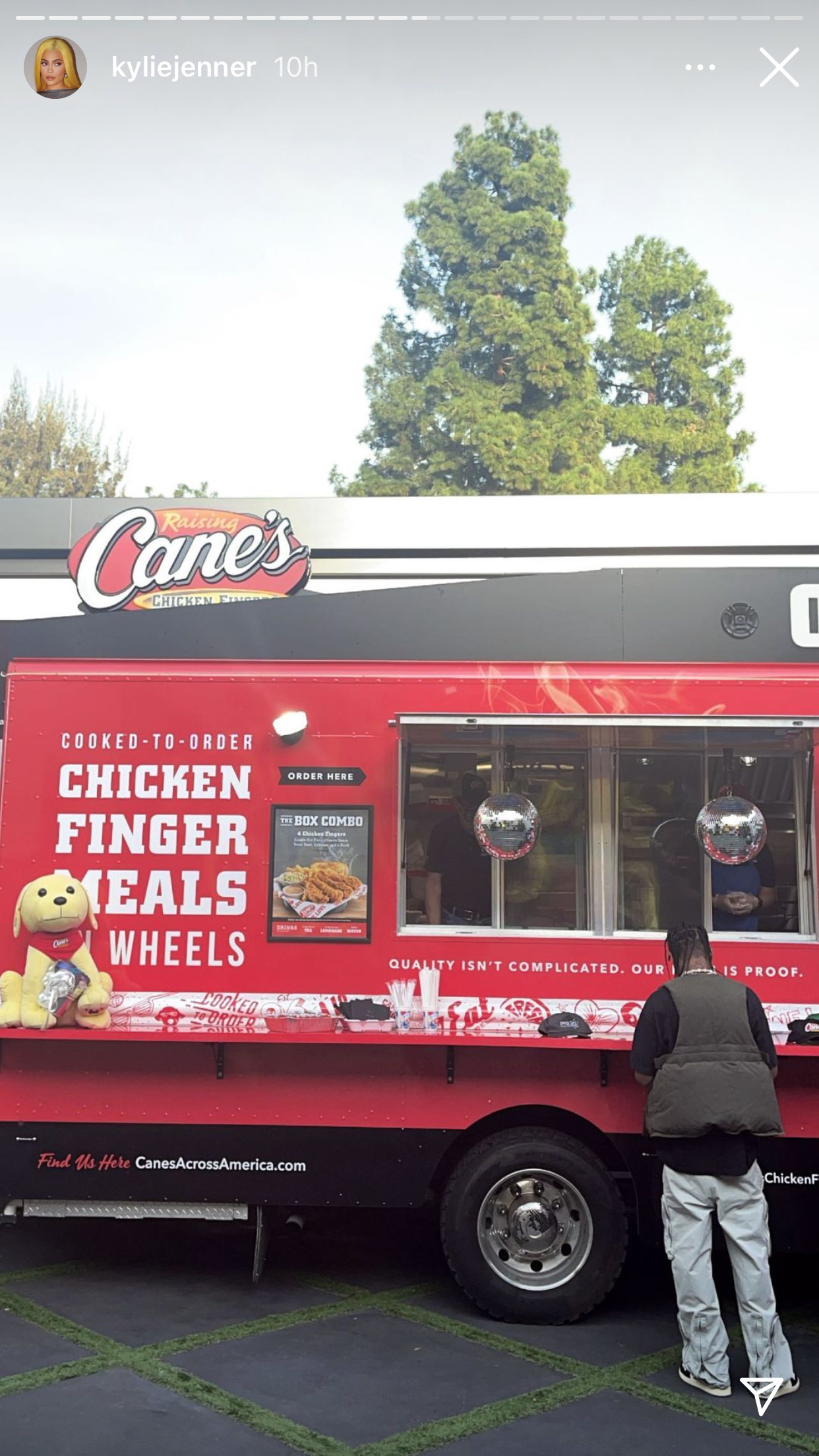 ...and official merchandise.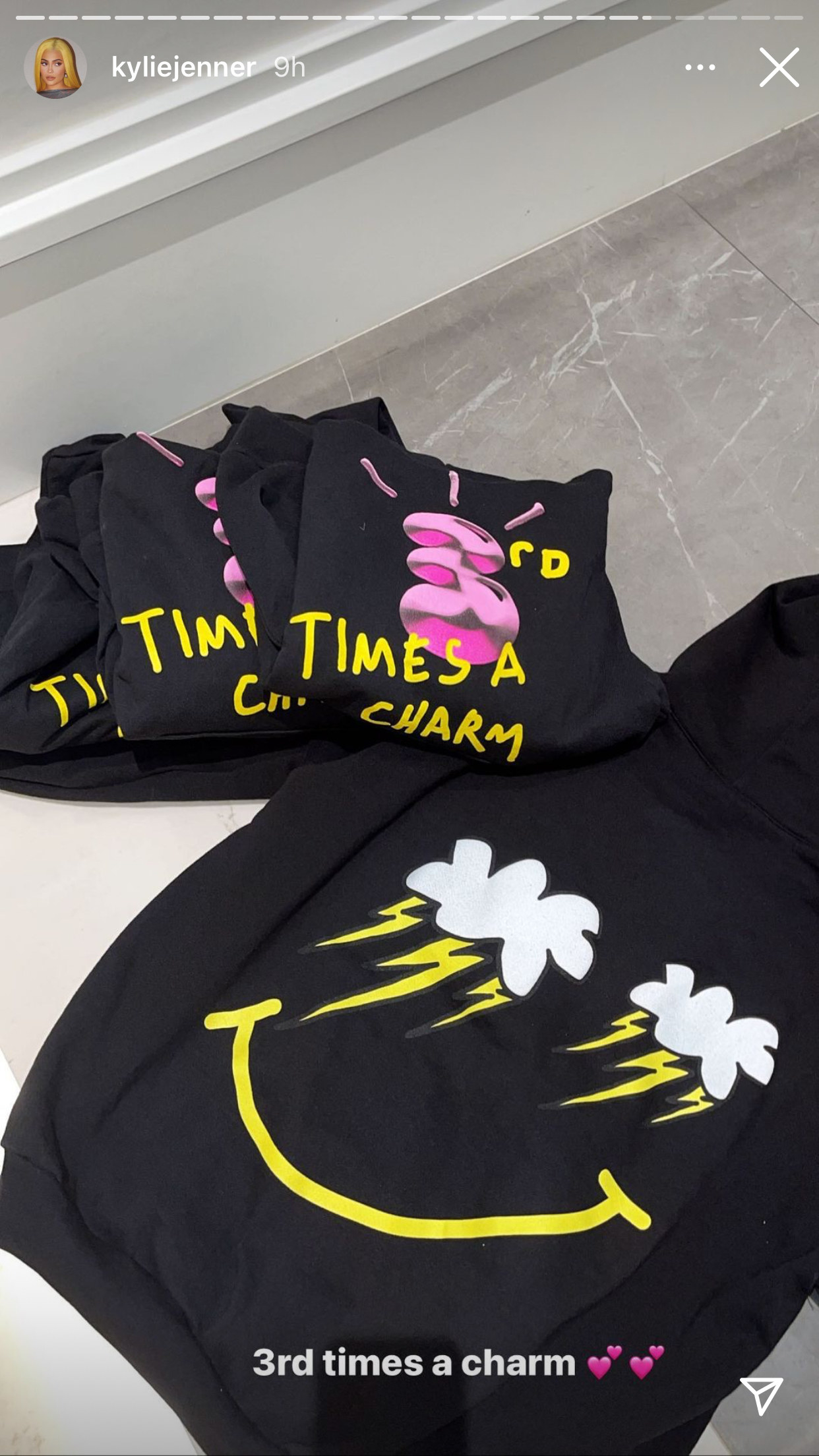 However, a recent study by Quidel found that rapid tests "detected only about 32 percent of positive cases." The Kardashians have also been accused of exploiting their privilege to access the tests which cost upwards of $150 each.
And many people took to social media to express frustration that Kylie — who's only just returned from a vacation in Turks and Caicos — had even held the party in the first place.
"Is Kylie actually doing Stormiworld for her child's 3rd birthday?" one person asked in disbelief. "Someone is dying from COVID every 10 min in LA."
"It's coronavirus's one year anniversary soon and Kylie still doesn't know what this virus can do and how it can actually harm people," said another.
"I know you canceled Stormiworld but you still held a big ass party," someone else wrote. "Even if it was a party for her, it's still a party in a pandemic and I didn't see any masks. Even if you're a millionaire, you can still catch the virus and give it to people."
"I ask why do people feel the need to follow Kylie Jenner after she keeps breaking COVID protocols!" another frustrated person said. "She doesn't give a damn about you! Why care about her or her siblings?!!"
"Read the room girl," another fan said simply.
This isn't the first time the Kardashian/Jenners have been called out for flouting official COVID-19 restrictions during a pandemic that has so far killed over 400,000 Americans.
The family were criticized at the start of the pandemic for throwing parties and mixing with other households. Then, in October, Kim received huge backlash after revealing she'd rented a private island to celebrate her 40th birthday and enjoy a "brief moment of normality" with family and friends.
Days later, Kendall drew criticism after throwing her 25th birthday with over 100 people in attendance and an apparent social media ban in place in a bid to keep the whole bash a secret.
And the family were also criticized for violating guidelines to celebrate Thanksgiving together, before vacationing in Tahoe, Mexico, and Turks and Caicos.