U.S. Bishops Elect New Leaders
Archbishop Joseph Katz will lead the American Catholic church for the next three years.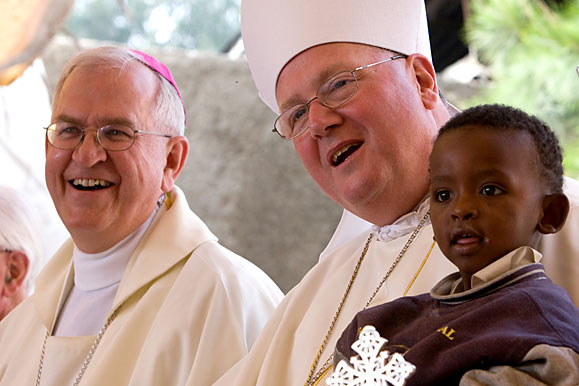 The United States Conference of Catholic Bishops (USCCB) on Tuesday elected an archbishop from Kentucky and cardinal from Texas to lead them for the next three years.
Archbishop Joseph Kurtz of Louisville, 67, who served the organization's vice president during the past term, was elected president of the conference. Sixty-four year-old Cardinal Daniel DiNardo of the Galveston-Houston diocese was elected the vice president.
DiNardo, a reliable conservative with a reputation for effective pragmatic leadership, is an outspoken advocate for immigration reform and immigrant welfare.
Kurtz referenced Pope Francis's recent direction to emphasize concern for the poor and focus less on divisive issues such as abortion and same-sex marriage in his first statement as president-elect.
"As our Holy Father, Pope Francis, calls us to witness to the Gospel of Jesus Christ, I look forward to serving my brother bishops as together we seek to serve our Lord," he said.
The outgoing USCCB president, Cardinal Timothy Dolan, generated headlines during his tenure by speaking out on hot-button issues such as marriage equality and abortion, and led a national campaign opposing some of President Obama's health care mandates.
On Tuesday, politicians offered their congratulations to the newly-elected Catholic leaders.
Kentucky Sen. Mitch McConnell sent well-wishes from the Senate floor. "Archbishop Kurtz isn't a native Kentuckian. He's originally from Pennsylvania. But we've adopted him as our own since he was appointed head of the Louisville Archdiocese in June of 2007. I wish him all the best as he seeks to promote the Church's mission in the United States. Congratulations."
In a statement to BuzzFeed, Speaker of the House John Boehner, a practicing Catholic, offered similar sentiments, "American Catholics are grateful to the bishops for reminding us of our obligation use the blessings we have as Americans to humbly serve others, particularly those throughout the world who are suffering. For years Americans Catholics have relied on the voice of Cardinal Dolan and been blessed by his steady guidance, and our prayers and thanks are with Archbishop Kurtz as he accepts this call."