These Pictures Of Marines Drinking Snake Blood Are The Most Insane Things You'll See Today
U.S. Marines learn how to catch, kill and drink the blood of cobras during a jungle survival exercise in Thailand.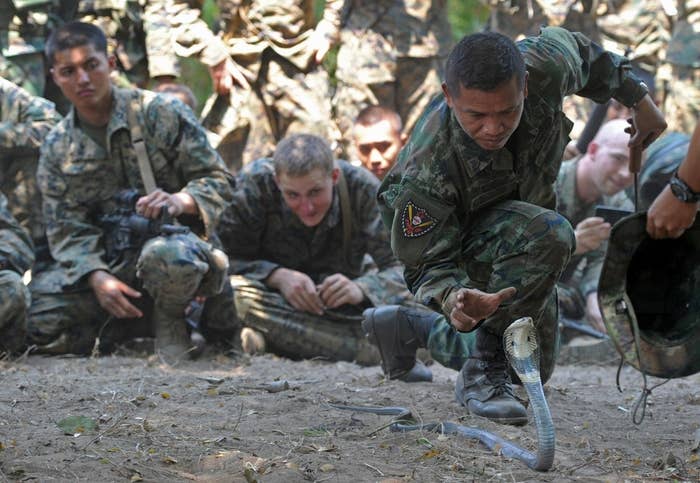 Reuters reports:
13,000 soldiers from seven countries (Thailand, United States, Singapore, Indonesia, Japan, South Korea and Malaysia) are participating in Cobra Gold 2013, a joint, multi-national military training exercise. Cobra Gold focuses on maintaining and improving military-to-military relationships among nations sharing common goals and security commitments in the Asia-Pacific region. Hosted annually by Thailand since 1982, Cobra Gold is the largest joint military exercise in Asia.

U.S. and Thai soldiers swapped skills on how to survive in a tropical forest at a Thai Navy base 90 miles or 145 kilometers east of Bangkok on Wednesday. Thai soldiers showed U.S. Marines how to catch a cobra with their bare hands and how to find water in the jungle as well as drinking snake blood to survive.