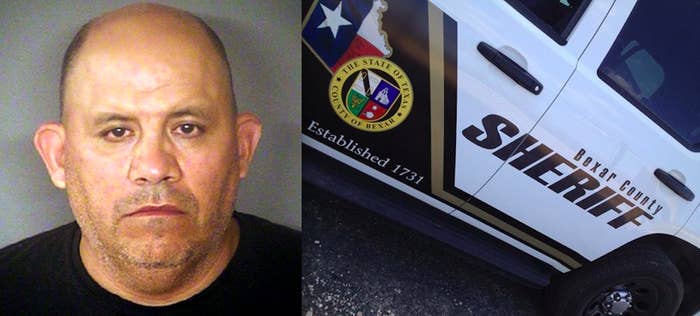 A Texas sheriff's deputy allegedly sexually assaulted a 4-year-old girl and threatened the child's undocumented mother with deportation if she reported the abuse, authorities said.

"The details of this case are quite frankly heartbreaking, disturbing, disgusting and infuriating, all at the same time," Bexar County Sheriff Javier Salazar said in a press briefing posted to the department's Facebook page.

The suspect, 47-year-old Jose Nunez, is a detention officer and 10-year veteran of the Bexar County Sheriff's Department, Salazar said. Nunez was arrested while off duty early Sunday after the victim's mother took her daughter to a local fire station for help. He was charged with super aggravated sexual assault of a child, a class one felony that carries a minimum 25-year sentence.

"As we understand it, this suspect had physical contact with this little girl and touched her genital area, which caused pain and some indication of minor injury," Salazar said. Following the assault, the child cried out to her mother late Saturday night, which prompted the mother to take her to a fire station and file a report.

"We have reason to believe that this goes back at least several months, possibly a couple of years," Salazar said.
He said that the girl and her mother are relatives of the suspect, but did not provide specific details about the connection. However, Salazar emphasized that they had "familial ties" and that the mother had no romantic connection to Nunez.

"The little girl now is safe and we're continuing to process the case," he said.

The sheriff told reporters that Nunez also threatened the child's mother, who is undocumented, and said he would report her to immigration if she went to the authorities about the abuse.

"Another heartbreaking aspect to this case is that the mother of this little girl is an undocumented immigrant, and my understanding is that this suspect utilized that to his advantage to place the mother in fear that she would be deported if she did report it," Salazar said. "We believe that there was some hesitation on the part of the witness to report the conduct because of the fact that she's undocumented in the country."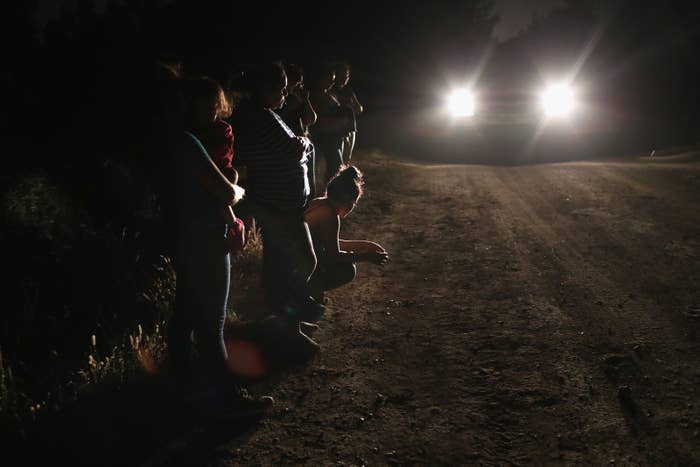 Salazar told San-Antonio Express-News that the child's mother is from Guatemala, but declined to elaborate on the nationality or immigration status of the girl.

The sheriff said that he and others in law enforcement have been increasingly concerned about crimes in the undocumented community that go unreported because victims and witnesses are afraid of being deported.

"Folks like [Nunez] are creatures of habit and opportunity," he said. "I don't know that he was purposely targeting the undocumented community. Certainly what was appealing was the vulnerability of that community because they are less apt to report things."
Salazar told reporters that investigators believe the 4-year-old may not have been Nunez's only victim.

"There may have been other children that were related to this suspect and may have had contact with him, so we're asking anybody that has any reason to believe their child may have been affected by this to please give us a call at the Bexar County Sheriff's Office SVU unit," he said.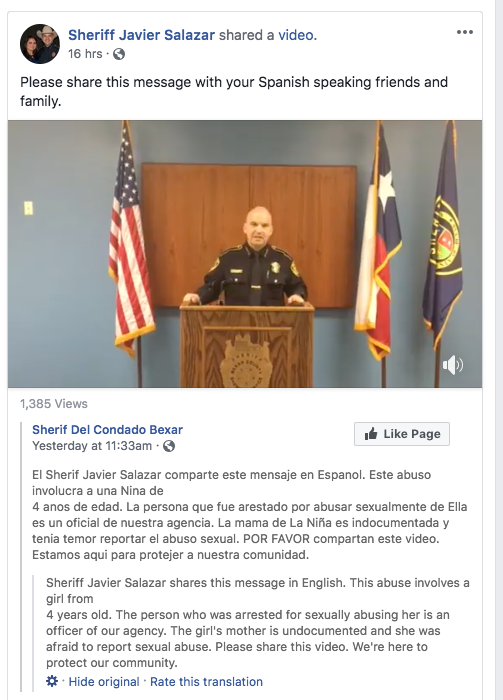 After the Sunday press briefing, Salazar, speaking in Spanish, posted a video to Facebook in which he appeared to speak directly to the undocumented members of the Bexar County community.

"A woman who was a witness in this case didn't initially come forward because she is undocumented and was afraid of being deported," he said. "This case taught us again that we know there are undocumented people in our community who are afraid to report crimes because they're afraid of being deported. So it is important for us to remind you that if someone is undocumented and they are a witness or a victim of a crime, it is important that they report this crime.
"We will treat them like a witness or victim, not like a suspect. We will help them in whatever way possible for them to stay in this country legally while the case is investigated.

"For us, it's important that the public knows that we will arrest any person committing crimes even if it is an official of the law," Salazar added. "It is important for us to do everything possible to make sure our community is safe."

Nidhi Prakash contributed additional reporting to this story.