Embattled EPA Administrator Scott Pruitt made an aide hunt for a used, old mattress from Trump International Hotel Washington, DC, for him, the aide told congressional investigators.
The mattress in question was a Stearns & Foster model, a staffer at the Trump Hotel told the Associated Press Monday. Trump Hotels International collaborated with Stearns & Foster in 2008 to develop an exclusive mattress for their hotels, resulting in the "Trump by Stearns & Foster Plush Pillowtop mattress." This model appears to still be the standard mattress for all Trump hotels.
Millan Hupp, Pruitt's director of scheduling and advance, said Pruitt regularly instructed her to carry out personal tasks, such as apartment hunting and "securing" the mattress, according to interview transcripts published Monday by the top Democrats on the House Oversight and Government Reform Committee.
Excerpts from the interview were included in a letter to the committee's chair, Trey Gowdy, requesting that he issue a subpoena to the EPA for documents relating to Pruitt's "multiple abuses of authority in using agency staff for his own personal purposes."
Hupp said that she used both work and personal time for more than a month to look for a rental apartment in the Washington, DC, area for Pruitt and his wife, meeting with landlords and even visiting properties herself. She was not paid for performing this service, she said.
Pruitt also gave Hupp his personal credit card and instructed her on occasion to book personal travel for him, including his trip to the 2018 Rose Bowl, where he was accompanied by his EPA-funded security team.
In the letter, Rep. Elijah Cummings and Rep. Gerald E. Connolly expressed their concern at Pruitt using a subordinate as a personal assistant. "If Miss Hupp's statements to the Committee are accurate, Administrator Pruitt crossed a very clear line and must be held accountable."
Among other tasks, Hupp told the committee that Pruitt asked her to "secure" the mattress, and so she reached out to the managing director of the hotel in an email, which she was asked about in the interview: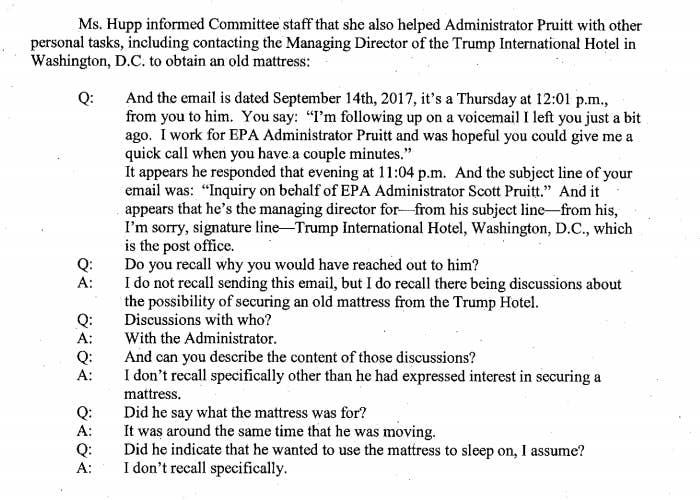 "As I remember, [Pruitt] had spoken with someone at the Trump Hotel who had indicated there could be a mattress he could purchase, an old mattress he could purchase," Hupp said.
When asked if the mattress was to be used at the EPA, she replied, "Not to my knowledge."
"We are working diligently with Chairman Gowdy and are in full cooperation in providing the Committee with the necessary documents, travel vouchers, receipts and witnesses to his inquiries," EPA spokesperson Jahan Wilcox told BuzzFeed News.
Federal ethics standards state that an employee "shall not encourage, direct, coerce, or request a subordinate to use official time to perform activities other than those required in the performance of official duties or authorized in accordance with law or regulation."