Right-Wing Activist Kills Himself In Notre Dame Cathedral
The 78-year-old historian Dominque Venner, an outspoken opponent of same-sex marriage, committed suicide in the famous church three days after France legalized gay marriage.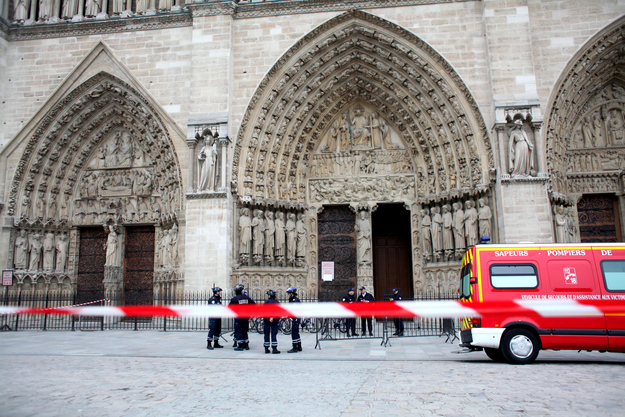 A far-right writer and activist shot himself dead in front of the altar of Paris' Notre Dame Cathedral on Tuesday, hours after calling for "spectacular and symbolic actions" to protect France's national identity.
Police confirmed that 78-year-old Dominique Venner, an award-winning historian and essayist with ties to many of France's far-right and nationalist groups, shot himself with a pistol at approximately 2 p.m. GMT (10 a.m. EST). He placed a piece of paper on the church's altar moments before putting the gun in his mouth and pulling the trigger, Le Figaro reports. The contents of the letter have not been released.
Monsignor Patrick Jacquin, the rector of the cathedral, told Agence France-Presse that he believed it was the first time anyone had committed suicide inside the cathedral.
Venner was an active opponent of gay marriage and what he described as the "Islamization of Europe." He had been involved in the opposition movement to France's proposed bill legalizing same-sex marriage and adoption, which was signed into law by President Francois Hollande on Saturday. In an essay on his website, Venner referred to the law as the "destructor of our civilization."
In a fiery post published hours before his death, Venner wrote, "New spectacular and symbolic actions are needed to wake up the sleep walkers, shake the anaesthetised consciousness and awaken the memory of our origins. We are entering a time when acts must follow words."
Contrary to early reports, Dominque Venner was not Catholic, and various French media outlets described him as a "pagan." In a 2002 interview, Venner criticized Christianity's doctrine of peace and tolerance. "We must realize that in the face of threats of our time, such as the spread of African Muslim immigration, a guilt-provoking, universal, anti-racist, non-violent religion offers little help," he said.
Venner also spoke of his affection for the churches and cathedrals of Europe, despite his distate for religion. "I myself come from a Catholic family and I am always moved when I contemplate our ancient cathedrals or our small country churches which... are intrinsically European."
In his final post Tuesday, Venner blasted France's same-sex marriage and adoption law as well as the infux of immigrants, urging activists to take measures against "Islamists" to protect "French and European identities."
"The [same-sex marriage] protestors cannot ignore this reality," he wrote. "Their struggle is not limited to the rejection of gay marriage. The 'Great Replacement' of the population of France and Europe ... is a different type of catastrophic peril for the future. It is not enough to protest in the street. It requires a reclaiming of the French and European identities."
In a possible reference to his suicide, Venner ended his final post with a call to action:
We should also remember, as Heidegger brilliantly formulated, that the essence of man is in his existence and not in another world. It is here and now that our destiny plays out up till the last second. And this second ultimately has as much importance as the rest of a life. That is why one has to be oneself until the last moment. It is in deciding yourself, in truly wanting your destiny that you conquer nothingness. And there is no escape from this requirement because we only have this life in which it is up to us to be entirely ourselves, or to be nothing.