The Pentagon on Monday confirmed that it was a US airstrike that killed Abu Muhammad al-Adnani, one of ISIS's key leaders.
"The strike near Al Bab, Syria, removes from the battlefield ISIL's chief propagandist, recruiter and architect of external terrorist operations," Pentagon spokesman Peter Cook said in a statement released Monday afternoon.
The Department of Defense had previously been unable to confirm that al-Adnani had been killed in the strike conducted on August 30, but had said that he was a target.
"It is one in a series of successful strikes against ISIL leaders, including those responsible for finances and military planning, that make it harder for the group to operate," Cook's statement continued. "As we continue to gather momentum in our counter-ISIL campaign, we will continue to target ISIL leaders, relentlessly pursue its external plotters, and, working with our partners on the ground, we will not rest in our efforts to destroy ISIL's parent tumor in Iraq and Syria, combat its metastases around the world, and protect our homeland."
The Russian defense ministry had previously claimed its forces carried out an airstrike in Syria that killed the senior ISIS leader, soon after the US announced that it had targeted al-Adnani.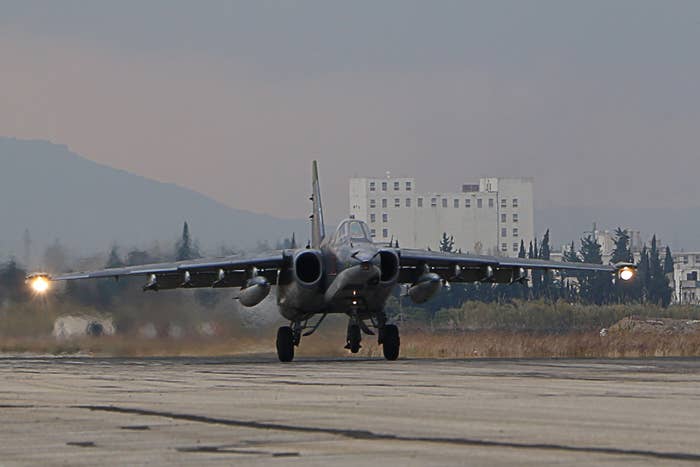 "Among those terrorists, according to the information confirmed through several intelligence channels, there was the military leader Abu Mohammad al-Adnani known as the spokesperson of [ISIS]," a statement from the Russian defense ministry read. "Abu Mohammad al-Adnani was considered to be the second person in the ISIS after his leader Abu Bakr al-Baghdadi and was notorious for appeals for terrorist attacks in the countries of Western Europe and in the USA."
The Russians' claims came after the Pentagon had said a day earlier that US forces conducted a military strike targeting Adnani near Al Bab, within Aleppo province, where the US-led coalition is currently conducting air operations.
In a statement to ISIS-affiliated Amaq Agency, a source with the terror group said on the day of the US strike that Adnani "was martyred while surveying the operations to repel the military campaigns against Aleppo."
Adnani, the chosen name of Taha Subhi Falaha, was one of ISIS's first and most visible members, reportedly serving as the group's leader within Syria. He also served as the group's spokesman, delivering multiple addresses on behalf of the militants.
Adnani not only served as chief spokesman for ISIS, but also coordinated and encouraged lone-wolf attacks on civilians overseas.
The news of his reported death broke via the messaging app Telegram.
According to the Counter Extremism Project, a nonprofit policy organization created to "combat the growing threat from extremist ideologies," Adnani has been one of ISIS's most visible and recognizable members.
He became known as the spokesman for the terror group in 2014, when he announced its declaration of a caliphate and was designated by the State Department as a global terrorist.
Adnani was one of the first foreign fighters to oppose US forces and allies in Iraq before becoming a spokesman for ISIS, according to the State Department.
In that role, he was the group's chief minister of propaganda, putting together what appeared to be carefully produced videos of ISIS attacks and executions that were used to recruit and inspire attacks abroad.
But according to the New York Times, Adnani also had an operational role in ISIS that included overseeing ISIS's external operations, instigating attacks in Paris, Brussels, and Bangladesh.
Ali Watkins contributed reporting for this article from Washington, DC.