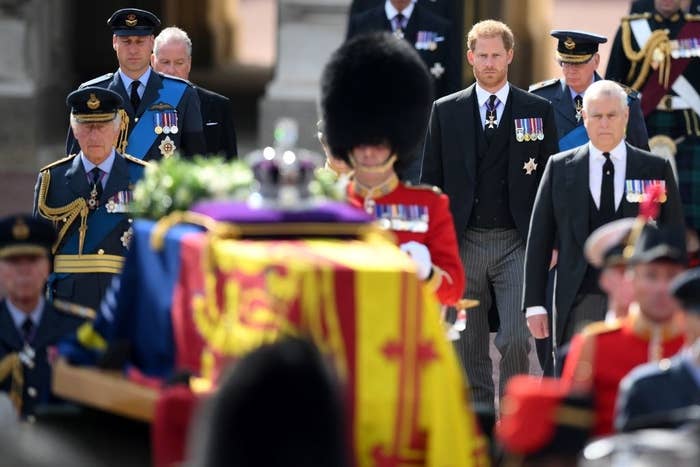 Members of the royal family gathered to follow Queen Elizabeth II's coffin in a solemn procession in London on Wednesday.
The Queen's coffin, which had the Imperial State Crown placed on it, left Buckingham Palace at precisely 2:22 p.m. local time.
Thousands lined the streets to watch the coffin, which was borne by the gun carriage of the King's Troop Royal Horse Artillery, make its way from Buckingham Palace to the Palace of Westminster, where it will lie in state until her state funeral on Monday. Hundreds of thousands of people are expected to participate in the public viewing.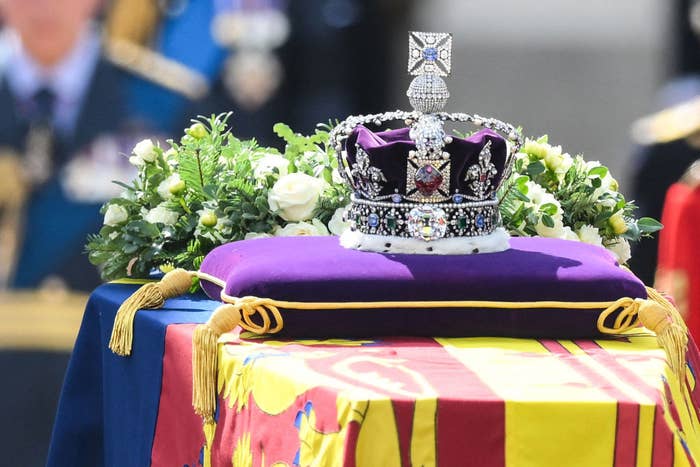 Members of the royal family followed the gun carriage carrying the Queen's coffin for the 38-minute walk from Buckingham Palace to Westminster Hall.
The procession was led by the Queen's four children: King Charles III; Anne, Princess Royal; Prince Andrew, Duke of York; and Prince Edward, Earl of Wessex. (If you're wondering why Andrew's not in military uniform, you can read more about that here.)

The Queen's children were followed by her three grandsons: William, Prince of Wales; Prince Harry, Duke of Sussex; and Peter Phillips (Anne's son).

Behind them were David Armstrong-Jones, 2nd Earl of Snowdon (the Queen's nephews, son of the Queen's sister Princess Margaret); Prince Richard, Duke of Gloucester (the Queen's first cousin); and Vice Admiral Sir Timothy Laurence (the Queen's son-in-law, Anne's husband).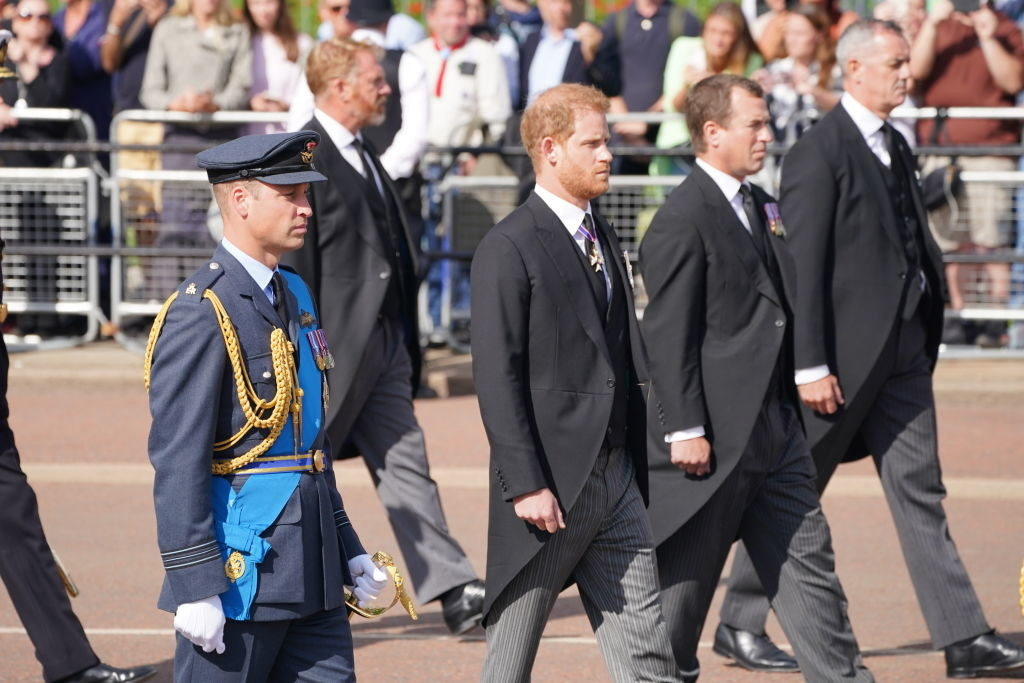 Members of the public lined the streets of London to watch the events, and screens were set up around the city to broadcast the procession.
"To be a part of this and feel this atmosphere and the love that all of these people have for the Queen, it's incredible," said Sharon Osborne, who told BuzzFeed News she traveled from her home in Los Angeles to London to pay her respects.
"It's one of those things that you'll never forget," she said.
As of Wednesday, there are already plans for a 5-mile line of people to wait to pay their respects ahead of the Queen's funeral.

Some observers struggled to put into words their reasons for traveling into the city to see the commemorations.
"It's a difficult question to answer. I feel a sense that it's history. I think it's just the right thing to do," said Richard, a Hertfordshire resident who declined to give his last name. "It's a very visceral thing. I want to contribute in some way."
At around 1 p.m. local time, police began directing mourners away from Parliament and Buckingham Palace, telling the crowds that the area was full. Tall green fencing was erected to prevent people from joining the procession, upsetting some in attendance.
"It's poignant to be here. Her Majesty is an amazing person," said Carole Alan Morley, who added that her mother had observed the Queen's 1953 coronation. "[My mother] would be here if she could but she's died. I'm completing the circle."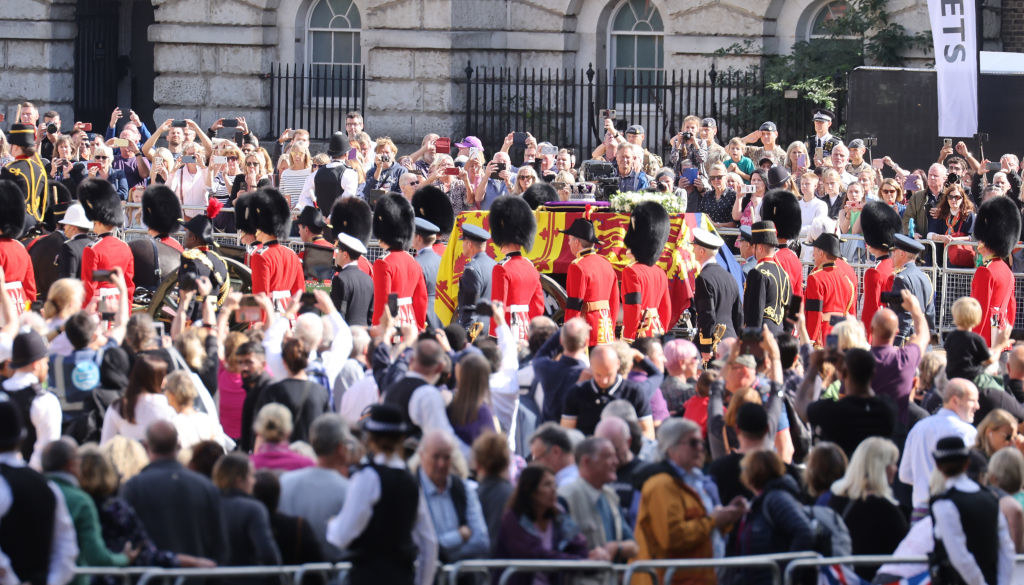 Also among the crowds were people with ties and ancestry from other Commonwealth nations.
"Despite my Pakistani roots, I was born here and I feel being part of the Commonwealth at some stage, many years ago now, but still I have that affinity for the royal family," Rifat Soyfoo said.
"I thought that this is the ultimate occasion to pay my respects," Soyfoo added. "Everyone keeps saying, 'The queen god bless her soul worked tirelessly, so selflessly,' [and talking about] how she brought the nation together no matter what creed, color, community you're from."
"She gave us so much," said Chris Imafidon, a British Nigerian professor. "She was not just a monarch high up there; she was modest. She worked with my charity in the inner city and invited our students to come to the palaces."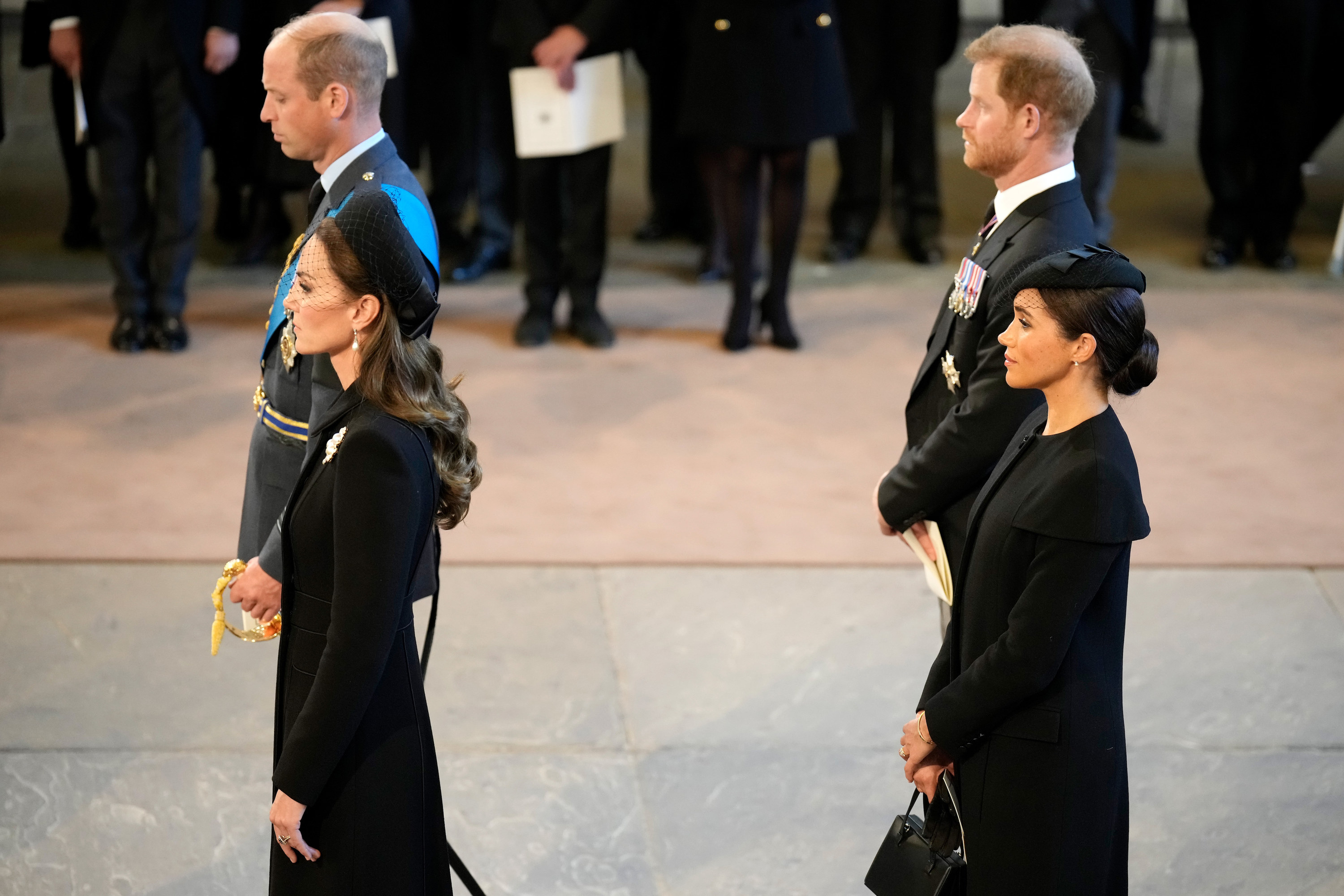 Millions of people are expected in London for the Queen's funeral on Monday. A huge security operation is already underway in preparation for the event.

A brief service for the reception of the coffin was held in Westminster Hall at the end of the procession. Other members of the royal family joined this service, including Queen Camilla, Catherine, Princess of Wales, and Meghan, Duchess of Sussex.
The Queen's granddaughters Zara Tindall, Princess Eugenie of York, and Princess Beatrice of York were also there.
Ade Onibada, Ikran Dahir, and Tom Warren reported from London. Ellie Hall reported from Washington, DC.