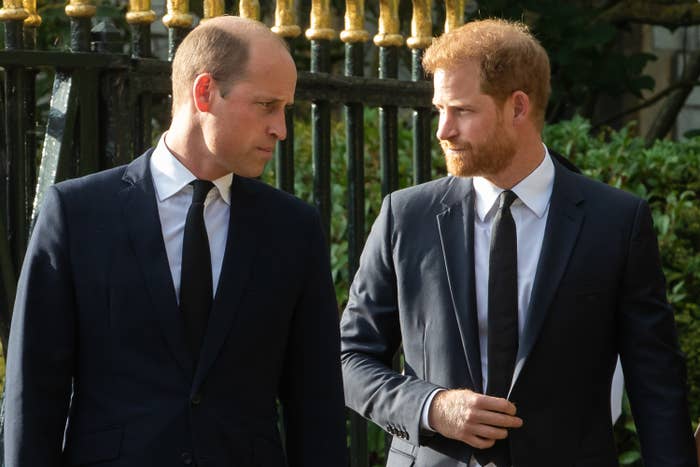 In his soon-to-be-published memoir, Prince Harry reportedly writes that his brother Prince William physically assaulted him during an argument about Harry's wife, Meghan Markle, the Guardian reported Wednesday.
According to the UK paper — which said it has "obtained" an early copy of Spare despite "stringent pre-launch security around the book" — the altercation occurred in 2019 and left the Duke of Sussex with "scrapes and bruises" on his back. The book is set to come out Jan. 10, and so far, no other media outlets have obtained advance copies.
"It all happened so fast. So very fast," Harry writes in the book, according to the Guardian. "He grabbed me by the collar, ripping my necklace, and he knocked me to the floor. I landed on the dog's bowl, which cracked under my back, the pieces cutting into me. I lay there for a moment, dazed, then got to my feet and told him to get out."
BuzzFeed News has reached out to publisher Penguin Random House, Kensington Palace, and the Sussexes for comment.
According to the excerpt, the brothers had agreed to meet at what was then the Sussexes' home in London — Nottingham Cottage, located on the grounds of Kensington Palace — in order to discuss the media's coverage of Harry and Meghan and the couples' increasingly antagonistic relationship with the press.
During the confrontation, William reportedly accused Meghan (who was not there) of being "difficult," "rude," and "abrasive," which prompted Harry to accuse his brother of "parrot[ing] the press narrative" about his wife. The future king responded that he was only trying to help and reportedly became enraged when Harry responded, "Are you serious? Help me? Sorry – is that what you call this? Helping me?"
William's reaction — he reportedly swore and made a move toward his brother — scared Harry, who retreated to the kitchen. In an apparent attempt at de-escalation, he got William a glass of water and said, "Willy, I can't speak to you when you're like this," the excerpt says.
It was at that point when the future king reportedly attacked his brother. Harry writes that William urged him to hit back, but he refused, causing his brother to leave the Sussexes' home. He returned soon after the altercation, "looking regretful," and apologized, according to the excerpt.
When William left Nottingham Cottage for the second time, he reportedly "turned and called back: 'You don't need to tell Meg about this.'"
"You mean that you attacked me?" Harry asked his brother, the excerpt says. William, according to the book, responded, "I didn't attack you, Harold."
Although Harry did not immediately tell Meghan about the violent confrontation (he writes that he first called his therapist), he later revealed the truth to his wife when she noticed the "scrapes and bruises" on his back, the excerpt says. According to the book, Meghan "wasn't that surprised, and wasn't all that angry. She was terribly sad."