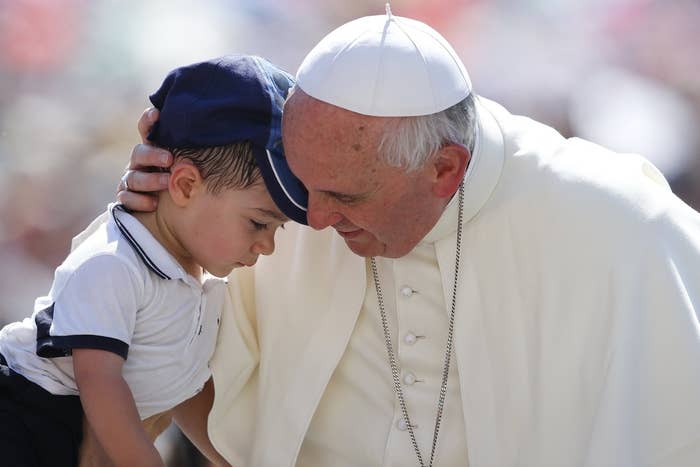 Pope Francis called upon church leaders to reassess the way they treat the children of same-sex and divorced couples, urging them to "consider how to proclaim Jesus Christ to a generation that is changing." His remarks, made during a meeting of the Union of Superiors General at the Vatican in November, were published in English, Spanish and Italian by Jesuit journal La Civiltà Cattolica on Saturday.
Emphasizing the importance of education in Catholic schools and universities to the church's mission, Pope Francis spoke about how it was necessary to prepare educators to welcome — and not alienate — children and young adults who "who live in complex situations, especially family ones." He recalled an example from his days as the Archbishop of Buenos Aires. "I remember the case of a very sad little girl who finally confided to her teacher the reason for her state of mind," he said, explaining that the child was upset because her mother's girlfriend didn't like her.
In the English translation of the interview, it's not clear at first that the pope is referring explicitly to children of same-sex unions. However, in the Italian and Spanish translations, it's obvious that Pope Francis is referring to a girl being raised by two women:
English: "My mother's fiancé doesn't like me."

Spanish: "La novia de mi mamá no me quiere." (My mother's girlfriend doesn't love me.)

Italian: "La fidanzata di mia madre non mi vuol bene." (My mother's fiancée does not love me.)
The pope acknowledged that the reality of the growing numbers of children of same-sex unions, divorced parents and other non-traditional families provide "new challenges which sometimes are difficult to understand" as educators. He urged the religious orders leaders to make sure these children were not made to feel unwelcome in the Church.
"How can we proclaim Christ to these boys and girls?" the pope asked. "How can we proclaim Christ to a generation that is changing? We must be careful not to administer a vaccine against faith to them."