The NFL Is Looking Into Accusations That LeSean McCoy Arranged For His Ex-Girlfriend To Be Beaten
McCoy called the claims, which also include accusations of child and animal abuse, "baseless and offensive"
Buffalo Bills running back LeSean McCoy has been accused of arranging the beating of his ex-girlfriend in a graphic Instagram post.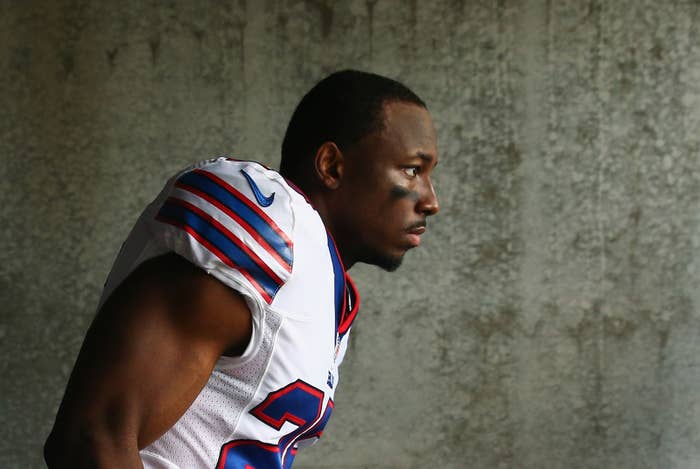 Although the Instagram post did not identify the woman by name, she has been identified by friends on social media as McCoy's longtime on-and-off girlfriend, fashion designer Delicia Cordon.
According to police records and dispatch audio, Cordon was injured in a targeted home invasion at the Georgia residence she shared with McCoy during their relationship.
In the post, which was removed from Instagram around 3 p.m the same day it went up, Boykin accuses McCoy of being the cause of Cordon's injuries, as well as beating his dog Henny into kidney failure and "viciously" beating his son for peeing in the bed. She also accuses the NFL star of drug use.
"The world needs to know what type of an animal you really are," she wrote.
Cordon, Boykin, and a representative for McCoy have not responded to requests for comment.
NFL spokesperson Brian McCarthy told BuzzFeed News that the organization is "reviewing the matter."
McCoy released a statement on his Instagram and Twitter denying the charges and saying he has "not had any direct contact with any of the people involved in months."
After taking down the original image, Boykin tagged the football player in a new post stating that she stood by her accusations and only removed the photo under Cordon's attorney's instructions.
Cordon sustained extensive injuries to her head face and arms during the attack, her lawyer said, and Cordon's cousin, who was also in the residence at the time, suffered a head injury.
"Ms. Cordon's wrist was bruised when the assailant could not get the bracelets off her wrist, and he hit Ms. Cordon in the face with a firearm multiple times while demanding specific items of jewelry and cash from her."
In a statement to BuzzFeed News, police in Milton City, Georgia, said that they believe the residence McCoy and Cordon shared during their relationship was specifically targeted in a home invasion early Tuesday morning.
"On July 10, 2018 at approximately 3:18 a.m., Milton Police responded to a home invasion at a residence," police Chief Rich Austin said in the statement. "The preliminary investigation indicates that this residence was specifically targeted by the suspect or suspects, and not a random incident.
"When officers arrived they found one victim who had been physically assaulted by a lone intruder," the statement said. "During the altercation, the suspect demanded specific items from the victim. An adult female victim was treated and released at North Fulton Regional Hospital. A second adult female victim also sustained a minor injury during the incident."
The Buffalo Bills issued a statement via Twitter Tuesday afternoon about the accusations:
BuzzFeed News has reached out to the Buffalo Bills and the NFL for comment.
According to court records filed by McCoy last month, he was trying to get Cordon and her children to leave the Georgia house where she was attacked, and which he owns.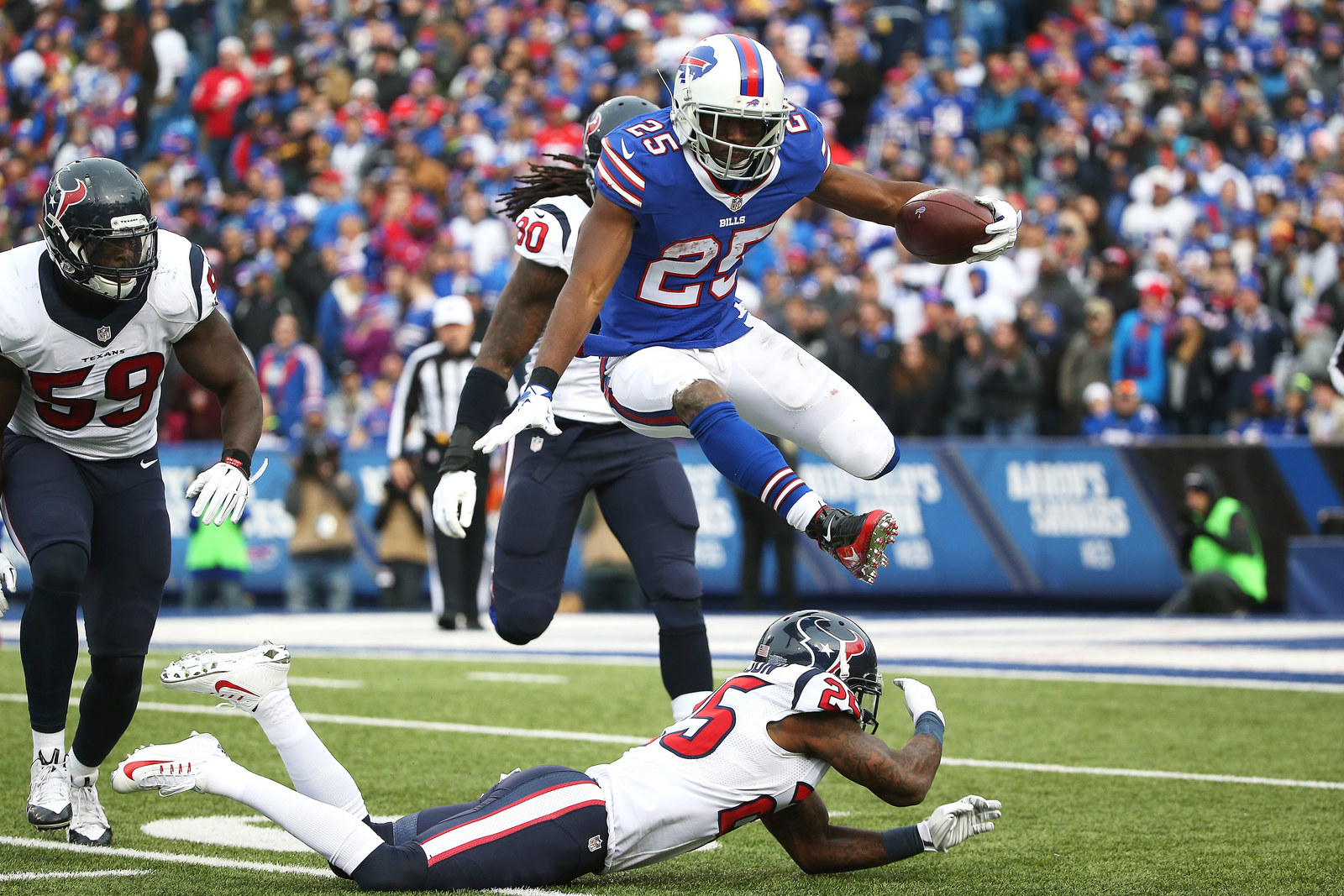 Cordon and McCoy have dated on and off since 2016 but are not currently together and are involved in legal proceedings against each other.
"Defendant is an ex-girlfriend of owner/plaintiff and refuses to leave," the court filing, submitted June 6, stated.
In a motion filed in response on June 22, Cordon claimed that she and McCoy had lived together for two years and had been talking about marriage "on or about Memorial Day on May 28, 2018" and that he had given her "a substantial gift" at that time.
Cordon said that when she left the house on June 1 to attend her sister's graduation in Virginia, McCoy "had some of his friends, family members, and laborers remove [her] furniture and furnishings from the home" without her knowledge.
She also said that McCoy turned off the electricity to the house after she called the police to stop the removal of her belongings.
Cordon and McCoy were scheduled to appear in court Tuesday at 1 p.m.
Cordon's most recent Instagram photo, which was featured in Boykin's post, was taken in London on Monday and posted with a cryptic caption about putting on a good face for social media.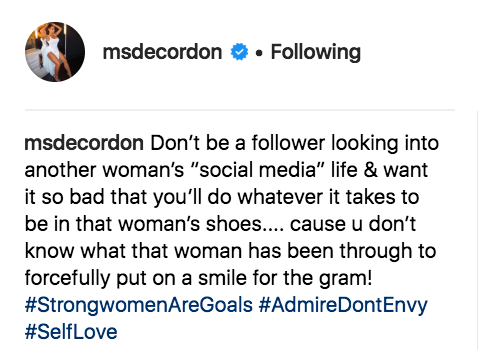 Cordon made her Instagram account private on Tuesday afternoon.
In the post's comments, Boykin said that she and Cordon returned from a trip to London yesterday.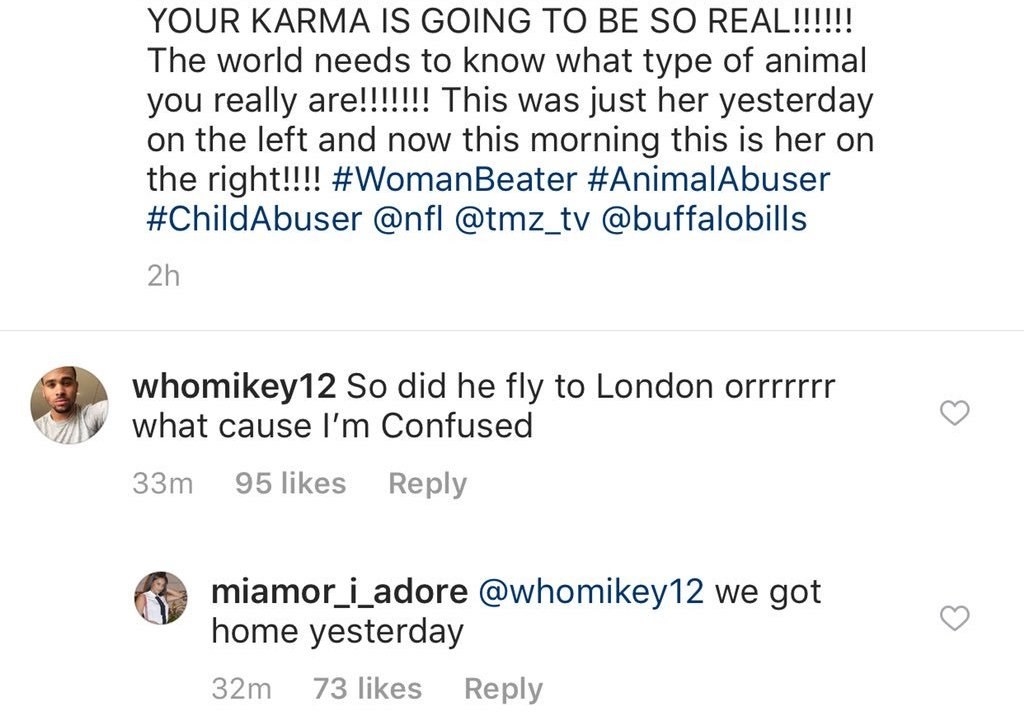 Cordon's mother posted on Instagram Tuesday afternoon that her daughter is resting, with the hashtag #whatgoesaroundcomesaround.