Egypt's Female Protestors Live In Fear Of A "Circle Of Hell"
As more and more Egyptian women are sexually assaulted, volunteer groups help fight back.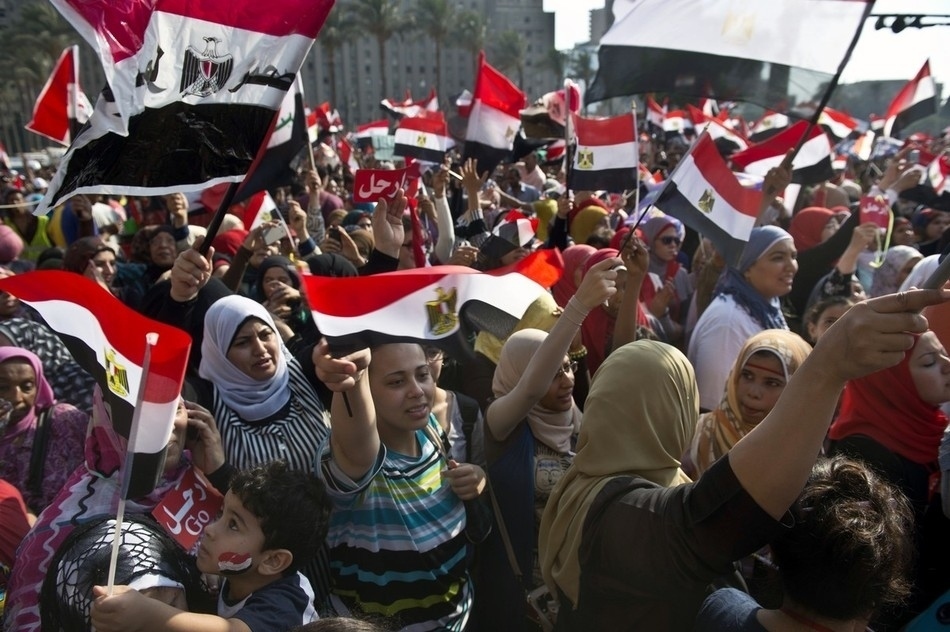 On Wednesday, the Human Rights Campaign confirmed that mobs of men sexually assaulted and in some cases raped at least 91 women in Tahrir Square over the four days of protests beginning on June 30, 2013, amidst what they described as "a climate of impunity." Hours later, a coalition of Egyptian women's rights organizations released a statement that 10 more cases had been reported, raising the number of sexually violent attacks on female protestors to more than 100 instances.
Four of the women required medical assistance, including two who were evacuated from the Square via ambulance. Women's advocacy groups have reported instances of female protestors being beaten with metal chains, sticks, and chairs, attacked with knives, sexually assaulted and even raped with sharp objects. Some of the victims were attacked for as long as 45 minutes before they were able to escape. On Monday, a 22 year-old Dutch journalist reporting from Tahrir Square was allegedly raped by 5 men and required surgery for her "horrific injuries."
Although sexual harassment of women in Egypt has been a problem for decades, the type of mob sexual assaults being directed against female protestors have only recently come to light since the 2011 Egypt Revolution. Activist Hussein El-Shafie, a volunteer for Operation Anti-Sexual Harassment/Assault (OpAntiSH), an organization which works to end sexual violence against Egyptian women, described his experience rescuing 10 women from a mob of men in Tahrir Square on January 25, 2013, the second anniversary of the revolution.
"During the attacks, the women often find themselves trapped inside what some have called 'the circle of hell,' a mob of 200 or 300 men who fought with one another to pull, shove, beat, and strip them," Al-Ahram wrote. El-Shafie also told the paper that volunteers typically have just two minutes to get to a woman being mobbed and save her. Any more than that could be too late.
In February, following an investigation into the rise of sexual violence against women during mass protests, the Human Rights Committee of the Shura Council, Egypt's upper house of Parliament, blamed the female victims for "caus[ing] rape upon themselves."
"A woman who joins protests among thugs and street inhabitants should protect herself before asking the Ministry of Interior to offer her protection," prominent politician Adel Afifi said during the council's address on sexual harassment. "Women sometimes cause rape upon themselves through putting themselves in a position which makes them subject to rape." Afifi also alluded that many of the reported "rapes" were in fact consensual acts of prostitution.
"The woman bears the offense when she chooses to protest in places filled with thugs," agreed another council member. "Women should not mingle with men during protests. How can the Ministry of Interior be tasked with protecting a lady who stands among a group of men?"
The government response only served to galvanize the volunteer groups which had emerged to protect female protestors, such as OpAntiSH and the Tahrir Bodyguards, both founded in late 2012.
In addition to patrolling Tahrir Square during protests and answering distress calls, the Tahrir Bodyguards offer free self-defense classes for any women who wish to learn how to protect themselves.
The actions of these volunteer groups save women each night of the protests...
Often at great personal risk.
During Sunday's protests, the BBC's Jeremy Bowen tweeted about a woman taking refuge in their building from a mob of men.
On Wednesday, the Egyptian military reportedly cordoned off a women-only protest area in an attempt to cut down on harassment, according to Al Jazeera.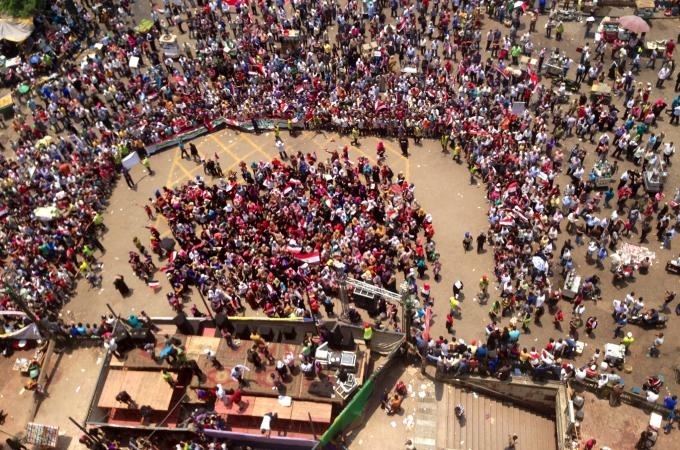 The identity of the attackers is unknown – to date, no arrests have been made. Some suspect that the government may be using sexual violence as political or psychological weapon, while others speculate that it might be a tactic of organized criminal gangs. While Egyptians await answers, women going to Tahrir Square are urged to be aware that they also may find themselves trapped in the circle of hell.
"I don't think their tactic will scare women, but definitely any woman who goes to Tahrir must know the consequences," Engy Ghozlan, founder of the volunteer initiative Harassmap, told Al-Ahram. "You may get shot, you may get tear gassed and you may also get raped and sexually assaulted."