Duke University has opened an investigation and removed the director of its master of biostatistics program after the professor sent an email urging students to only speak English in the department's building.

In an email sent to first- and second-year students in the program Friday, professor Megan Neely urged international students to refrain from speaking Chinese in the biometrics building "or any other professional situation."

Neely said that she had been approached by two separate faculty members who asked to see pictures of all the biometrics graduate students. "Both faculty members picked out a small group of first-year students who they observed speaking Chinese (in their words, VERY LOUDLY) in the student lounge/study areas."

When Neely asked why they wanted to look at the class photos, she wrote, "Both faculty members replied that they wanted to write down the names so they could remember them if the students ever interviewed for an internship or asked to work with them for a master's project. They were disappointed that these students were not taking the opportunity to improve their English and were being so impolite as to have a conversation that not everyone on the floor could understand."

"PLEASE PLEASE PLEASE keep these unintended consequences in mind when you choose to speak Chinese in the building," Neely said. "I have no idea how hard it has been and still is for you to come to the US and have to learn in a non-native language. As such, I have the upmost [sic] respect for what you are doing. That being said, I encourage you to commit to using English 100% of the time when you are in Hock or any other professional setting."

BuzzFeed News has reached out to Neely for comment.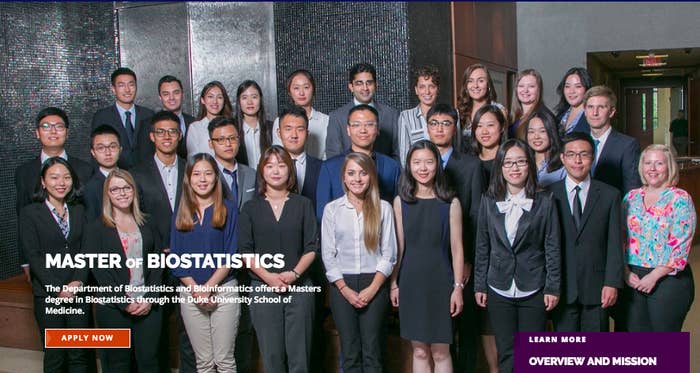 Over the weekend, Duke students from across disciplines organized a petition asking the university to look into Neely and the treatment of international students.

"We are gravely concerned with the apparently discriminatory actions against international students," the students wrote in the letter to the administration. "As members of the Duke community, we embrace what the University espouses as its core institutional values: nondiscrimination, equal opportunity, and mutual respect."

The students also pointed out that this was the second email Neely had sent to biometrics students about only speaking English while on campus.

In an email dated Feb. 28, 2018, with the subject line "To Speak or Not To Speak English," the letter to the university read, "[Neely] relayed the observation of 'many faculty' that international students were not speaking English in the department's study lounges. While acknowledging the international students' 'desire to speak with friends in their native language,' she wrote that 'speaking in your native language may give faculty the impression that you are not trying to improve your English skills.'"

"We are disheartened," the students wrote, "When Duke's faculty members implied that students of diverse national origin would be punished in academic and employment opportunities for speaking in their native language outside of classroom settings. We are demoralized even more that a Duke graduate program director explicitly condones and even encourages such discriminatory practices by our faculty members."

Dr. Mary E. Klotman, the dean of the Duke University School of Medicine, announced in a letter to the community Sunday that Neely would be stepping down as the director of studies for the biometrics program and that an investigation would be launched to determine "ways in which we can improve the learning environment for students from all backgrounds."

"Sadly, this matter demonstrates that we must continue to work on overcoming deep-seated concerns about our cultural awareness and understanding. We take this challenge seriously and you have my personal pledge that it will be addressed quickly and sensitively."