Bradley Manning Found Not Guilty Of Aiding The Enemy
Developing: A military judge has ruled that the 25-year-old private is not guilty of "aiding the enemy" but is guilty of 20 of the 22 charges against him and faces a maximum of 136 years in prison. He admitted to leaking classified information to Wikileaks.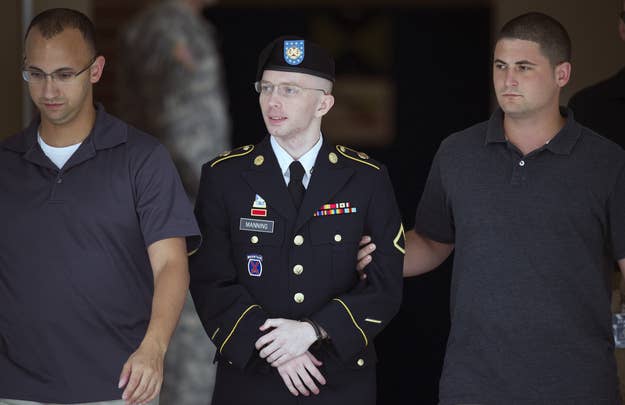 A military judge has found Pfc. Bradley Manning not guilty of "aiding the enemy" -- the most serious charge against him -- but has found him guilty of most of the other counts against him. He has not yet been sentenced to any amount of time, but based on the charges he could face a maximum punishment of 128 years in prison.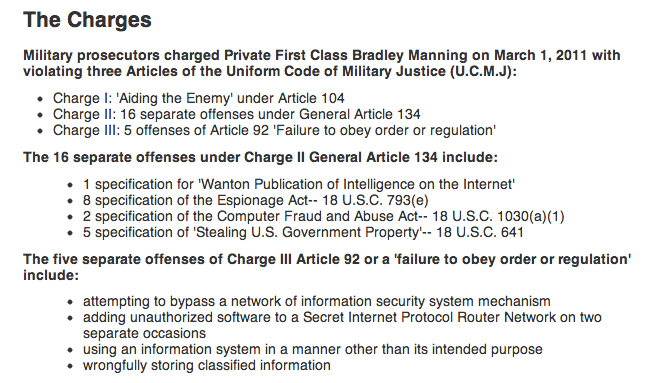 Manning plead guilty to lesser versions of 10 of the charges, including unauthorized possession of information relating to the national defense, in February. He also admitted to sending more than 470,000 Iraq and Afghanistan battlefield reports, 250,000 State Department diplomatic cables and other material, including several battlefield video clips, to WikiLeaks in a powerful court statement.
The verdict follows two months of conflicting testimony and evidence, and nearly two years of back-and-forth between the government and the defense (Manning first appeared in court in December 2011). He opted to be tried by a judge as opposed to a jury of officers and enlisted personnel. Both sides delivered closing arguments last week. Colonel Denise Lind deliberated over the weekend and announced Monday that she would be prepared to deliver the verdict the next day.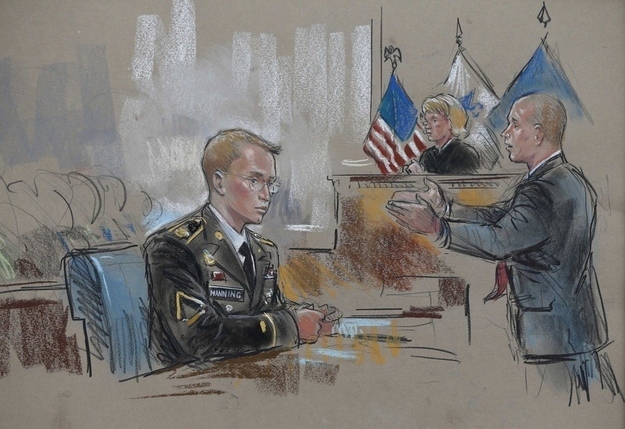 Now that a verdict has been delivered, the trial will immediately enter the sentencing phase to determine the degree of Manning's punishment, specifically how much time he will face in a military prison. Both sides will again present evidence about the impact of the leaks, Manning's performance of duty and mental health and other extenuating circumstances. Witnesses -- some classified -- will be called to testify. The sentencing phase will begin Wednesday at 9:30 a.m. and last for several weeks.
"Since the court ruled that motive and actual damage (or "lack of damage") evidence was not relevant at trial (except to prove circumstantially that Manning was cognizant of the fact that the enemy used the WikiLeaks website), evidence of Manning's intent and the impact of the leaks will finally be heard by the court at sentencing," writes Alexa O'Brien, who has been covering the Manning trial extensively since December 2011. "It remains to be seen, however, how much of the sentencing phase of this trial will be open to the public, since the government is expected to elicit testimony from 13 classified sentencing witnesses in closed sessions or in classified stipulations for their sentencing case."
Manning's attorney David Coombs told supporters Monday that if Manning was convicted, an automatic appeal would go first to the Army Court of Criminal Appeals and then to the Court of Appeals of Armed Forces.
The State Department declined to comment on the verdict.
Bradley Manning's family has issued a statement to the Guardian in response to the verdict:
While we are obviously disappointed in today's verdicts, we are happy that Judge Lind agreed with us that Brad never intended to help America's enemies in any way. Brad loves his country and was proud to wear its uniform.

We want to express our deep thanks to David Coombs, who has dedicated three years of his life to serving as lead counsel in Brad's case. We also want to thank Brad's Army defense team, Major Thomas Hurley and Captain Joshua Tooman, for their tireless efforts on Brad's behalf, and Brad's first defense counsel, Captain Paul Bouchard, who was so helpful to all of us in those early confusing days and first suggested David Coombs as Brad's counsel. Most of all, we would like to thank the thousands of people who rallied to Brad's cause, providing financial and emotional support throughout this long and difficult time, especially Jeff Paterson and Courage to Resist and the Bradley Manning Support Network. Their support has allowed a young Army private to defend himself against the full might of not only the US Army but also the US Government.
The ACLU released a statement on the verdict:
A military court-martial today found Pfc. Bradley Manning guilty of multiple charges under the Espionage Act for giving classified material to WikiLeaks, but not guilty of aiding the enemy.

"While we're relieved that Mr. Manning was acquitted of the most dangerous charge, the ACLU has long held the view that leaks to the press in the public interest should not be prosecuted under the Espionage Act," said Ben Wizner, director of the ACLU's Speech, Privacy and Technology Project. "Since he already pleaded guilty to charges of leaking information – which carry significant punishment – it seems clear that the government was seeking to intimidate anyone who might consider revealing valuable information in the future."
Amnesty International has issued a statement on the verdict, saying the U.S. government's priorities are "upside down":
"The government's priorities are upside down. The US government has refused to investigate credible allegations of torture and other crimes under international law despite overwhelming evidence.

"Yet they decided to prosecute Manning who it seems was trying to do the right thing - reveal credible evidence of unlawful behaviour by the government. You investigate and prosecute those who destroy the credibility of the government by engaging in acts such as torture which are prohibited under the US Constitution and in international law.

"The government's pursuit of the 'aiding the enemy' charge was a serious overreach of the law, not least because there was no credible evidence of Manning's intent to harm the USA by releasing classified information to WikiLeaks.

"Since the attacks of September 11, we have seen the US government use the issue of national security to defend a whole range of actions that are unlawful under international and domestic law.

"It's hard not to draw the conclusion that Manning's trial was about sending a message: the US government will come after you, no holds barred, if you're thinking of revealing evidence of its unlawful behaviour."

The court martial today found Manning guilty of a range of additional charges, including ten lesser charges relating to misuse of classified information to which he had already pleaded guilty. Amnesty insisted that any sentence imposed for the other charges must take into account information relating to Manning's reasonable belief that he was exposing serious violations of human rights and international humanitarian law.

Amnesty believes it undermines accountability when the US government is so selective about who it chooses to investigate and prosecute. This is particularly true when they seem intent on punishing those who reveal unlawful government behaviour and protecting those who actually engaged in or ordered such behaviour.

The hundreds of thousands of documents Manning released to WikiLeaks included videos and dossiers that pointed to potential human rights violations - including breaches of international humanitarian law - by US troops abroad and the CIA closer to home.

Earlier this month Amnesty described the judge's decision not to drop the charge accusing Manning of "aiding the enemy" as ludicrous and as a decision which "makes a mockery of the US military court system".
Update - 4:50 p.m.: WikiLeaks founder Julian Assange has released a statement.
Today Bradley Manning, a whistleblower, was convicted by a military court at Fort Meade of 19 offences for supplying the press with information, including five counts of 'espionage'. He now faces a maximum sentence of 136 years.

The 'aiding the enemy' charge has fallen away. It was only included, it seems, to make calling journalism 'espionage' seem reasonable. It is not.

Bradley Manning's alleged disclosures have exposed war crimes, sparked revolutions, and induced democratic reform. He is the quintessential whistleblower.

This is the first ever espionage conviction against a whistleblower. It is a dangerous precedent and an example of national security extremism. It is a short sighted judgment that can not be tolerated and must be reversed. It can never be that conveying true information to the public is 'espionage'.

President Obama has initiated more espionage proceedings against whistleblowers and publishers than all previous presidents combined.

In 2008 presidential candidate Barack Obama ran on a platform that praised whistleblowing as an act of courage and patriotism. That platform has been comprehensively betrayed. His campaign document described whistleblowers as watchdogs when government abuses its authority. It was removed from the internet last week.

Throughout the proceedings there has been a conspicuous absence: the absence of any victim. The prosecution did not present evidence that - or even claim that - a single person came to harm as a result of Bradley Manning's disclosures. The government never claimed Mr. Manning was working for a foreign power.

The only 'victim' was the US government's wounded pride, but the abuse of this fine young man was never the way to restore it. Rather, the abuse of Bradley Manning has left the world with a sense of disgust at how low the Obama administration has fallen. It is not a sign of strength, but of weakness.

The judge has allowed the prosecution to substantially alter the charges after both the defense and the prosecution had rested their cases, permitted the prosecution 141 witnesses and extensive secret testimony. The government kept Bradley Manning in a cage, stripped him naked and isolated him in order to crack him, an act formally condemned by the United Nations Special Rapporteur for torture. This was never a fair trial.

The Obama administration has been chipping away democratic freedoms in the United States. With today's verdict, Obama has hacked off much more. The administration is intent on deterring and silencing whistleblowers, intent on weakening freedom of the press.

The US first amendment states that "Congress shall make no law... abridging the freedom of speech, or of the press". What part of 'no' does Barack Obama fail to comprehend?