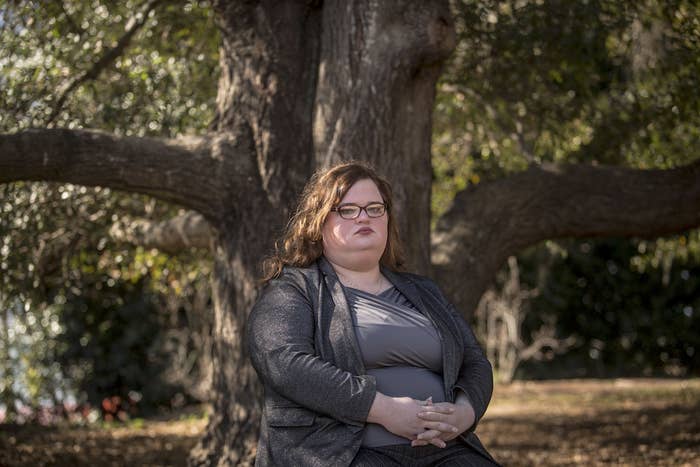 Three transgender people sued the state of Alabama on Tuesday, with the help of the American Civil Liberties Union, for the right to change their gender on their driver's licenses after DMV workers refused to do so.
Darcy Jeda Corbitt, Destiny Clark, and a third, anonymous plaintiff filed the federal lawsuit against four state public safety and DMV officials, saying they "are responsible for the establishment and enforcement of a policy that prevents transgender people in Alabama from obtaining a driver license that reflects their gender, unless they undergo surgical procedures and disclose information about those procedures to the government."
"Under the policy, proof of surgery is required for an accurate driver license regardless of whether the surgery is necessary, desired, safe, or within the financial means of the individual," according to the lawsuit.
"We are everyday people; we are your sisters, brothers, nieces, doctors, coworkers, we are your servers in restaurants," Clark told BuzzFeed News. "We are people and we simply want to be treated fairly and represented as who we truly are. Not giving us that respect is horrible. We want the same respect that you give everyone."
A spokesperson for the Alabama Law Enforcement Agency, the Department of Public Safety, and the DMV, whose employees were named in the suit, said the agency doesn't comment on lawsuits it has not seen. The DMV and the public safety department fall under the ALEA.

"To really expect someone to alter their bodies to conform to some very rigid, narrow perception of what gender should be is manipulative and cruel," Corbitt told BuzzFeed News, pointing out that most insurance companies do not cover the costs of the procedures that the state of Alabama requires. "Plenty of transgender people just take hormones, that's enough for them. They got the characteristics they wanted. They don't want to change their lower half and shouldn't have to."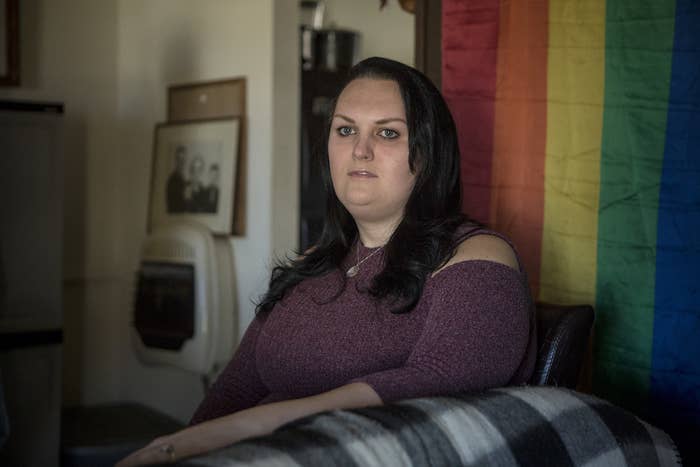 The ACLU said that the Alabama Law Enforcement Agency directive — which the lawsuit said is known as Policy Order 63 — has not been previously made public.
The policy is "not required by any state law, and [is] at odds with the requirements and recommendations of the federal government, the majority of state governments," the lawsuit said. The ALEA website lists the requirements for changing your name on your license but has no information about how to change gender.
Clark, 33, from Saint Clair County, said she provided proof of her medical and surgical procedures to the government, but said she was told an unspecified "policy" prevented her from getting a driver's license that said she is a woman.
Clark said that she began the process of changing her identification three years ago after medically transitioning, and said she had no problem navigating the Alabama bureaucratic process until she reached the DMV.
"When I initially started the process to legally change my name I had to go before a judge," she said. "The judge was amazing. I would've thought that the judge would've been less accepting but the judge was like, 'Whatever you need to do to make you happy.'" It was an equally easy matter to change her name and gender at the social security office, she said.
When Clark went to the DMV with a letter from her doctor certifying that she had medically transitioned, she was told that she needed to go through the medical office in Montgomery for the gender marker change.
She was referred to a supervisor, who is named as a defendant, who told her that the letter her doctor had provided "was not acceptable," she said.

Clark said that she went back to her doctor and obtained a more detailed letter about "the extensive procedures of what has and has not been done to me," but was told by the supervisor that her request to change her gender on her license was again denied. "I felt defeated," she said.
Clark then underwent what she called "actual gender-confirming surgery" and sent the supervisor a letter from her surgeon certifying that the procedure had been done. When she called a week later to confirm that they had received it, the lawsuit said, someone from the office had already contacted her surgeon directly and obtained the highly detailed information without Clark's permission.
"They needed to know the exact procedure," she said. "They needed to figure out exactly what I had done," including, according to Clark, the type of anaesthesia she was administered during the procedure. To Clark, it's a simple matter of privacy. "I respect them because they're the government but they have no business to know what I do to my body."
Still, the supervisor told Clark that she would not change her gender on her license, according to the lawsuit.

Clark is currently identified as a man on her license despite the fact that she lives her life as a woman, a situation that she says causes her daily stress and anxiety.
"If I don't know the cashier I avoid things," Clark said. "I try to avoid showing my driver's license. If we go out to a restaurant, I don't order alcohol because people are going to card me."
The lawsuit also said that a clerk at the DMV referred to Corbitt, 25, from Auburn, as "it" after she realized Corbitt was a transgender woman.
"I have seen people at their very worst, and I was honestly not prepared for what happened to me. It still shocks and horrifies me. I've gotten death threats and this was the worst experience I've ever had," Corbitt told BuzzFeed News.
Corbitt, who was born and raised in Alabama, returned to pursue graduate studies in the state in 2017, but considers North Dakota her primary residence. Corbitt's North Dakota driver's license, passport, and social security information all list her gender as female.
She went to the Lee County Alabama Drivers License Office in August 2017 to trade her North Dakota license for an Alabama one, and said that she was treated respectfully by the clerk at first.

"When the clerk reviewed agency records from when Ms. Corbitt lived in Alabama previously, she saw that Ms. Corbitt had been listed as male. Her demeanor changed abruptly," the lawsuit said.
The clerk filled out paperwork listing her gender as male, according to the lawsuit.
When Corbitt returned the document, saying that the gender marker was inaccurate, the clerk called her supervisor and loudly began to discuss the issue, referring to Corbitt as "he" and "him," the suit said.
The clerk called the medical office in Montgomery for help, Corbitt said, and when she was put on hold she asked Corbitt if she should be using the pronoun "she."
Corbitt said yes, and the clerk returned to the call and said, "well, it said."
"I'll see you in court," Corbitt said she told the clerk. She refused to turn over her North Dakota license and left without one from Alabama. She said she feared for her safety as she left the DMV because someone might have overheard the back-and-forth about her being transgender.
"To not even feel like you belong in the state where you grew up is hard."
"Ms. Corbitt has completed all necessary medical treatment for her gender dysphoria at this time," the lawsuit said. "She wishes to make future treatment decisions free from government coercion through policies or practices requiring her to have surgery to obtain a driver license."
When she got to her car and locked the door, Corbitt said, she broke down. "I don't really get overly emotional about anything. I'm a trained therapist — we're trained to take things without having a lot of overflow. But I couldn't handle it. I felt hurt, I felt stupid, I felt ugly, I felt unworthy."
"I think it's especially hard because I grew up here," Corbitt said. "I did spend my childhood in Alabama. To not even feel like you belong in the state where you grew up is hard."

Both plaintiffs hope that this lawsuit will help change Alabama's policies so that no other transgender person will have to go through this process. "Consider the needs of its transgender citizens," Corbitt said, rather "than try to force them into archaic understanding of what gender should be."