Federal officials arrested a Massachusetts man Thursday for allegedly posting a murder-for-hire solicitation to kill US Immigration and Customs Enforcement agents on social media, the Department of Justice announced.
Brandon Ziobrowski, 33, of Cambridge, was charged with one count of use of interstate and foreign commerce to transmit a threat to injure another person, according to court documents.
On July 2, Ziobrowski tweeted, "I am broke but I will scrounge and literally give $500 to anyone who kills an ice [sic] agent. @me seriously who else can pledge get in on this let's make this work."
A federal indictment that was unsealed after Ziobrowski's arrest in New York City this morning stated that the tweet was flagged by Department of Homeland Security officials as a domestic terrorism threat days after it was posted. The account has since been suspended for violating Twitter's terms of service.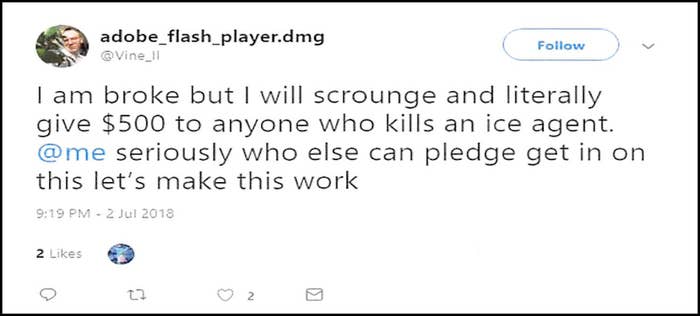 Ziobrowski's Twitter account @Vine_II, which he created in 2009, had recently become "more violent and threatening," the indictment said.
Although the document did not include screenshots of any tweets other than the July 2 tweet about paying $500 to anyone who killed an ICE agent, it quoted and cited messages allegedly posted by Ziobrowski, including one where he allegedly threatened to "slit" Arizona Sen. John McCain's throat.
In March, Ziobrowski also allegedly replied to a tweet from an official ICE Field Office account, "Thank you ICE for putting your lives on the line and hopefully dying I guess so there's less of you?"
In the press release announcing Ziobrowski's arrest, the Department of Justice stated that he could face "no greater than five years in prison, three years of supervised release and a fine of $250,000" for his tweet.
Ziobrowski did not immediately respond to a BuzzFeed News request for comment.
At a press conference in Boston Thursday, US Attorney Andrew E. Lelling said Ziobrowski "appears to just be some guy living in Cambridge who feels strongly on this subject."
"Feeling strongly about something is fine," he said. "Putting people's lives in danger is not fine."