Travis Barker's ex-wife threw some major shade at Kourtney Kardashian, and it looks like things may have gotten messy behind the scenes.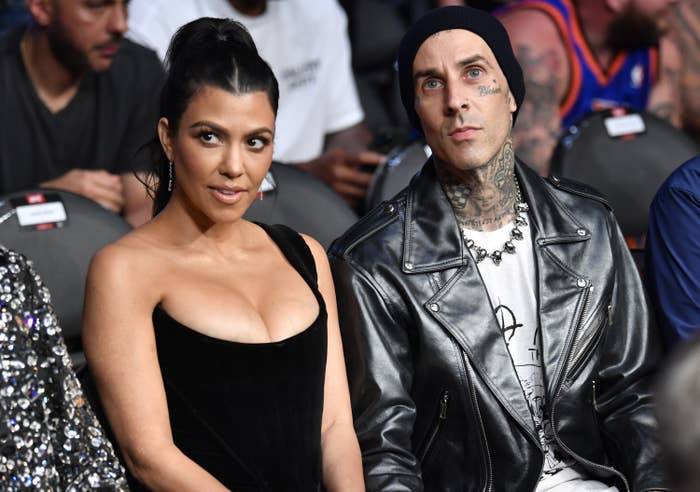 Long before he was with Kourtney, Travis was married to Shanna Moakler from 2004 to 2006. The two got back together for a brief moment in 2009 but split for good shortly after.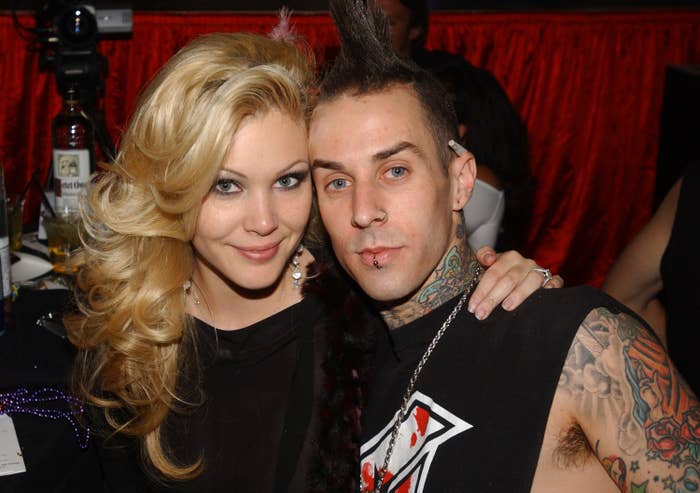 As you may know, the exes share two children together, 17-year-old Alabama and 19-year-old Landon. Shanna also has a 23-year-old daughter from a previous marriage named Atiana, who is still incredibly close to Travis.
Because Travis and Kourtney were good friends and neighbors for years before they started dating, Landon, Alabama, and Atiana have always been close to Kourtney's three kids she shares with Scott Disick — Mason, 13, Penelope, 10, and Reign, 8.
And since Travis and Kourtney went public with their romance in February 2021, fans have watched, both through The Kardashians and on social media, as their respective families have blended together more and more over time.
For her part, Shanna has not shied away from commenting on her kids' close bond with their new stepmom and her famous family, claiming that Kourtney "put a wedge" in her relationship with them.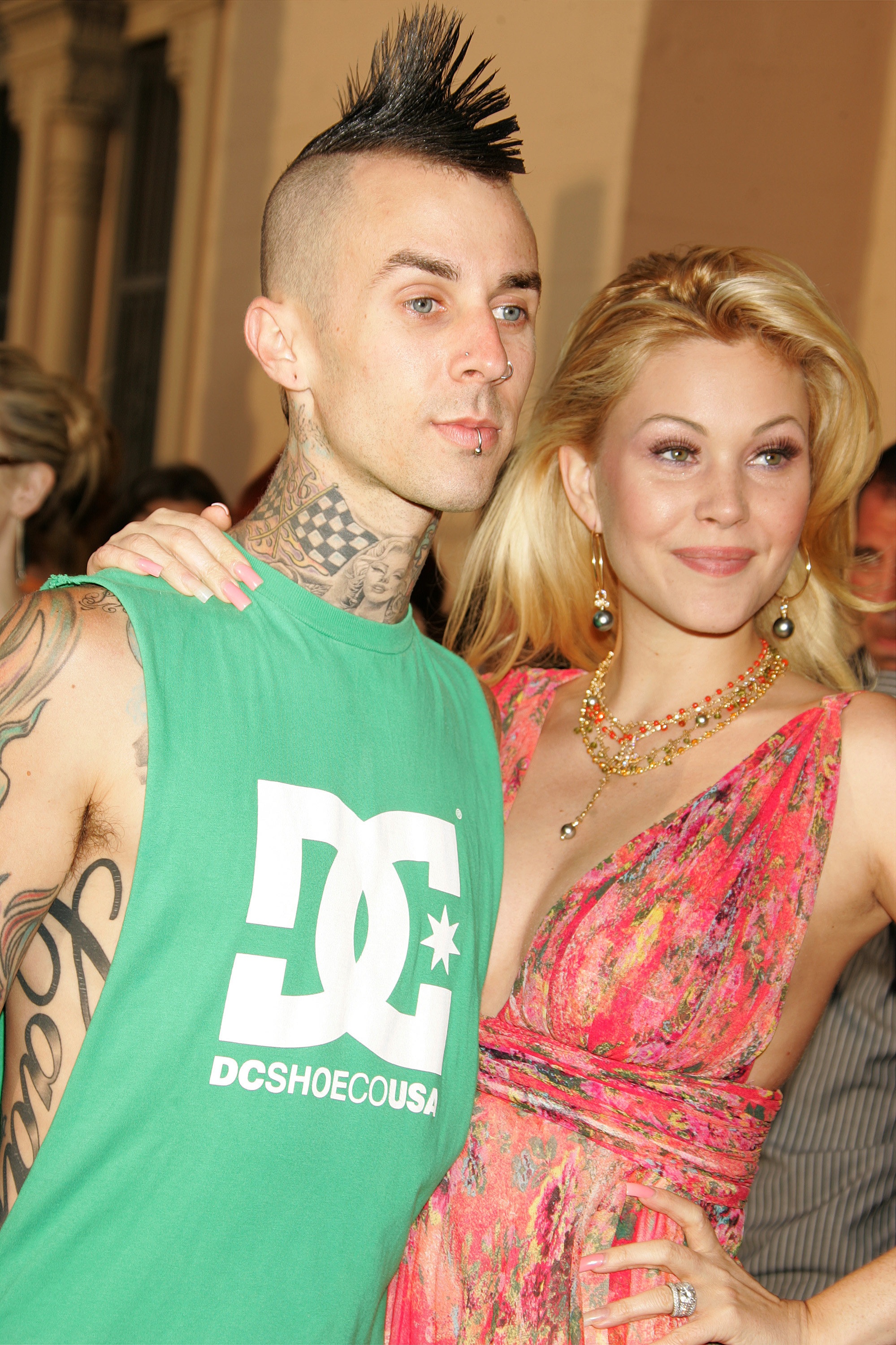 "The Kardashians are buying my kids Prada every other day," she told Us Weekly in May 2021. "They're going on lavish trips. They're doing all these things, which is fine…I want that for my children. I don't think it's great when they put a wedge in between their biological mother."
Interestingly, the Barker kids have previously stated that their relationship with Shanna is quite turbulent, with Alabama saying in 2021 that her mother "has never completely been in my life" and that people should "stop painting her out to be an amazing mom."
Landon agreed at the time, calling his mom an "absent parent." However, Shanna quickly hit back, calling the kids' claims "completely ridiculous."
So, with all this in mind, we recently got another glimpse at how close Kourtney is to Travis's children when the couple released their Hulu special, 'Til Death Do Us Part, which provided viewers with an intimate look at their three wedding ceremonies in 2022.
Just as Mason, Reign, and Penelope were involved in the wedding weekend, so too were Landon, Alabama, and Atiana. In fact, Landon even made a number of sentimental speeches over the course of the festivities.
In his speech at the reception, the 19-year-old was overcome with emotion as he opened up about how grateful he was for his relationship with Kourtney, saying: "Since the day I met you, you have had such a great and bright personality that always showed and shined."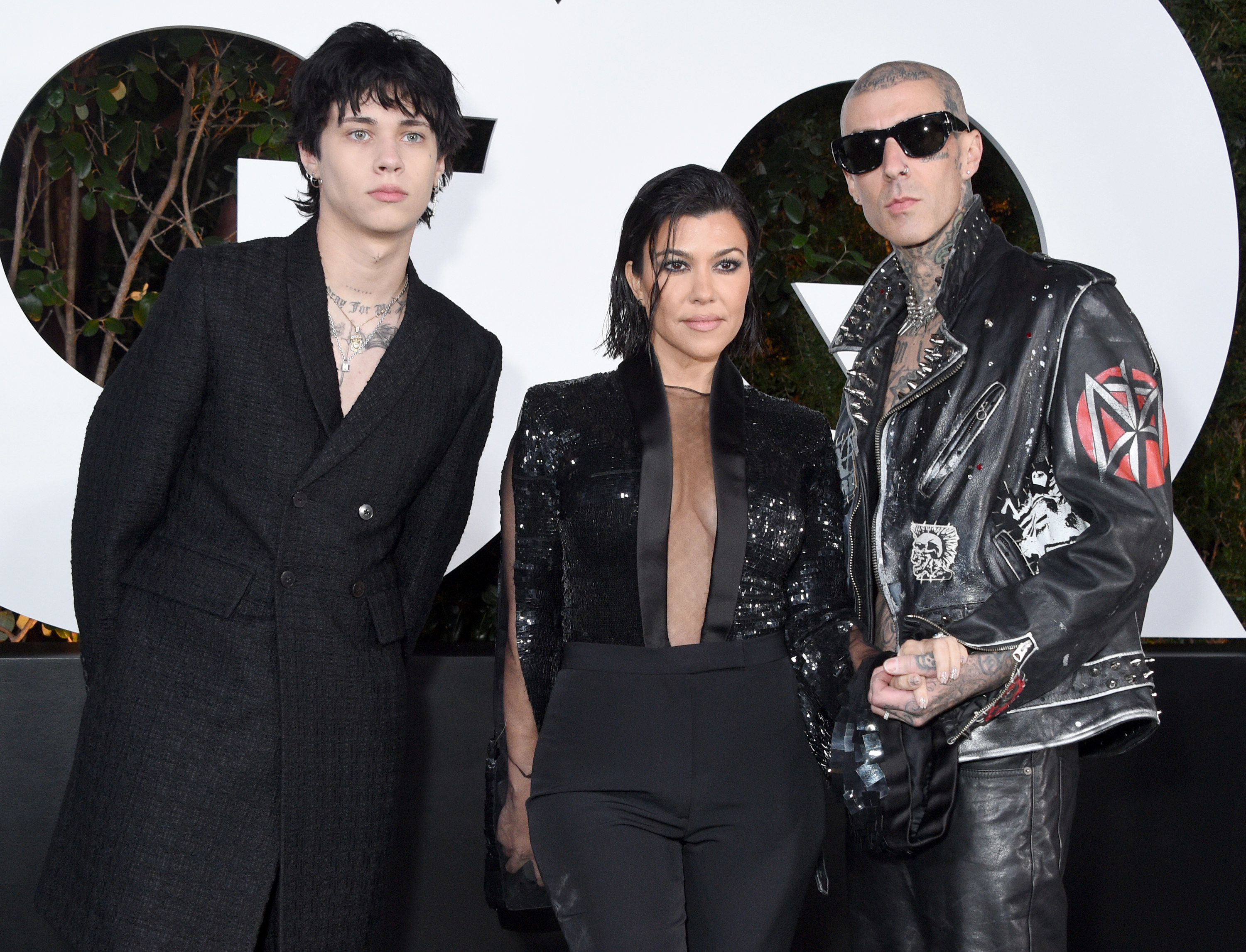 "You look out for me like a mother and always have had my back," he continued. "I really think you have filled the empty spot in my heart so well and have shown me great morals that have taught me so much."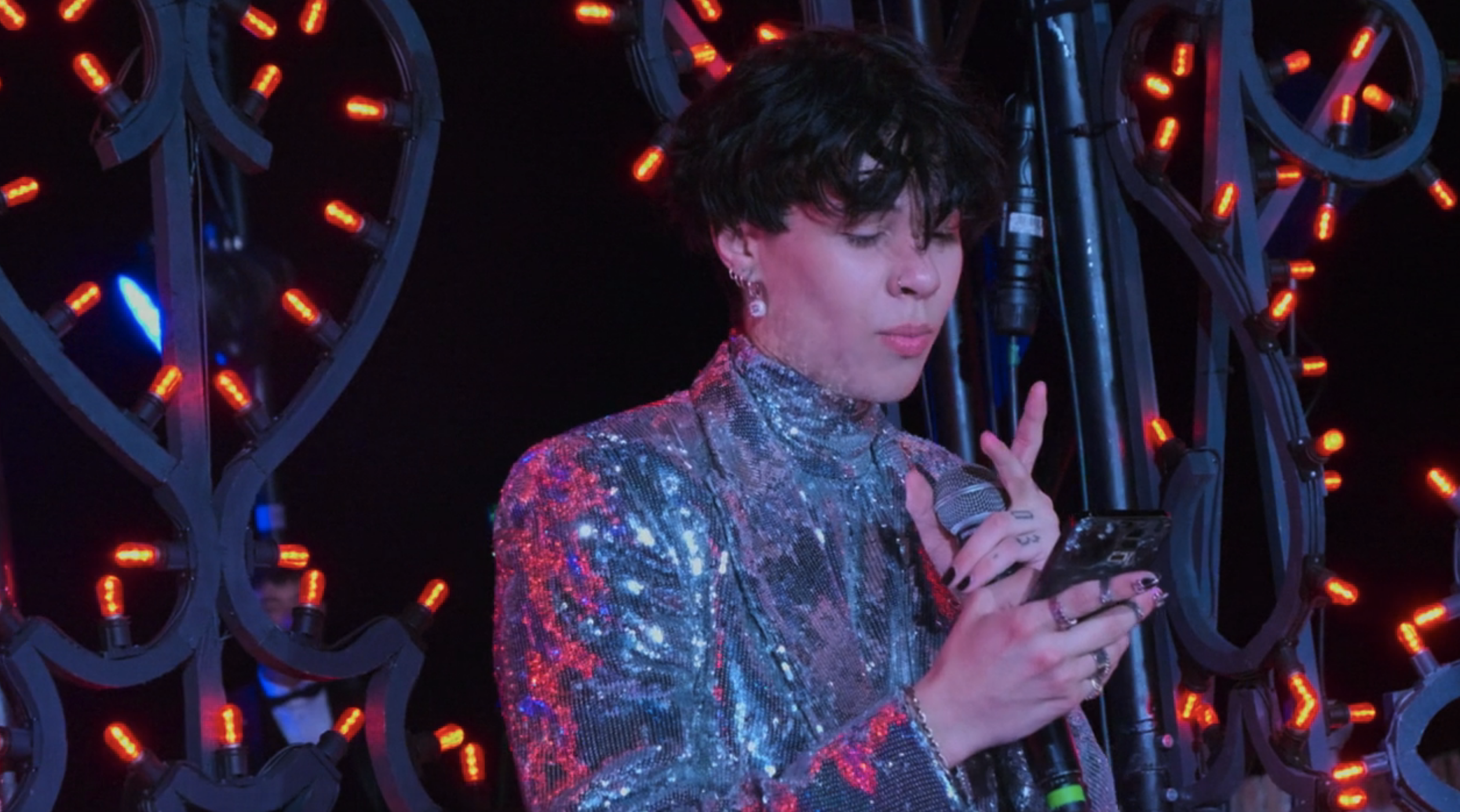 After the wedding special was released last week, the show — and seemingly Landon's speech in particular — sparked the outrage of a number of Shanna's fans, including one who left a comment on her Instagram page suggesting that she was deserving of an "apology."
"I hope that you get a huge apology some day for what was said on that exploitative, money grabbing circus," the fan wrote, adding: "'Kourtney has filled a void for me.'" This appears to be a misquoted reference to Landon's speech where he said that Kourtney had "filled the empty spot" in his heart.
Not backing away from the drama, Shanna liked the comment and proceeded to take things one step further by leaving a response too.
Taking aim at Kourtney, Shanna wrote in the replies, "she posts more of my kids then her own lol," clearly referencing the fact that Kourtney often posts content on social media where she can be seen hanging out with Landon, Alabama, and Atiana.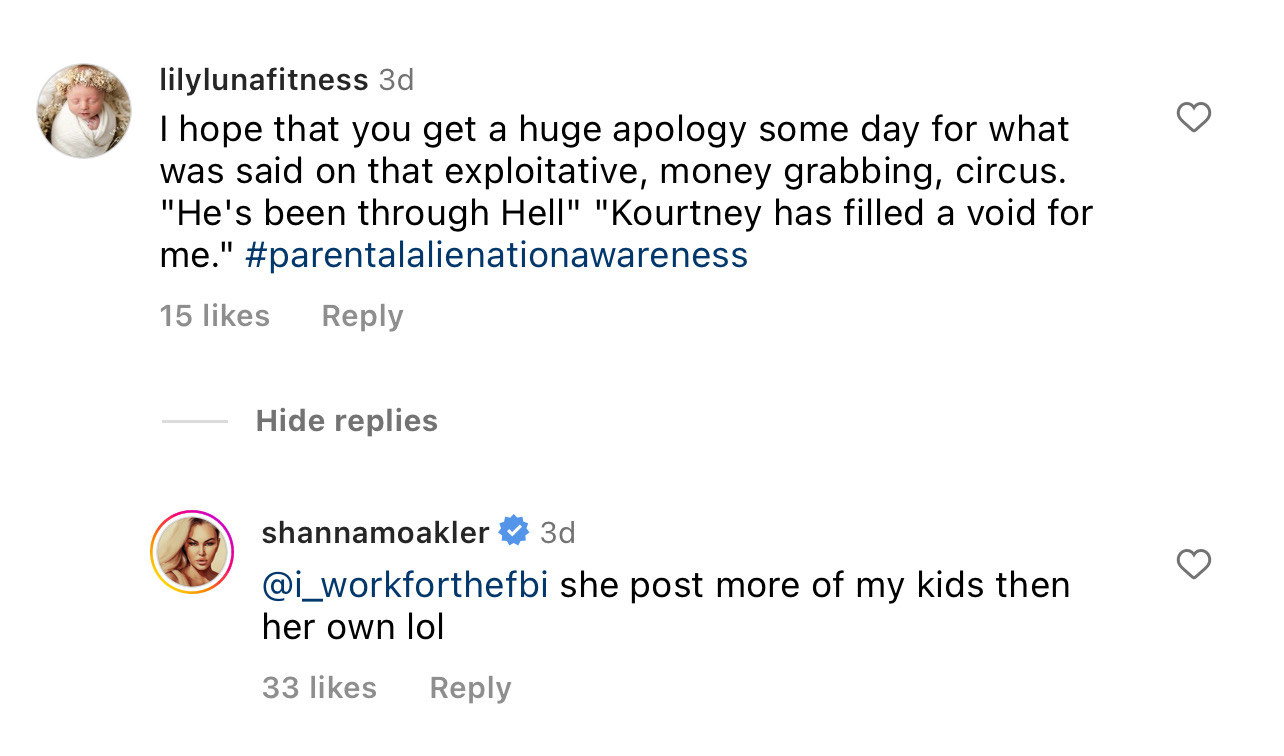 As fans reacted to the comment over on Reddit, a number of users were quick to point out that it makes sense that Kourtney would post more of her stepkids, being that they're much older than her own, and have opted to use social media accounts themselves.

On top of this, Kourtney has previously clapped back against criticism from fans claiming that she doesn't spend time with her children, saying in October that she doesn't "love" to post her kids online.
"I see comments all the time that I'm never with my kids. And I just don't love to post my kids on social media. They don't love it, sometimes they do," she said, before stating that Mason "doesn't want any part of it."
"He does not like it…He's not on social media," she said of Mason, who fans have seen less of in the public eye over the past few years. "He doesn't love it, and I want my kids to be kids. I crave normalcy as much as we can have it."
Needless to say, it seems as if Shanna was not best pleased by Kourtney and Travis's wedding special and her kids' involvement in it, as she's now unfollowed all three of them on Instagram.
It's unclear exactly when the unfollowing happened, however one Reddit user speculated that she may have unfollowed Landon first after the wedding special aired last week.
"She's unfollowed all 3 kids (again) and they've unfollowed her (again)," they wrote. "She unfollowed Landon first, about 2-3 days before her daughters, and I suspect it was due to Landon's wedding speech that was aired."

Of course, if you've been tracking the drama between Kravis and Shanna for the past few years, you'll know that this isn't the first time Shanna's hinted at conflict between her and her kids by wiping them from her social media.
Soon after Travis and Kourtney got engaged in October 2021, Shanna deleted all of the recent photos of her kids from her Instagram page after they celebrated their dad's milestone.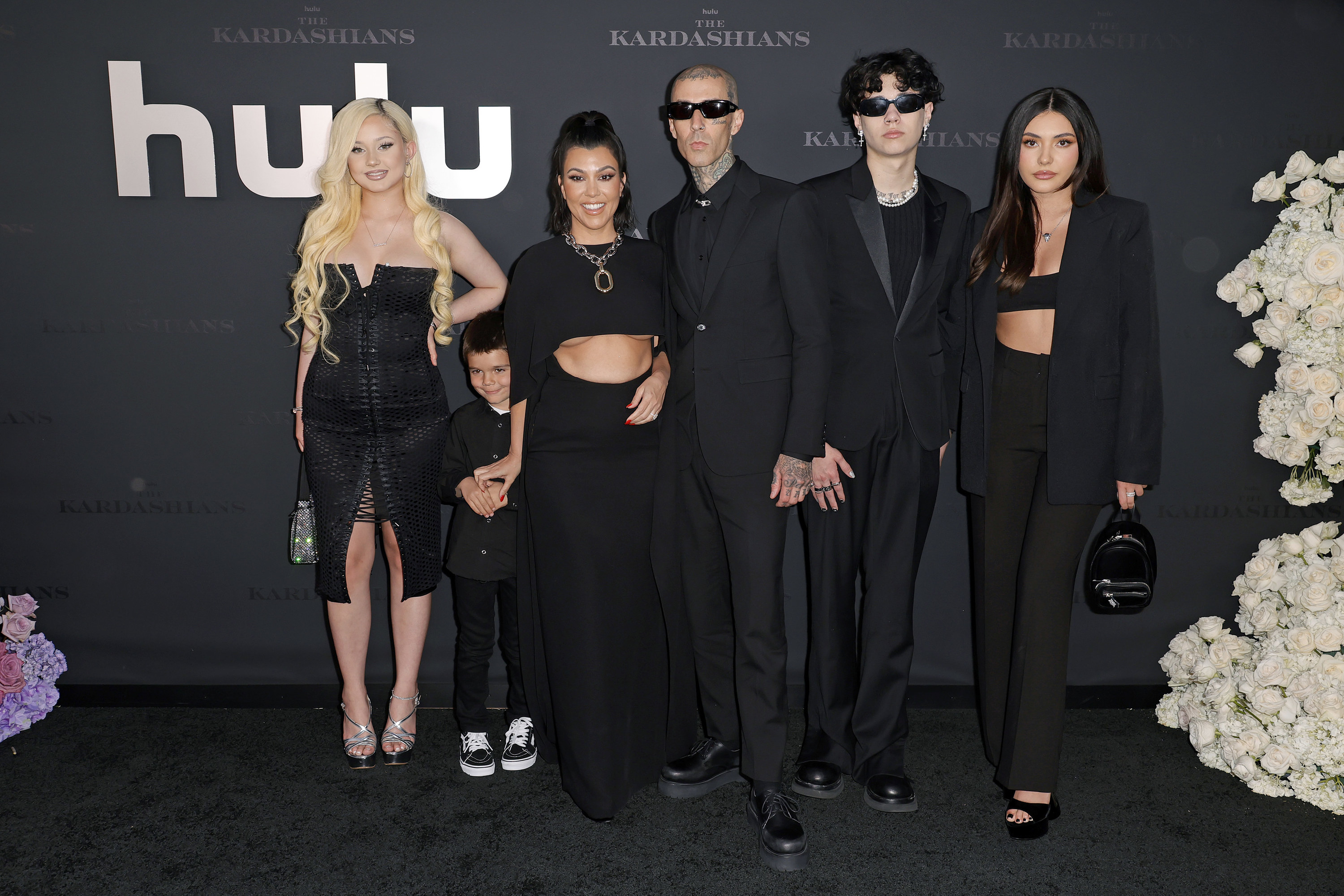 At the time, Landon referred to Travis and Kourtney as his "new family" in a TikTok he filmed at a celebratory dinner, while Atiana and Alabama post celebrated the news on their Instagram stories.