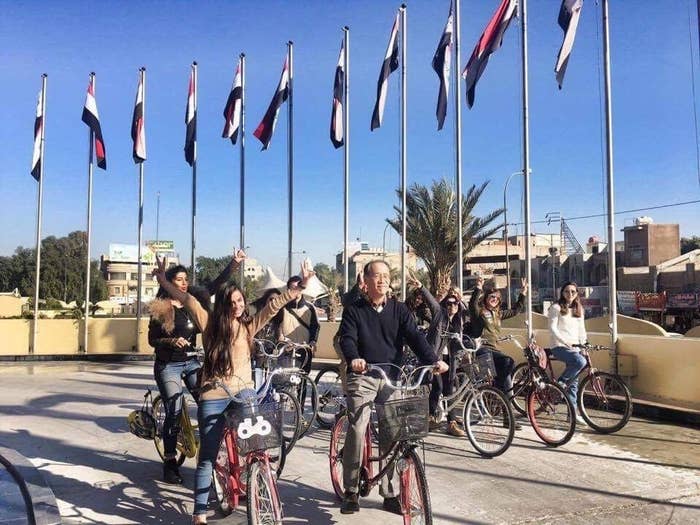 TOKYO — The day before a World Cup qualification match between Iraq and Japan in June, Fumio Iwai appeared in a video wearing the Iraqi national soccer team's jersey. He looked at the camera through his round sunglasses and, without a hitch, started speaking in Arabic.
"Tomorrow is an important day. But I can't decide which soccer team I should cheer for, because to me, Iraq is my second home country," he said. "Our love for soccer is what connects Japan and Iraq. Let us all cheer for both teams."
In that moment, the 56-year-old Japanese ambassador to Iraq became an internet icon in the country.
The video of his speech, which was posted on Facebook, has been viewed more than 708,000 times and shared nearly 8,000 times.
Iraq and Japan established diplomatic relations in November 1939, but Iwai stands out from the rest of his predecessors in a way none of them would have ever imagined: by using online videos to engage with the locals.
Whether it is sending his greetings to celebrate Eid and introducing — and seeming to actually enjoy — Iraqi delicacies during Ramadan, or to congratulate the Iraqi people for "the accomplishments achieved in Mosul," Iwai has used Arabic to connect with the Iraqi people through his video messages.
In an interview with BuzzFeed News in Tokyo, Iwai said he has a lot of work to do to perfect the language.
"I'm still working on my Arabic, so I make quite a lot of mistakes," he said. "And people tell me when I do."
But people who have taken notice of Iwai's Arabic can find no mistakes — in comments online, Iraqis not only praise his eloquent Arabic, but also his fluent dialect.
"First of all, your Iraqi accent is sweet ... Second of all, you have a respectable, educated and professional personality that reflects the depth of the ancient Japanese civilization," Abbas Adel, a commenter, wrote on Facebook.

Others have praised him for his affection for the people and culture of Iraq.


"Mr. Fumio Iwai is doing his job perfectly. He is serving his country in a distinctive way by opening up the horizons and enhancing relations with the Iraqi people by attending national holidays and events with a message that reveals the interest of Japan regarding the Arab people."


"Your proficiency in the language is amazing. You are great and good person representing a great country like Japan. ... Japan has stood very close to Iraq and we are very happy. You are the best foreign ambassador to the history of Iraq."

In a lengthy Facebook post, Lukman Faily, a former Iraqi ambassador to the US and Japan, praised Iwai for his "[s]mart diplomacy."

"Perhaps one of the most difficult and important tasks of foreign ambassadors is to create a smart and distinct approach in which they communicate their messages to the peoples and governments of their host countries," he wrote, "while having a great influence in strengthening their bilateral relationship."
"What is remarkable is the Ambassador's openness and his delicate approach and care to the Iraqi situation, to name but a few," Faily said about Iwai.
That kind of approach that has made Iwai a familiar face among Iraqis. So familiar, in fact, that Iwai said someone made an Iraqi election poster featuring him as a candidate.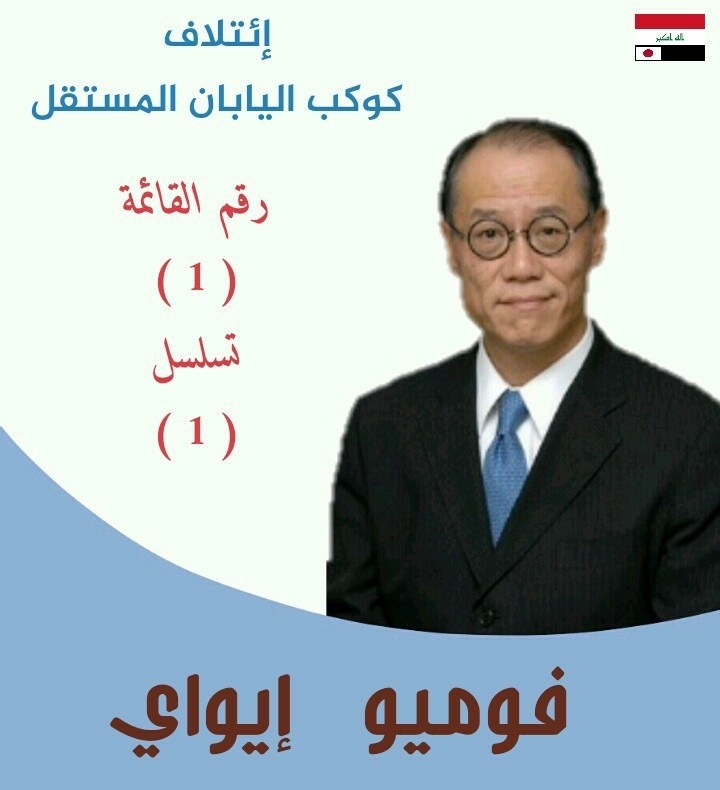 "Obviously, there's no way a foreigner could run for election without an Iraqi citizenship," Iwai said. "But they've even come up with a name for my political party — it was called 'Japan Planet Independent Union.'"

Iwai, who first visited to Baghdad in 1988, has served in several positions with Japan's Foreign Ministry, including as the deputy director-general for Middle Eastern affairs and a deputy chief of mission to Saudi Arabia. He studied Arabic at a university in Egypt for two years during the ministry's language training, and took additional tutoring from private teachers.
Iwai said he wants the world to know more about the bright side of Iraq, where people try to create happiness and joy in extremely difficult circumstances.

"Iraq is often portrayed by media as a country of war or terrorism," he said. "But people's lives do exist, even in a country like that."
Iwai said the security situation in Iraq has made it difficult for him to connect with the Iraqi public, which is why the embassy decided to adopt social media. Since October last year, the Japanese Embassy in Baghdad has posted about half a dozen video messages on Facebook.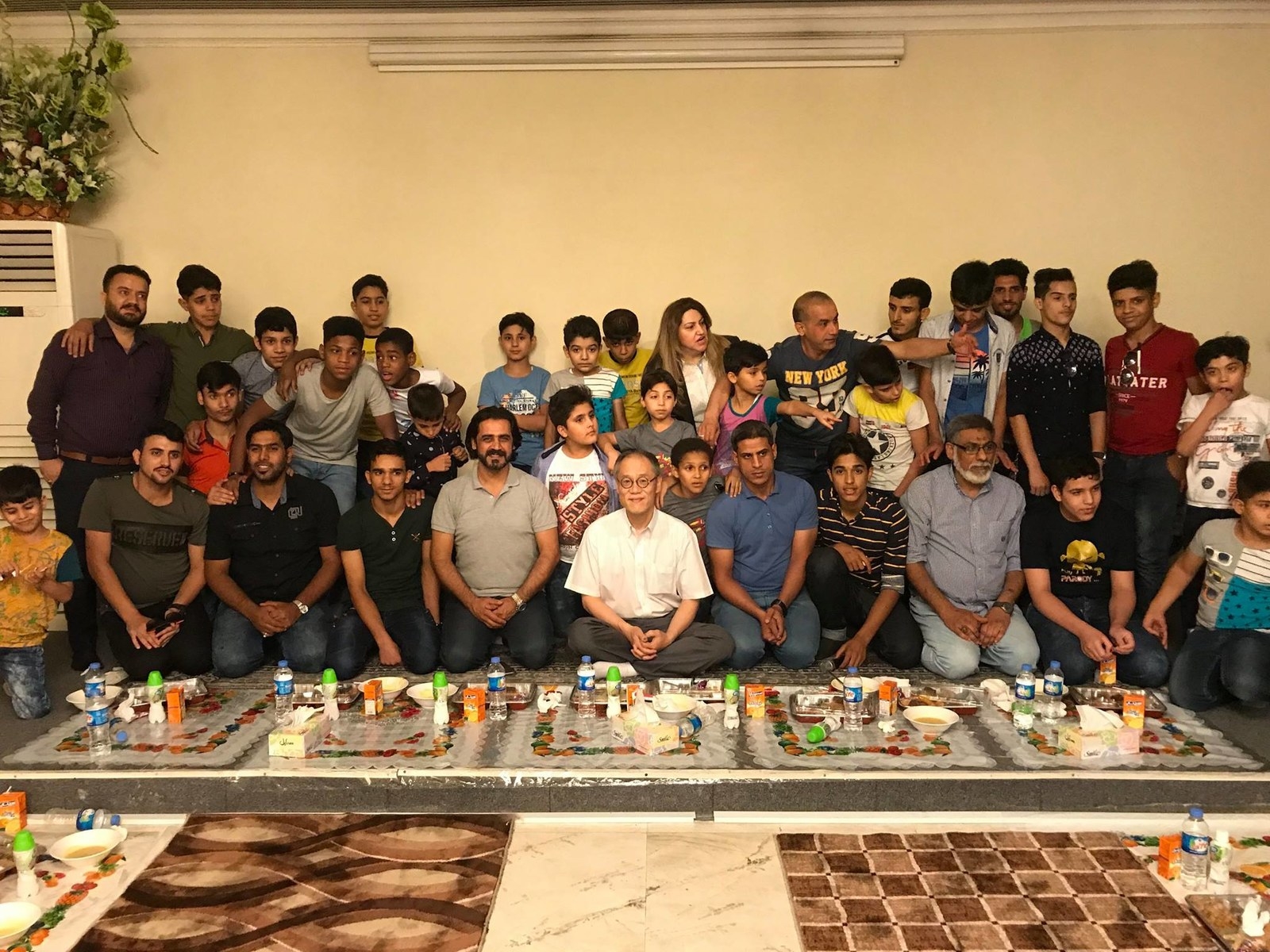 "We have been trying a lot of things, but we basically engage [through videos] to get to know each other better," he said. "We make efforts to stand close to their feelings as much as possible, and to be relatable to them."

Iwai emphasized that in each video, he encourages people in Iraq to rebuild the the country, with the help from Japan and the international community.
"Nothing comes out of being despaired — you can drive yourself into darkness anytime," he said. "But what's more important is to move forward and to complete our own duties."
BuzzFeed News interviewed the ambassador in Japanese on July 11.