MSNBC has launched an upbeat ad campaign to promote a major undertaking: the first website the network can call its very own. The 30-seconds-or-less TV spots feature voiceovers from top talent, jubilant soundtracks, and stock footage of President Obama. Noticeably absent from the ads, however, is any mention of the network's defining four-year-old "Lean Forward" tagline.
Not one of the five new ads promoting the website contains the phrase "Lean Forward."
In 2010, MSNBC launched the ambitious branding campaign by plastering "Lean Forward" ads all over magazines, commissioning heavily branded commercials from director Spike Lee, and covering New York City subways with Keith Olbermann leaning back.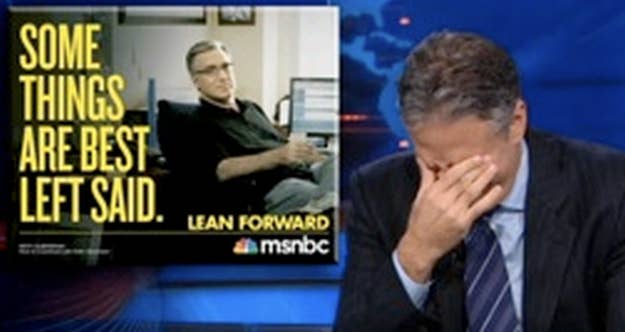 Despite mockery from the right, the slogan has been something of a success. The Obama reelection campaign eventually riffed on it, and the slogan still flashes 24/7 in the upper-right-hand corner of MSNBC's broadcasts.
One of the new ads, titled "First Foot Forward," is an obvious nod to Lean Forward but the ad never actually mentions the slogan. Another, titled "Speak Out," doesn't contain the words "lean" or "forward" in the script at all.
Another ad, recorded here from MSNBC International, is voiced by Chris Matthews and has the Hardball host repeatedly imploring fans to "Stand up!" (Admittedly, it's not a good idea to tell viewers to "stand up" and "lean forward" at the same time.) The only trace of the old motto is found in an old clip of President Obama saying, "We are moving forward, America."
News that MSNBC's principal slogan is missing from the latest ad campaign could merely mean that the network is slowly evolving away from "Lean Forward." But the ads, coupled with the fact that the motto is nowhere to be found on the new website, could be a sign that the tagline's days may be numbered.
UPDATE (Dec. 31, 12:14 p.m.): An MSNBC spokesperson reached out to BuzzFeed via email with the following statement:
"'Lean Forward' is still the brand positioning for MSNBC and is not going away. msnbc.com was launched with a campaign that celebrates the power of the platform, yet is still consistent with 'Lean Forward.'"